McKenna Grace Is Only a Bittersweet 16, but She's Already Begun a Second Career
Photo by Matt Kallish
Music
Features
McKenna Grace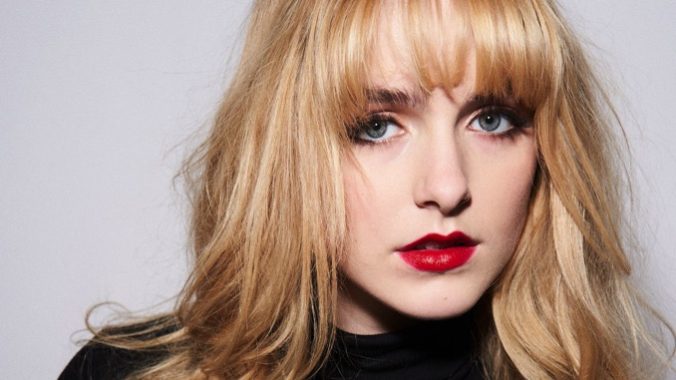 Mckenna Grace swears she never intended to seem presumptuous, like Oliver Twist asking for more gruel. But the young TV and movie actress did believe so strongly in "Haunted House," the pop-punk anthem she co-wrote with Lily Kincade, that she boldly forwarded it to film director Jason Reitman while he was shooting the 2021 Ghostbusters: Afterlife reboot. While she was simultaneously starring in the same Paul Rudd/Carrie Coon-helmed picture, as the plucky science nerd Phoebe, who has to save the day when a Satanic portal yawns open in her desolate Oklahoma hometown. For any other 16-year-old thespian, such a plum role would have been more than enough. No extra gruel required, thanks. But this is no ordinary kid.
Prior to filming, Grace had already written and recorded "Haunted House" about a dead-end relationship she'd navigated her way through. Then the brainstorm hit her. "Somehow, I thought it might perfectly fit with Ghostbusters, so I sent it to Mr. Jason Reitman, saying, 'Hey—What do you think of this song? And would you ever direct a music video for it?'," she recalls, humbly. "And he was like, 'Can I just put it in the end credits of the movie?' And I was like, 'Wait! What?' It was just completely random—I had sent it to him for his opinion, and then somehow 'Haunted House' ended up in the closing credits of Ghostbuster: Afterlife!" And closing credits, as any modern tunesmith knows, is prime real estate when it comes to soundtrack placement. Even better than once-coveted, now virtually irrelevant radio airplay.
Naturally, the punchy, singalong "Haunted House" stomper is currently a standalone single in its own right, given that the Ghostbusters franchise has been successfully reanimated (Grace is reprising her role in an upcoming, as-yet-untitled sequel). And Grace has several other equally-ebullient, cleverly-scripted anthems available for download purchase, like "Self Dysmorphia," "Do All My Friends Hate Me?," and a brilliant teen-angst-y kiss-off to an ex-paramour that says it all in the snarky title alone, "You Ruined Nirvana," composed when she was a seasoned 15. An unforgivable crime, no matter what age you happen to be. And on March 3, Grace fired her first complete eight-track salvo, Bittersweet 16, complemented by a kooky cover photo of her tearful, mascara-smeared visage, oblivious to the celebratory birthday cake placed before her on her party table. Some anthems fans night have heard before, like "Ugly Crier" and "Checkered Vans," which, lyrically are simultaneously age-appropriate yet also ricocheting with prodigious, adult-savvy hooks and sneer-sung in Grace's warm, winning warble. Add in all the invigorating new material, such as the delicate waltz "Collapsing Stars," a walloping "Buzzkill Baby" rocker, and the culled-from-real-life title cut ("I was actually working on my sixteenth birthday, so it was bittersweet," she explains), and this marks one hell of a stunning coming-out party for this young rock 'n' roll debutante. In fact, Grace effortlessly displays all the charm, talent, and self-deprecating wit of a young Taylor Swift, and is definitely representative of the next post-Swift generation making itself known and heard.
How did the Grapevine, Texas-born Renaissance woman come so far, so fast in Hollywood? Time is illusory to her, she swears. So it seems like only yesterday that she dove wholeheartedly into acting, starting small with TV commercials, soap operas, various kids-network appearances, then graduating to increasingly-meaty parts in Malignant, The Handmaid's Tale, The Bad Seed remake and its sequel, The Bad Seed Returns, and leading all the way up to her breakout spirit-wrangling character of Phoebe in Ghostbusters: Afterlife. And as she tells it, she began exploring songwriting only out of lockdown frustration and its soul-crushing ennui; instead of succumbing to it, she simply got busy instead. And in talking to her, as she's being driven through Los Angeles to her next entertainment-industry business meeting, you get the idea that this wise-beyond-her-years youngster will accomplish just about anything she sets her mind to. So don't call her The Next Taylor Swift just yet. But it's most likely an honorable mantle that's in the upcoming cards. Only time will tell, and, at just 16, Mckenna Grace has plenty of that commodity to spare…
Paste: First off, do you think you're an old soul?
Mckenna Grace: An old soul? Probably! I mean, I'd like to think so.
Paste: Is there a particular era or time period you're drawn to? And you actually write your own material, right?
Grace: I dunno. I'm releasing my EP right now, and I think that with that EP, I really resonated with the '90s and early 2000s. And yes, I do. I write all my own things.
Paste: And you've name-checked Nirvana in song.
Grace: Oh, I love them. They're one of my favorite bands. I think they're really, really cool, and they definitely hold a special place in my heart, because my dad and I always listened to them together when I was growing up, and he would always play me Nirvana on the guitar.
Paste: Your IMDB page is huge. How did you first get into acting?
Grace: Well, I started acting going on 12 years ago this year, and I just got really into it from such a young age, so it's really special that I carried such a passion for it through my teenage years, as well. It's something that I really, really love, and I'm really lucky to have found my dream job when I was so young. I dunno—I started in commercials and just somehow ended up out in L.A. And over the pandemic, I was listening to a lot of music, because I was stuck in my room, quarantined, for a long time because I had Covid. So I would just listen to Conan Gray's record Kid Krow on repeat, and then I just started writing my own music.
Paste: Were you secretive about your songs at first? Like, "I can't show these to anyone!"
Grace: A little bit. And I feel like I still am a little, because it feels very personal. But I always play my music for my parents, always, and I just feel like they're always around, for the highs and the lows that I go through. So it's really cool for them to be able to listen to my songs that are about these situations that they were talking me through.
Paste: Your mom, Crystal, is there with you now. But were your parents actually in show business?
Grace: No, neither of my parents are in the business. My dad is an orthopedic surgeon, and then my mom now comes with me, but when I started in acting she was also in the medical business, which is really funny. So no, neither of my parents come from an acting background, but now my mom, it's almost like she's an acting coach or something like that, and my dad and I write scripts together, so as I've gotten into the business, so have they, and it's really cool.
Paste: You were in two remakes of the movie The Bad Seed: But have you ever seen the first campy classic?
Grace: Yeah! Of course! I watched it in preparation for my role! I tried my best to [recreate the evil girl character], and hopefully I did okay. I got to speak to the woman who played the first Bad Seed, Patty McCormick, and it was incredible! She and I talked a lot, and she actually did cameos in the first Bad Seed and in the second one [The Bad Seed Returns] and so I got to speak to her, and also Mr. Rob Lowe [who directed the eponymous first remake] had read the book, so he gave me a copy of the book that he had written notes in and highlighted a bunch of stuff, and it was really cool.
Paste: Why do you think you're so driven?
Grace: Umm, I think…I have a real intense passion for what I do. I truly love acting and creating films and getting to entertain people, so I really , really have such a passion for it. And it would have been easy to give up so long ago, because it is a really hard industry to be in. But I just love it so much, so I dunno. I think it's just my love for film and television that really carries me, and keeps me fighting for roles or films or something.
Paste: In "Ugly Crier," you name-check Taylor Swift. Have you met her yet?
Grace: I had, like, a passing interaction with her, yes. But I am such a big, big fan of hers, so it was really crazy for me. But yeah, I have met her. But it's just like I say in "Ugly Crier"—"I'll never be Taylor Swift." The song was just about a feeling of inadequacy, and being super-mediocre, which was completely honest—I just feel so mediocre very often, and I really felt these emotions at the time. Especially because I was at a place where I was really down on myself, and so I funneled it into music, and that was kind of my therapy at the time. I went to a Hollywood party, and I showed up in my Taylor Swift cardigan with this big old Slimer purse, and I looked so silly, because everybody else was in black tie and suits and cocktail dresses, and I felt so goofy and mediocre, and really felt like I didn't belong, so I just wrote a song about that feeling.
Paste: And now you're starting to present these songs onstage. How do you translate them, fashion-wise? Are you becoming a future Goth, performing all in black?
Grace: Yeah. I'm still figuring out my style and who I am as a teen, so I dunno if I present more Goth. But lately I find that I've been kind of leaning more into that punky feeling of the '90s, or like cool girls from the '90s, like Le Tigre. Or Alanis Morissette—she's a big inspiration for me. So it's always scary when you're presenting songs or things that are more personal to you, but it's nice to be able to kind of shield yourself in something cool, like a cool outfit or something.
Paste: Going back to what you said about feeling down on yourself— and you seem so confident, that's difficult to imagine—what was your lowest point? And how did you break out of it?
Grace: Well, you'll have to imagine it, because it's quite often that I deal with it. And it's something that you don't feel out of, when everyone on social media's lives seem perfect and they're really happy, because that's the moments that we choose to share with the world. We don't want to share how we're feeling down, or how we're feeling about our bodies—it's just nothing but good. But yeah, becoming a teenager is weird. And then becoming a teenager with social media is also weird. So there are just a lot of emotions and feelings that I don't talk about a lot, that I wrote into music. It was a really nice therapy for me, because I definitely went through a spot where I was not so happy with a lot of parts of myself for a while, and I would be lying if I said that I was on the other side of that. So I think that music has been something really special to help me and work through these emotions.
Paste: Was "Post Party Trauma" about that uncomfortable party you were talking about? With a roomful of "sharks and piranhas"?
Grace: Yeah! "Post Party Trauma" was about the same party that I went to when I felt so down in front of everybody, and it's definitely that feeling of being insecure and like you don't belong.
Paste: Your schedule of upcoming projects is just insane. Not only do you have the as-yet-untitled Ghostbusters: Afterlife sequel, you've got Kyle Patrick Alvarez' Crater, which is set on the moon. And Dan Kay's Spider & Jessie, about two sisters hiding their dead mother's body.
Grace: Yeah. As one does! That one was definitely a darker shoot, but I'm really proud of it.
Paste: And you're in the next film from Olivia Wilde, Perfect, about American gymnast Kerri Strug and her traumatic time at the 1996 Olympics?
Grace: I am not playing Kerri—I'm playing a different gymnast. And we have not shot that one yet.
Paste: I think Olivia Wilde has a vision—her last film, Don't Worry Darling, was gorgeous, despite any attendant controversy.
Grace: Yeah! I haven't seen it yet, but it was nice to be able to work with Miss Olivia [in an uncredited role as Gozer] on Ghostbusters: Afterlife.
Paste: And then there's all your voiceover work. You're Daphne in the Scooby-Doo redux Scoob!, and—in what's probably a big hit with younger siblings, if you have any—you're in Paw Patrol! Awesome!
Grace: Ha! I am an only child. But it's definitely cool to be able to tell all of my friends' younger siblings, or just kids, in general, and I think it's very nice to be able to appeal to a younger audience.
Paste: I'm impressed that you were on The Young and the Restless for two whole years. How different is soap opera work?
Grace: Yeah! That was really one of the starts to my career—The Young and The Restless! Which was really, really funny. I was Faith Newman, I was the daughter, and it was so long ago now that I barely remember what my storyline was. I just remember being the daughter, and I remember I broke my arm while I was shooting that show, and they had to write it into the storyline. But I barely remember what it was like because I was so, so young—I was probably six or seven when I was shooting that. Wow! That was actually 10 years ago, which is insane to me, how quickly time passes! But multi-camera shooting is much, much different than single cam—it goes by much quicker. Everything happens so much quicker, versus whenever you're shooting a film, where you do the same thing a bajillion times.
Paste: It's interesting to scroll through your roles— the older you get, the darker some of the parts are getting. Like Malignant. And I've never seen a creature quite like the one in Malignant.
Grace: Oh, me either! That one is definitely interesting!
Paste: Final question. After your breakup anthem about those footwear classics, "Checkered Vans," have you gotten an endorsement from Vans yet?
Grace: Ha ha! No! But that would be pretty cool. And I definitely tried to channel my most inner Avril Lavigne into that song.