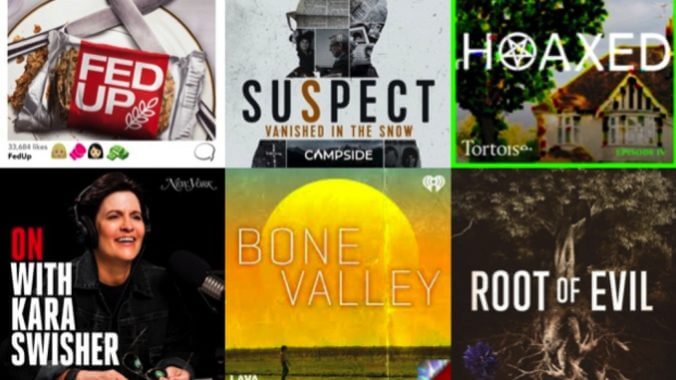 It's taken me a beat to get this round out. I've been in a bit of a podcast rut. There's just so much out there—some good stuff but for the longest time, nothing that made me say, "You just have to listen to this!" Now I'm finally there. You'll love learning about old Hollywood glitz and glamour through the lens of a modern day popstar and true crime stories that will leave you on the edge of your seat. We've got online conspiracies, satanic panic and Instagram influencer fighting. Plus, the best new interview show and a classic creep out series to keep your Spooky Season going.
1. Fed Up
When two influencers randomly meet at a trendy NYC restaurant and post a picture, chaos ensues. Fashion blogger Emily Gellis posts a picture with celebrity diet guru Tanya Zuckerbrot and it all seems fabulous until Emily learns from her followers that Zuckbrot's F Factor diet has terrible side effects. She gets so much feedback she decides to expose the dangers of it. This obviously does not sit well with Zuckerbrot who feels attacked. Host Actress Casey Wilson is hilarious telling the tale of internet diet culture gone off the rails. The beef gets so heated it even ends up in a New York Times profile.
2. Bone Valley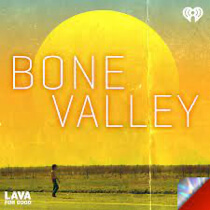 Pulitzer Prize-winning reporter/author Gilbert King investigates the case of Leo Schofield, who was sentenced to life in prison for murdering his wife Michelle. Her body was found in a Lakeland, Fla., phosphate mining pit back in1989. Schofield maintains that he did not commit the crime. King's investigation leads him to a string of events where the criminal justice system failed. Each episode reveals new information that could potentially carve a path to his freedom. As of the time I'm writing this, the series has not finished but I have to tell you—I am on the edge of my seat wanting to know the outcome. I hope justice prevails.
---
3. Hoaxed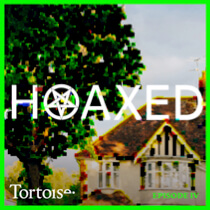 This is an investigation into one of the craziest and most talked about internet conspiracy theories in the UK. Satanic Panic is nothing new, but in the internet age, lies spread faster than wildfire. In the affluent enclave of Hampstead, outside London, rumors have spread that kids are being abused and even killed by their parents in Satanic rituals. It's propagated by hard-right-wing media all over the world with no actual proof. The ring of people behind the lie will shock you. So much damage done and for what? It also examines how these hoaxes cause real damage, like Pizza Gate and the start of Qanon. Host Alexi Mostrous is no stranger to this topic. He and his team covered one of the wildest internet catfish stories ever on his last podcast, Sweet Bobby.
4. Suspect: Vanished in the Snow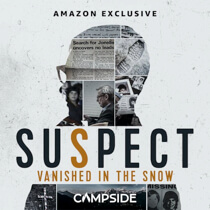 One of the best series from 2021 has an all new season! This time it focuses on a 1985 cold case where Jonelle Matthews went missing after a church Christmas pageant. The disappearance had the small town of Greely, Colo., shaken and perplexed, as the story went national via the crime-solving television show America's Most Wanted. It even caught the attention of then-President Ronald Reagan. Jonelle's body was finally found 2019. Her remains were discovered in the Rocky Mountains and the case has been blown wide open. Journalist Ashley Franz digs up all kinds of leads but focuses on one person. His shady story and history doesn't confirm everything 100 percent, and I wasn't fully convinced. Like season 1, Suspect leaves you with a lot of unanswered questions. There's definitely more to this story.
---
5. On With Kara Swisher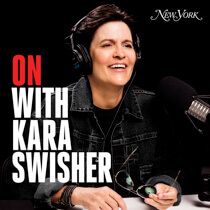 The interview format is similar to her other show at The New York Times, Sway, but the banter is different. Long-time producer Nayeema Raza co-hosts as the pair discuss current events. At the end of the show Kara offers advice to newsmakers or listeners. There is no topic she won't address. The interviews are sharp and can be uncomfortable but never mean-spirited or gotcha-esque. The first ones were with Chris Cuomo and Hilary Clinton. I think this is the best news-interview podcast show out there. Honorable mention to her other business focused podcast, Pivot, with the "The Big Dog" Scott Galloway.
6. Root Of Evil
This is the story of the family behind the infamous Black Dalia murders. There is so much horrific baggage you almost can't believe it's real: murder, incest, rape, betrayal and surrealism. Retracing this famous crime scene becomes even more twisted as you get to know the family members. It's a complicated story but broken down so well you won't want to stop listening until you learn how it's resolved. Root Of Evil is not for the faint of heart.
---
7. Elizabeth The First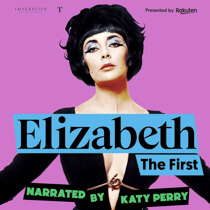 Learn the backstory of Elizabeth Taylor's iconic life and how she was essentially the first celebrity influencer. Narrated by superfan Katy Perry, Elizabeth The First goes into her movie studio beginnings, heartbreaks, husbands, business dealings, jewelry collecting and AIDS activism. She did it all first. From branding, endorsements and philanthropic activism, the ripples she started became waves for the modern-day entertainment industry. This takes you back to old Hollywood, glamorous and cut-throat. The exclusive interviews from Taylor and the people close to her are rare and fantastic. She was hilarious, snarky and brilliant—a trailblazer in so many ways. [Full disclosure: in addition to booking talent for podcasts, I sometimes voice commercials for them, including this one.]
---
Mara Davis is a media personality based in Atlanta, Ga. In addition to hosting the VoteHer podcast with Senator Jen Jordan, she also is a senior talent booker for various television networks and podcasts.