Alyssa Milano Drafts Pledge to Boycott Georgia's Film Industry if "Heartbeat Bill" Passes
Photo by Kevin Winter/Getty
Movies
News
Alyssa Milano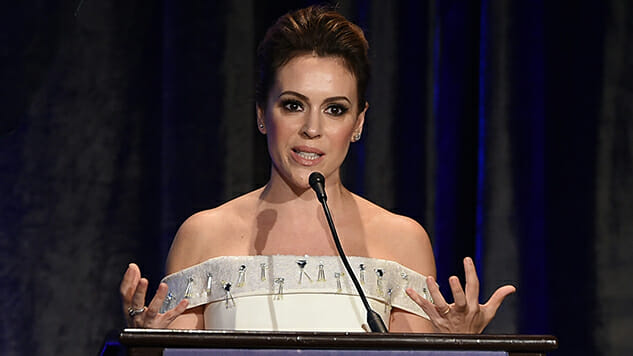 Alyssa Milano has submitted a letter to Georgia House Speaker David Ralston and Georgia Governor Brian Kemp urging them to vote against HB 481, aka the anti-abortion "Heartbeat Bill."
Milano's letter pledges to relocate Georgia's filming industry to a safer state for women if the bill becomes law. It was co-signed by almost 50 additional actors, including Alec Baldwin, Amy Schumer, Gabrielle Union, Rosie O'Donnell, Patton Oswalt, Sarah Silverman, Uzo Aduba, Christina Applegate, Ben Stiller, Sean Penn, Georgia native David Cross, Don Cheadle, Mia Farrow, Colin Hanks and Amber Tamblyn.
The "Heartbeat Bill" would effectively ban abortions in the state, as it would make them illegal a mere six weeks after conception, or when a heartbeat can be detected. The Georgia House of Representatives has not yet voted on the bill.
Milano writes:
This dangerous and deeply flawed bill mimics many others which have already been deemed unconstitutional. As men who identify as small-government conservatives, we remind you that government is never bigger than when it is inside a woman's body or in her doctor's office. This bill would remove the possibility of women receiving reproductive healthcare before most even know they are pregnant and force many women to undergo unregulated, hidden procedures at great risk to their health.
See the full letter and list of co-signers in Milano's tweet below.
To @BrianKempGA & Speaker Ralston:
Attached, is an open letter signed by 50 actors against #HB481. On behalf of the undersigned—as people often called to work in GA or those of us contractually bound to work in GA—we hope you'll reconsider signing this bill. #HBIsBadForBusinesspic.twitter.com/DsOmAWYU2x

— Alyssa Milano (@Alyssa_Milano) March 28, 2019