New on Amazon Prime Video: All the Movies and TV Coming in January
Image via A24
Movies
Features
Amazon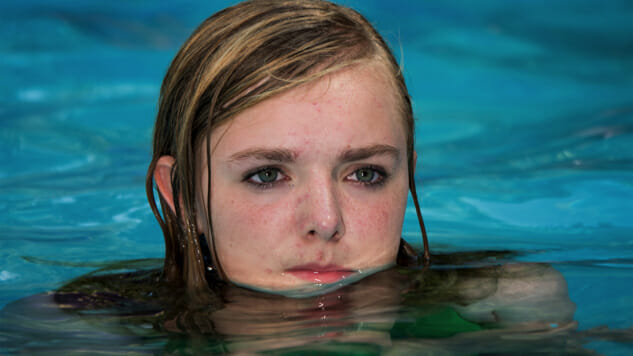 The holiday season can be hectic, but those of us who look to our television screens for an escape have plenty to be excited about in early 2019, when Amazon Prime Video adds a number of noteworthy feature films and TV shows to its library. Let's hit on a handful of the highlights, shall we?
Amazon's most appealing additions are in the movie department, including a wonderful film from first-time feature director Bo Burnham: Eighth Grade, starring Golden Globe-nominated newcomer Elsie Fisher as Kayla, an isolated 13-year-old who "endures the tidal wave of contemporary suburban adolescence as she makes her way through the last week of middle school—the end of her thus far disastrous eighth grade year—before she begins high school," as A24's synopsis explains. Fisher's outstanding performance is the heart of a warm, funny and affecting film that rings true in its depiction of teenage growing pains; Burnham's feature directorial debut is "compassionate, radiating retroactive kindness for the children we all were to soothe the adults we are now," as Andy Crump wrote in his review of the film for Paste. Eighth Grade won't arrive on Prime Video until Jan. 13, though—a few standout films preceding it include Ron Howard's 2001 Best Picture winner A Beautiful Mind (Jan. 1), Terry Gilliam's 1985 sci-fi masterwork Brazil (Jan. 1), classic Roald Dahl adaptation Willy Wonka & the Chocolate Factory (Jan. 1), Debra Granik's acclaimed, Ben Foster-starring drama Leave No Trace (Jan. 3), Timothée Chalamet- and Steve Carell-starring drug addiction drama Beautiful Boy (Jan. 4) and animated family adventure Sherlock Gnomes (Jan. 4). From there, the month's film additions are slim pickings, though Michael Moore's acclaimed new documentary on Donald Trump's America, Fahrenheit 11/9 (Jan. 19)—which Paste contributor Oktay Kozak called "the most engaging and emotionally effective Moore doc since Bowling for Columbine"—does stand out.
On the TV side, Amazon is in for a relatively quiet month: While two Prime original series debut in January, alongside a few returning licensed shows, most of the service's noteworthy small-screen additions are debuting via Prime Video Channels, which viewers can only access with the corresponding subscription(s). Arriving on a yet-to-be-determined date in January is season 1B of Prime original The Adventures of Rocky & Bullwinkle, which "brings back the world-famous talking moose and flying squirrel in a comedy about two goofball friends who end up in harrowing situations but saving the day time and again," per Amazon. Jan. 1 brings the first seasons of PBS docuseries Breaking Big, First Civilizations and Nova Wonders, as well as the 36th season of Frontline. Prime original drama Informer, in which "a second-generation Pakistani man born and raised in East London … is coerced into becoming an undercover counter-terrorist informer," returns for a second season on Jan. 11, followed by season three of Prime original British motoring show The Grand Tour, in which hosts Jeremy Clarkson, Richard Hammond and James May "travel through tricky terrains in Colombia, Mongolia, China, Detroit and London." Another Prime original, 10-part comedy series Four More Shots Please!, debuts on Jan. 25, while the fifth season of Masterpiece PBS English detective-drama series Endeavour comes after on Jan. 29. That just leaves us those Prime Video Channels shows: HBO subscribers can catch third seasons of True Detective (Jan. 13), Crashing (Jan. 20) and High Maintenance (Jan. 20); Showtime subscribers, SMILF season two (Jan. 20), Shameless season nine (Jan. 20) and Don Cheadle-starring comedy series Black Monday's debut season (Jan. 20); CBS All Access subscribers, second seasons of Star Trek: Discovery (Jan. 17) and Big Brother: Celebrity Edition (Jan. 21); and so on.
Find Amazon Prime Video's complete January slate below.
New in January – Available for Streaming on Prime Video
Movies
January 1
A Beautiful Mind (2001)
Alpha Dog (2006)
Brazil (1985)
GI Jews: Jewish Americans in World War II (2018)
Going to War (2018)
Jane Eyre (2011)
Reprisal (2018)
Rwanda: The Royal Tour (2018)
The Art of the Shine (2018)
The Jazz Ambassadors (2018)
Willy Wonka & the Chocolate Factory (1971)
January 3
Leave No Trace (2018)
January 4
Beautiful Boy (Prime Original movie)
Sherlock Gnomes (2018)
January 12
Final Score
January 13
Eighth Grade (2018)
January 16
The Debt (2010)
January 19
Fahrenheit 11/9 (2018)
January 25
Escobar: Paradise Lost (2014)
TV
January TBD
The Adventures of Rocky & Bullwinkle (Prime Original series), Season 1b
January 1
Breaking Big, Season 1
First Civilizations, Season 1
Frontline, Season 36
Nova Wonders, Season 1
January 11
Informer (Prime Original series), Season 2
January 18
The Grand Tour (Prime Original series), Season 3
January 25
Four More Shots Please! (Prime Original series), Season 1
January 29
Endeavour, Season 5
New in January – Available for Streaming on Prime Video Channels
TV
January 13
True Detective, Season 3, HBO
Vera, Season 9, Britbox
January 14
Victoria, Season 3, PBS Masterpiece
January 17
Star Trek: Discovery, Season 2, CBS All Access
January 20
Crashing, Season 3, HBO
High Maintenance, Season 3, HBO
SMILF, Season 2, Showtime
Shameless, Season 9, Showtime
Black Monday, Season 1, Showtime
January 21
Big Brother: Celebrity Edition, Season 2, CBS All Access