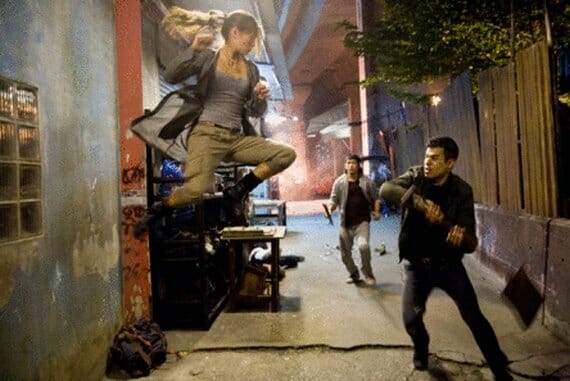 Release Date: Feb. 27
Director: Andrzej Bartkowiak
Writer: Justin Marks
Cinematographer: Geoff Boyle
Cast: Kristin Kreuk, Chris Klein, Neal McDonough, Robin Shou, Moon Bloodgood
Studio/Run Time: Fox, 97 mins.
Martial-arts snooze barely makes it off the assembly line
In the singularly witless thriller Street Fighter: The Legend of Chun-Li, a lovely woman named Chun-Li (Kristin Kreuk) heads on a fuzzily reasoned mission to find her father, stop a crazed Irishman and save a whole lot of poor people in Bangkokalong the way.As with all the women in the movie, she wears clothes that fit her and then some, and she smacks around apparent bad guys in a fetishistic routine of dominance that befalls all men in reach of her body suit.
In truth, The Legend of Chun-Li is nothing if not one long, industrious fetish play in movie form. Previously evoked in 1994 as a Jean-Claude Van Damme vehicle, the half-baked gamer mythology here is so generic that no one can pretend the movie is about anything other than well-endowed women who talk dirty to men and show them what's up. (Just ask Chris Klein, the former teen star who tries and badly fails to have fun as the resident white guy who becomes a recipient of dubious female attention.)
Of course, if that's your thing, indulge. But even followers of such movies will lament the action's mechanical grind (oddly thanks to Dion Lam of The Matrix), which routinely fails to distract from the frenzied camera swoops and agonizingly pointless voice-over. Or in other words, since Fox's decision to release this comatose movie in theaters is clearly a down payment for a lucrative DVD run a couple months down the line, there's absolutely no reason to see it now rather than later.