Anne Hathaway in Talks to Replace Amy Schumer in Sony's Barbie
Photo by Jason Merritt/Getty
Movies
News
Anne Hathaway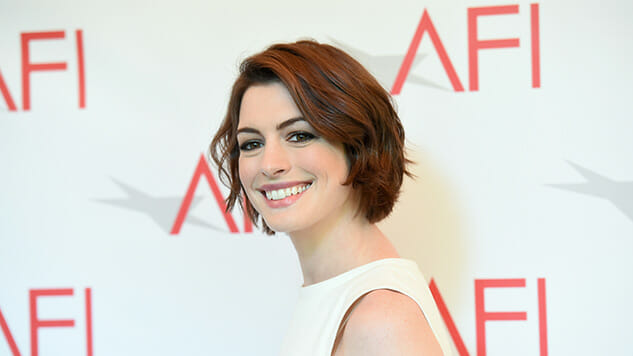 Anne Hathaway may be the next Barbie girl in this never-ending Barbie world. Hathaway is in talks with Sony to star in the Mattel-inspired film, according to a THR report.
Amy Schumer was originally slated to star as Barbie, but dropped out last March due to scheduling conflicts. She's been busy promoting her lukewarm mother-daughter comedy Snatched, and working on other projects. For some reason, Sony then jumped to Hathaway, who has agreed to join the project with the stipulation she could hand-pick the director. Hathaway chose Australian Alethea Jones, whose ensemble comedy Fun Mom Dinner hits theaters Aug. 4.
The script for Barbie originally centered on the titular doll from a feminist perspective, as Barbie grows tired of the plastic perfect world of Ken and her Malibu Dream House and ends up escaping to the real world to learn the benefits of being unique. There is no telling how the script might change to accommodate Hathaway's background as an actress versus Schumer's as a stand-up comedian, but Hathaway does have experience playing a misfit princess in both Ella Enchanted and The Princess Diaries, and has exercised her comedic timing in The Devil Wears Prada.
All that said, scheduling arrangements have not been finalized, and it's possible Hathaway goes the way of Schumer and fails to lock in a deal with Sony. Since Sony still plans to release the film on June 29, 2018, our bet for a potential third Barbie is Jennifer Lawrence, another "down-to-earth, hilarious" white girl, though whoever settles into the role will never best Tyra Banks in Life Size.