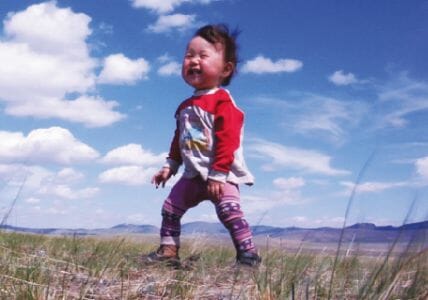 Release Date: May 7
Director: Thomas Balmès
Producers: Alain Chabat, Amandine Billot, Christine Rouxel
Starring: Ponijao, Bayar, Mari, Hattie
Studio/Run Time: Focus Features, 79 min.
The kids are alright
If you're averse to cute things—raindrops, roses, whiskers on kittens etc.—then Babies probably isn't for you. Directed by Thomas Balmès, this beautifully shot film follows four infants (one each in Namibia, Mongolia, Tokyo and San Francisco) from birth to their first steps.
The children have no dialogue, obviously, and their parents have minimal roles. But Babies offers surprising moments of both tension and humor: Bayar, in Mongolia, is left alone in a field among cows; a grumpy Mari in Tokyo struggles with a toy; Hattie in San Francisco masters the art of banana eating; and the daily rituals of Ponijao and her family in Namibia are fascinating if only because their culture of communal child-rearing is so far removed from Western practices. Babies is billed as nonfiction and not as a documentary; the film is devoid of narrative­ structure, and makes a point to side-step the grumpy underbelly of child-rearing. Yet it still offers a clear and resonant message of common, shared humanity, providing contours to the film's nebulous aesthetic even as it straddles the line between reality and fairy tale.