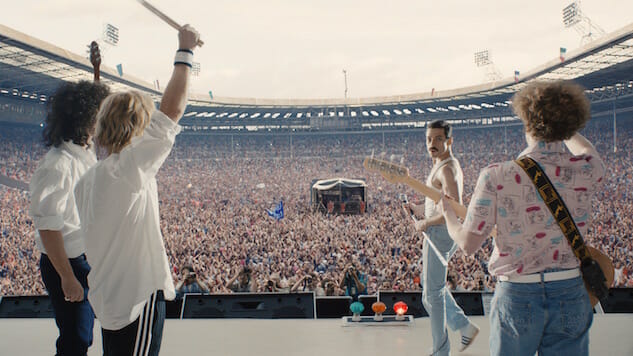 Bryan Singer's Bohemian Rhapsody shouldn't be screened for factual accuracy.
The script for the Freddie Mercury biopic, written by Anthony McCarten with approval from Queen band members Brian May and Roger Taylor, is being criticized for altering the band's timeline to create acute drama. Fair, that's Hollywood. But some of the changes made for the movie are more problematic than others.
The gravest factual error is the film's handling of Mercury's HIV diagnosis. In the movie, Mercury learns he is HIV-positive right before the band reunites for Live Aid. But in reality, Mercury did not even know he had the disease before Live Aid. Queen's Live Aid performance took place in 1985, and Mercury wasn't diagnosed with HIV until April 1987, according to TheWrap.
Bohemian Rhapsody depicts the band breaking up over Mercury going solo. The script uses Mercury's devastating diagnosis to reunite the band and frames Live Aid as their return to the stage.
Meanwhile, the true story is quite different: Other members of Queen went solo before Mercury did, the band toured together for the year leading up to Live Aid to support their album The Works, and Mercury's illness is not what brought the band back together.
These changes have a profound effect on the audience's reception of the Live Aid performance at the end of the film. In front of the massive crowd, Mercury sings through the disease, putting on one last performance before his death. When Mercury plays "Bohemian Rhapsody" at Live Aid, the lyrics "I don't want to die / I sometimes wish I'd never been born at all," take on a whole new meaning, delivered from the lips of a man who himself is at death's door.
Unsurprisingly, critics are not thrilled. As IndieWire points out, the film has been decried as "a cruel and manipulative version of tragedy porn that is inaccurate and perpetuates the trope of AIDS as punishment for gay promiscuity," as The Daily Beast's Kevin Fallon writes.
Audience members appear unfazed: Bohemian Rhapsody topped the domestic box office in its debut, grossing $50 million on 4,000 screens, per Box Office Mojo.
Read Paste's review of Bohemian Rhapsody here.