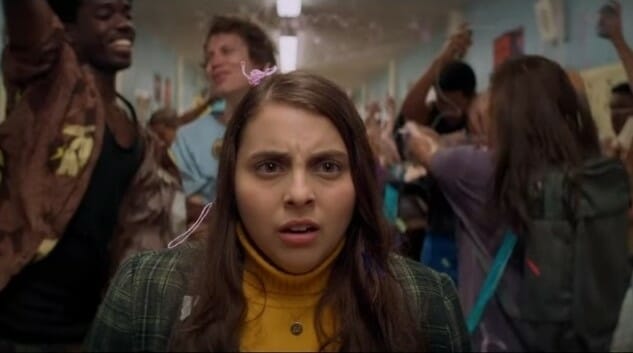 The "high school party" movie subgenre is a permanent staple in teen cinema, regardless of whatever decade you came of age. In the '80s, you had Risky Business. In the '90s, it was the likes of Can't Hardly Wait. In the 2000s, it was naturally Superbad. And now, as we close out this decade, we're being given Booksmart. Olivia Wilde's directorial debut was shown to its first audiences at SXSW last night, and premiered to rave reviews. After getting a look at the below trailer, we can see why.
Booksmart most certainly feels like an update on the Superbad formula, one that normalizes some new aspects of society that were still being presented as awkward back in 2007 when Superbad came around. The fact that one of its two main characters is a lesbian (or bi), for instance, is handled with a refreshing matter-of-factness that suggests there's nothing unusual about her sexual orientation. Of course at its core, though, the story remains the same: Two unpopular girls look to make a splash at their last big high school party before shipping off to college. We've seen this story before, so it's up to the characters to make it endearing.
Luckily, Booksmart seems well equipped to do exactly that. Its central pair, Amy and Molly, are played by 22-year-old Kaitlyn Dever (Last Man Standing, Short Term 12) and 25-year-old Beanie Feldstein, who turned heads and garnered quite a bit of praise as the best friend of Saoirse Ronan's title character in Lady Bird. Stranger still? The fact that Feldstein is the biological sister of Jonah Hill, who played one half of the pair in Superbad.
Both leads project a delightful combination of feminist self-assuredness and youthful naivete. Just look at how they handle a bottle of pepper spray! And using your own hair as a shitty facemask? Brilliant.
Booksmart was produced by Annapurna Pictures and will receive a wide release on May 24, 2019 via United Artists. Check out the full trailer below.