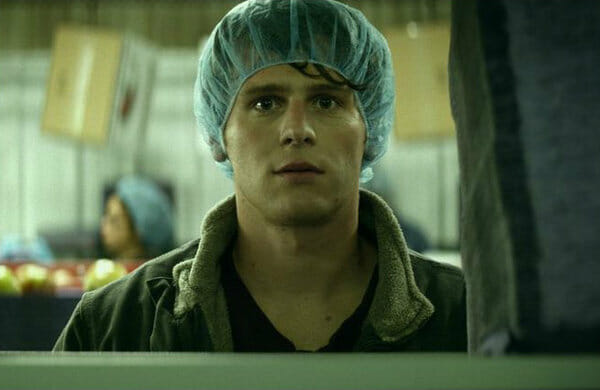 C.O.G. makes a magnificent case-study in the perils of converting prose to cinema. This adaptation of an essay by David Sedaris sets out to tell a great writer's story without the great writer's voice. In a way it's admirable—writer/director Kyle Patrick Alvarez declines to plaster Sedaris's words onto the voice-over at all times, instead working with subtle quietude, punctuated by disconcerting bits of percussion. But in the end, it doesn't quite come off. The characters demand a precise treatment that the film simply doesn't have.
I hadn't read Sedaris's essay for more than 10 years, and purposefully didn't revisit it prior to watching the movie, lest I be too wrapped up in comparisons to view the film on its own terms. But as I flipped through the source material after the screening, I found myself laughing more at single pages than I did throughout the entire movie. The essay follows Sedaris's time picking apples and doing other odd jobs in rural Oregon. The author expertly takes digs at his inflated sense of self-worth and the people he encounters, balancing his vitriol and bemusement with self-deprecation. On screen, in flesh and blood, the characters don't quite feel as alive.
Jonathan Groff (Glee) plays Sedaris's stand-in, Samuel. Samuel is supposed to meet his friend to spend the summer picking apples, but she ditches him, leaving him alone in the strange land with strange people who, he thinks, aren't nearly as important as himself.
As he moves from picking to working at the packing factory and beyond, Samuel meets an assortment of oddballs, each played by able character actors. Dean Stockwell plays Hoggs, the colorful boss of the apple orchard. Corey Stoll plays a co-worker at the factory who's drawn to Samuel because he shares his sense of superiority. The scene in which Samuel visits the trailer home of Stoll's character has some of the film's funniest moments, and Alvarez might have done well to inject more absurdity into the rest of the film.
The most memorable performance comes from Denis O'Hare as Jon, a misfit born-again Christian. A former soldier who lost a leg, Jon is amazingly eager to do the Lord's work, but equally liable to fits of rage as his insecurities wipe away his cheerful veneer. Jon has an unhinged personality that makes him ceaselessly intriguing as we explore how he reacts to Samuel. Jon declares himself an artist and takes our hero under his wing, teaching him to cut jade as part of a grand money-making scheme.
The movie features many good laughs and smart details, but it often feels too clinical. The issue isn't—and never should be—a lack of loyalty to the source, but a failure to give the story attitude. More of Sedaris's prose would have been too dense and cumbersome in the medium. C.O.G. shows a director with the right ideas of how to go about things, failing to find the perfect approach needed to play satire on the screen.
Director: Kyle Patrick Alvarez
Writers: Kyle Patrick Alvarez (based on the essay by David Sedaris)
Stars: Jonathan Groff, Corey Stoll, Denis O'Hare, Dale Dickey, Dean Stockwell, Troian Bellisario
Release Date: Sept. 20, 2013