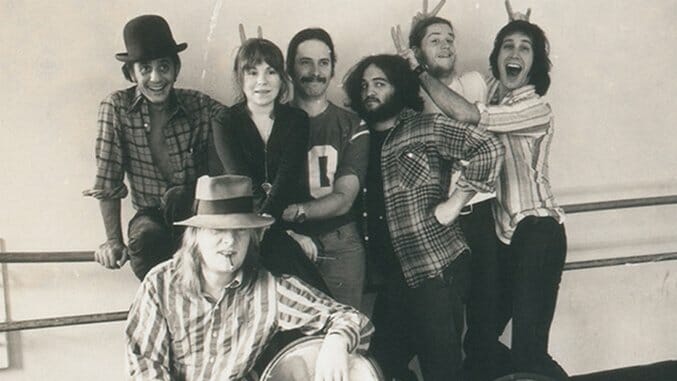 Today it seems as if boundary-pushing comedy is everywhere. From award-winning Comedy Central shows and late night variety, to comic strips in the morning paper and viral videos that distract you at work, it becomes easy to forget, in all this ubiquity, how many topics were off-limits and how controlled the means of production were in comedy just a few decades ago.
Drunk Stoned Brilliant Dead: The Story of the National Lampoon reminds us that there was a time when the potty-mouthed mavericks and ne'er-do-wells were so underground they could launch a print magazine that earned the scorn of thousands of parents across the country. These misfits were so successful their brand branched out into movies and radio, creating a mini-media empire ruled by some of the nation's top comedic talent. It was a different time and place, after all—and the documentary's talking heads are only too happy to wax rhapsodic.
The movie traces the mag's Ivy League roots (The Harvard Lampoon) to its poor-man beginnings and its fly-by-the-seat-of-their-pants shoestring operation founders Doug Kenney, Henry Beard and Robert Hoffman set up in 1970. Ranging from surrealist cartoons to political satire, the magazine's content grew as its roster did, eventually landing such stalwarts as P.J. O'Rourke and John Hughes, breaking into radio and plays with the likes of John Belushi, Gilda Radnor, Chevy Chase, Bill Murray and Harold Ramis. But, in contrast to the quickness with which they burst onto the scene, The National Lampoon died a drawn-out death in the late '90s.
Drunk Stoned Brilliant Dead: The Story of the National Lampoon imitates much of the magazine's irreverent tone, using interstitial cartoons to animate some of the more popular and crude illustrations from The National Lampoon. Director Douglas Tirola cleverly uses these bouts of whimsy to illustrate some of the more colorful, bawdy, behind-the-scenes tales breaking up the otherwise monotonous, button-down sit-down interviews. It's actually amazing how resourceful the documentary can be curating so much published content: Radio plays, live performances, animation—the film incorporates each of these elements to better illustrate not just the range of the magazine's output, but the range of creativity and intelligence behind it all. (Taped performances especially are bittersweet flashbacks of talent gone too soon.)
While Drunk Stoned Brilliant Dead is a nostalgic look back at some of the most celebrated funny men and women in the genre, it is one with a sense of finality. What once was will never be again: The industry has forever shifted. The Internet has made it possible for young comics to grow a base outside of the traditional club scene; a clever web series can make it to prime time; a comic's podcast can score an interview with the President; improv groups are no longer on the fringes of the performing scene, but now host and teach classes to wannabes and hobbyists alike. Some of the most trusted names in political news are not pundits, but funny people, like Jon Stewart, Stephen Colbert and John Oliver.
Incidentally, Drunk Stoned Brilliant Dead is most of all a testament to the ways that audience tastes have changed. No longer are topless women suitable punchlines: Contemporary audiences seem to prefer their comedians be witty rather than just crass, and women aren't so much a token addition to a group of comedic minds as they are stars in their own right. The overt whiteness and heterosexuality of the field is being challenged by the success of a diverse group of emerging minds. And in that sense, the magazine may be missed, but the fact that it's no longer around can be a sign of even better things to come.
Director: Douglas Tirola
Writers: Mark Monroe, Douglas Tirola
Release Date: September 25, 2015
---
Monica Castillo is a freelance film critic and writer based in Los Angeles. You can usually find her outside of a movie theater excitedly talking about the film she just saw or on Twitter.