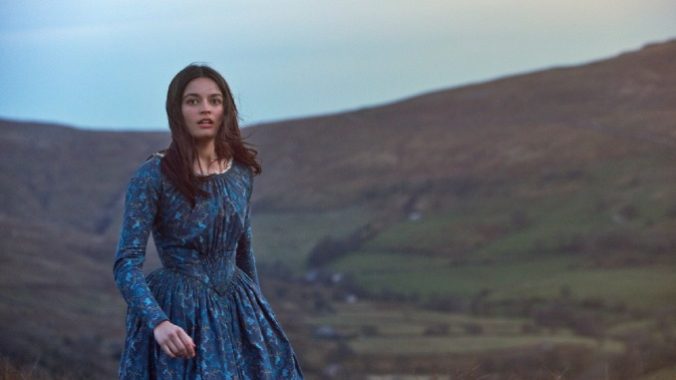 Movies and television spun from the lives of real people have become increasingly fraught propositions: Audiences can easily surf Wikipedia for a quick summary of potential inaccuracies, and acknowledging dramatization with a standard "based on a true story" is meaningless if a subject feels their reputation has been besmirched. Best to make historical dramas about the dead instead—the really dead, the "centuries-old" dead. They don't keep lawyers on retainer.
Frances O'Connor, stepping behind the camera after years in front of it, takes that particular tack a step further with her film Emily, a biographical interpretation of Victorian novelist Emily Brontë's final years through the publication of Wuthering Heights. Brontë famously relished her solitude; O'Connor couldn't hope to find a more private figure for her exercise in historical fiction. Only her older sister, Charlotte, could speak to her character with detail and authority, and even then, the details are slim. O'Connor capitalizes on the wiggle room afforded her by Emily's self-isolation from her peers and neighbors to give the great novelist whatever shape she finds pleasing, and a pleasure it is indeed.
O'Connor's Emily is played by Emma Mackey, known best for her lead role as Maeve Wiley on the breezily hilarious and compassionately randy Netflix series Sex Education, where she likewise plays a sullen, observant outsider lurking around social sidelines. Maeve tries to keep to herself, but her finely tuned bullshit detector compels her to intervene against, for instance, classist bullying and stuffy cultural mores. She doesn't care much for propriety, and neither does Emily. There's more than a little of Maeve's rebellious soul in the Emily of O'Connor's film.
Emily positions Miss Brontë as one searching for purpose and then attempting to protect it: From Charlotte (Alexandra Dowling), from her father (Adrian Dunbar), and from William Weightman (Oliver Jackson-Cohen), the new curate to her city's church, who apart from being bright of mind is unreasonably hot for a man of God. This, of course, poses a conundrum for Emily, who can't stomach Christian nonsense, but also can't deny that William is, again, unreasonably hot, and invested with a sharp intellect—which is frankly an even bigger attraction than his body. O'Connor makes that attraction palpable by directing Mackey and Jackson-Cohen through their eyes: Emily misses nothing and gives away less, but William catches her off guard by meeting her furtive glances with his probing gaze. In period context, this counts as flirtation. Even for a 2023 audience, it does the trick.
Emily draws tension from Emily's desire for William, which is instantaneous but well-hidden by her knack for masking her literary aspirations; her lingering grief over the loss of her mother, Maria, to cancer; and her resistance to the yoke reserved for her by her father and by English society. Emily wants to write, and not provoke her father, but dammit, William is a hunk, and what else can she be but torn? O'Connor doesn't treat this conflict as frivolity; Emily takes romance as freedom of thought, the clarion call of Branwell (Fionn Whitehead), Emily's impish brother, rather than a schoolyard indulgence. Freedom of thought and freedom of body are equal halves of Emily's struggle.
Movement is key to O'Connor's work. Emily never looks more miserable than when she must sit still, whether in church pews or at dinner tables; she never looks more alive than when she's in motion. When Emily pulls all of these elements together for Emily and William's eventual, inevitable consummation of their mutual desire, the effect is vivifying. It's a brilliantly executed scene: O'Connor cuts from Mackey's eyes, peering just over the edge of a windowsill, to Jackson-Cohen marching toward the shed where she awaits him, back and forth, stirring their characters into an unbearable froth, until they each get their hands on the other and Emily releases that pent-up energy in a montage of passion unbound.
This is where the film lets loose, and where the interior details of Emily's life start feeling unexpectedly concrete. (There's no evidence Weightman and Emily had any kind of relationship at all, and only slightly more that Emily's sister Anne loved him.) Giving composite material a sense of density is no small feat, and that's Emily's finest achievement (though the stellar casting comes a close second). Filling in the gaps on a real person's story when the story is made up almost entirely of them is a frightening prospect. Undoubtedly, filmmakers like O'Connor wish to honor their subjects instead of idly speculating. Emily performs that complicated maneuver with casual ease, proving that for the right kind of movies, actors make the best kind of directors.
Director: Frances O'Connor
Writer: Francs O'Connor
Starring: Emma Mackey, Oliver Jackson-Cohen, Alexandra Dowling, Fionn Whitehead, Adrian Dunbar, Amelia Gething
Release Date: February 17, 2023
---
Bostonian culture journalist Andy Crump covers the movies, beer, music, and being a dad for way too many outlets, perhaps even yours. He has contributed to Paste since 2013. You can follow him on Twitter and find his collected work at his personal blog. He's composed of roughly 65% craft beer.