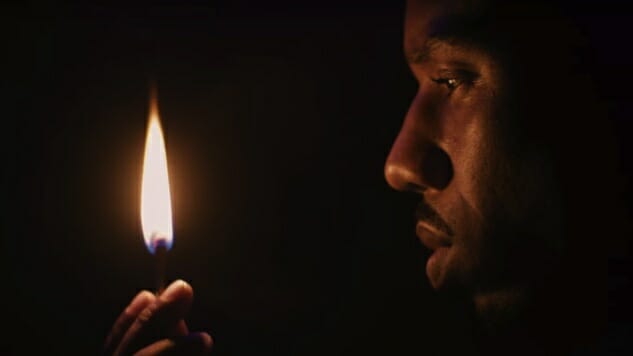 The world of Fahrenheit 451 is one in which firemen start fires, rather than fighting them, and while previous teasers for HBO Films' adaptation of Ray Bradbury's all-timer of a sci-fi novel have shown us a Guy Montag (Michael B. Jordan, Black Panther) unaware of and unbothered by that dystopian perversion of the profession, Friday's first full-length trailer for the film shows us the first seeds of doubt being sown in Montag's mind.
Montag begins as a devoted acolyte of Captain Beatty (Michael Shannon, The Shape of Water), suppressing free thought without any of his own and even helping to indoctrinate the next generation of book burners. But Montag begins to question his work as it slowly dawns on him that he's been lied to all his life—"I want to know why we burn," he says, a key evolution of his unexamined declaration of "I want to burn" from the film's previous teaser.
Shannon's forbidding, fanatical Beatty will brook no such dissent, insisting, "Words are a terror, son, I know. Knowledge is a dangerous thing." Montag's search for the truth will turn him against both his mentor and his comrades in flame.
Montag … welcome to the resistance.
Fahrenheit 451, co-written and directed by 99 Homes helmer Ramin Bahrani, also stars Sofia Boutella (The Mummy), Lilly Singh (Bad Moms), Martin Donovan (Ant-Man) and Keir Dullea (2001: A Space Odyssey). The film premieres on Saturday, May 19 at 8 p.m. EST on HBO.
Watch the Fahrenheit 451 trailer below, and revisit the film's previous teasers here and here.