The Hulk Hogan v. Gawker Case Is Now Being Adapted as a TV Series AND a Feature Film
Photos via Netflix, YouTube
Movies
News
Gawker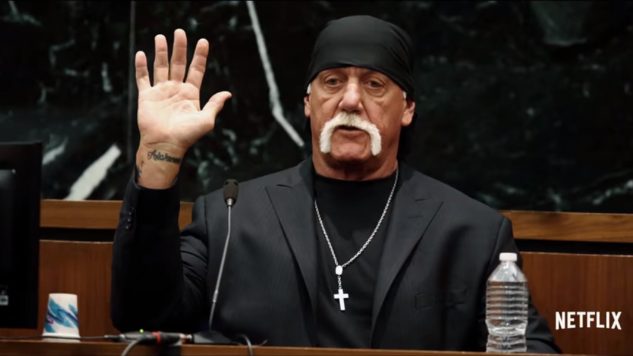 The Hulk Hogan vs. Gawker case of 2016 was certainly a landmark in terms of privacy vs. free speech lawsuits in American media, and it's understandable why multiple filmmakers would have an interest in telling the story. But three separate projects? That seems a little repetitive, does it not?
First it was Netflix with the documentary Nobody Speak, which tried to twist the story of the Gawker sex tape into some kind of attack on American freedom of the press in rather unconvincing fashion. That doc. landed in 2017, detailing the court case that eventually led to a $140 million decision in Hogan's favor, and led Gawker to bankruptcy.
Meanwhile, it was recently reported that Ryan Holiday's book about the case, Conspiracy: Peter Thiel, Hulk Hogan, Gawker and the Anatomy of Intrigue was optioned for a potential limited TV series about the court case. Said project would be produced by David A. Neuman's Blackrock Productions, which is "in talks to package a writer/director, screenwriter or showrunner to the project," according to Slashfilm.
However, at the SAME TIME, there's yet another adaptation of the same story that is newly announced, this time in the form of a feature film. Variety reports that Modern Family director Jason Winer, who has also directed episodes of Life in Pieces and 1600 Penn, is attached to direct Gawker v. Thiel, a film that "center on the fall of the controversial media company and the man that helped bring it down." That refers to Peter Thiel again, who bankrolled $10 million into the Hulk Hogan case to settle a score with Gawker, which outed Thiel as gay years ago, in 2007. One can only presume that Thiel saw the closure of Gawker as karmic, justice for sharing details of his personal life that were irrelevant to his professional career.
This film reportedly would be looking at the case from a slightly different angle. Rather than existing within the court room and in the proximity of Hogan, it would instead focus more on the behind-the-scenes struggle between figures such as Nick Denton, the founder of Gawker, and Thiel himself as the power broker behind the lawsuit.
Still, how many adaptations of a single story can possibly be expected to be viable? The question now is, which one of these upcoming adaptations can get produced first?