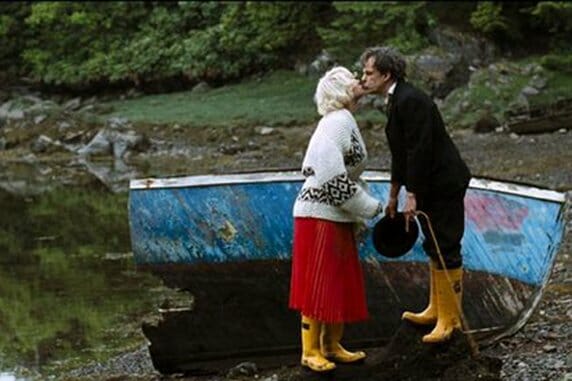 Release Date: May 2
Director: Harmony Korine
Writers: Avi and Harmony Korine
Cinematographer: Marcel Zyskind
Starring: Samantha Morton, Diego Luna, Denis Lavant, Werner Herzog
Studio/Run Time: IFC First Take, 112 mins.
Mister Indulgent
In this curious tale, a Michael Jackson impersonator (Luna) performs on the streets of Paris and in nursing homes; he is befriended by a faux Marilyn Monroe (Morton), who brings him to a commune of impersonators in the Scottish Highlands where she lives with her husband, Charlie Chaplin (Lavant); her daughter, Shirley Temple; Abraham Lincoln; Moe, Larry and Curly; Madonna; the Queen of England; the Pope and other assorted personages—and there's also something here about skydiving nuns in Africa and learning to follow your own path. This is indie darling Korine's first film in nearly a decade. Well-acted and at times funny, the imaginative premise dances around a great potential for profundity. Unfortunately, it succumbs to a spectacularly simplistic ending that will leave viewers empty and annoyed. Besotted with its own playfulness, Mister Lonely gives off the distinct impression that it was a lot more fun to make than it is to watch.