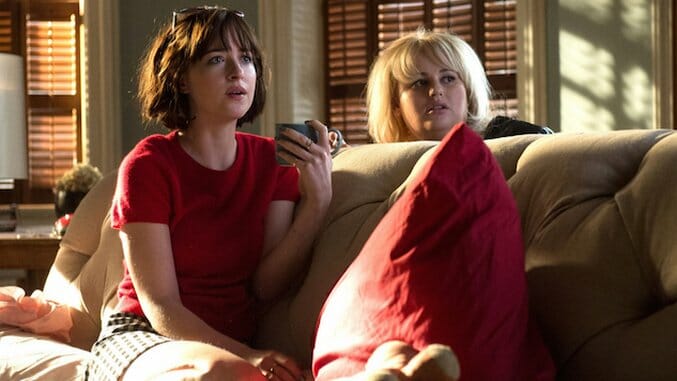 Let's be honest: Ensemble romantic comedies are usually terrible. They feature a distracting number of Hollywood A, B and C-listers and are too disjointed to follow an engaging narrative. Occasionally one emerges ahead of the pack ( He's Just Not That Into You, which is underrated and charming, dammit), but most are the equivalent of cinematic cotton candy: fun in theory, but ultimately disappointing (Who actually likes cotton candy?). From mildly terrible (Love Actually) to offensively terrible (New Year's Eve), there's an audience for these films. Mercifully, How to Be Single isn't terrible whatsoever. What the film lacks in general cohesion it makes up for with a zippy energy, talented cast and smart script.
Alice (Dakota Johnson), recently out of a long-term relationship, takes a job at a law firm where she meets Robin (Rebel Wilson). Robin is chronically single and happy about it, so she takes Alice under her wing, showing her just how exhilarating single life in New York City can be. Also along for the ride are Alice's overworked, baby-obsessed doctor sister Meg (Leslie Mann) and Lucy (Alison Brie), a woman who seems to have dating down to a science while remaining single. That's really all you need to know. All four women experience a myriad of terrible dates, embarrassment, and newfound confidence over the film's 110-minute running time.
How to Be Single starts with a montage; Alice narrates as the camera pans to singles partying and going about their days. The camerawork is frenetic but also gorgeous, casting New York City as a joyous adult playground filled with never-ending possibilities. The film maintains this energy throughout—when the end credits roll, it barely even feels like it began.
The cast is all game with the material they've been given, to varying degrees of success. Rebel Wilson is funny, though her character disappoints; overly confident, selfish, wild, and able to rein it in when need be, she's essentially Fat Amy from the Pitch Perfect films, and Wilson is certainly capable of more. Dakota Johnson is a highlight, the voice of reason and also the character who learns the most about herself. As in other films, she tends to register as frigid, but here it works. Fumbling over her newfound single lifestyle, Alice is frustrating yet relatable. Leslie Mann gives quite possibly the film's best performance as a woman who decides to have a baby without the aid of a man by her side. She's sympathetic without seeming pathetic, and her scenes range from blisteringly funny to underscored and sweet.
The big question mark is Alison Brie, who is charming and lovely in a role that doesn't make much sense. How to Be Single never addresses how her character knows the other three women—Lucy doesn't utter a single line of dialogue toward any of them. She interacts with the owner of the bar she lives above (Anders Holm), who has a fling with Alice, but that's about as close as she gets to fitting into the plot. She is seen at Alice's birthday party as well, but her relationship to anyone remains a mystery. Brie has some genuinely hilarious scenes and she holds her own quite well, but it's odd that she seems to have no purpose with anyone else.
Based on the book by Liz Tuccillo, the film's screenplay, by Dana Fox, Abby Kohn and Marc Silverstein, respects these women and takes them in directions that typical rom-coms do not. The result is ultimately satisfying, and will put a smile on your face. How to Be Single isn't groundbreaking, but it's fun and different enough to stand as an impressive entry in the genre canon. You could do much worse for something to watch around Valentine's Day.
Director: Christian Ditter
Writers: Dana Fox, Abby Kohn, Marc Silverstein, based on Liz Tuccillo's book
Starring: Dakota Johnson, Rebel Wilson, Alison Brie, Leslie Mann, Anders Holm, Jake Lacy, Nicholas Braun, Damon Wayans, Jr., Colin Jost
Release Date: February 12, 2016
---
Andy Herren is an adjunct professor and occasional reality show winner. When he's not lying to people on national television, he contributes to Paste. You can follow him on Twitter. Olive Penderghast is his soulmate.