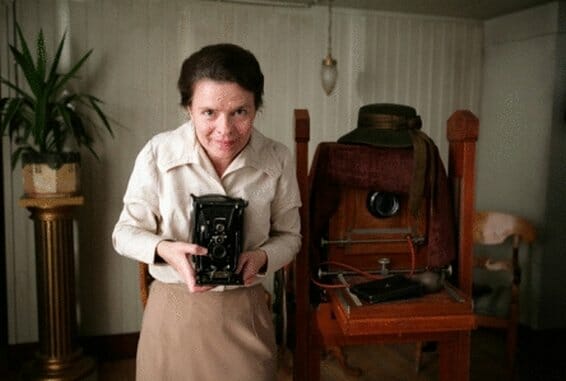 Release Date: March 6 (limited)
Director: Jan Troell
Writer: Niklas Rådström
Cinematographers: Mischa Gavrjusjov, Jan Troell
Starring: Maria Heiskanen, Mikael Persbrandt, Jesper Christensen
Studio/Run Time: IFC Films, 131 mins.
Leisurely realism elevates period tale of a woman who lives through pictures
Every photograph is a miracle for the durable matriarch of Everlasting Moments, and in the hands of enduring Swedish great Jan Troell, it's hard to disagree. First set in 1907, the movie loosely recounts the fact-based story of Maria Larsson (Maria Heiskanen), a lower-class Swede with a lifelong affinity for photography. The movie extends into World War I and beyond, but it's always punctuated by Maria's fleeting moments with her camera, which adopt a lightly symbolic weight as the years pass.
Maria already has several children when the film opens, but we see her through more pregnancies, brought on (sometimes against her will) by her inebriate husband (Mikael Persbrandt), a doltish, increasingly resentful pile of carbon. She raises the children into the first generation of her family that embraces the opportunities of the new century, though her heart remains with her work, and often with a local camera-shop owner (Jesper Christensen) who becomes a kind of spiritual lifeblood over the years.
The film's studied modesty thrives under Troell, a onetime contemporary of Ingmar Bergman whose understated body of work is considered among Sweden's finest. At 77, Troell has mastered the rhythms of life on film, and Everlasting Moments benefits from a scrupulous emotional realism even as it jumps ahead several years at a time. As Maria, Heiskanen suggests a younger Imelda Staunton and quietly frames Larsson as a generous, resolute woman who lives as she is required but never surrenders herself entirely.
Troell surveys the family with delicate naturalism, and though the movie's pace can be a bit too leisurely, no scene is gratuitous. Everlasting Moments moves along less as a conventional narrative than as an evocative recreation both of life at the time and of a personal longing that transcends circumstance. Troell grants Maria moments of blithe catharsis in the movie's final scenes, but there's never an indication the smaller personal sensations of her life gave her any less.