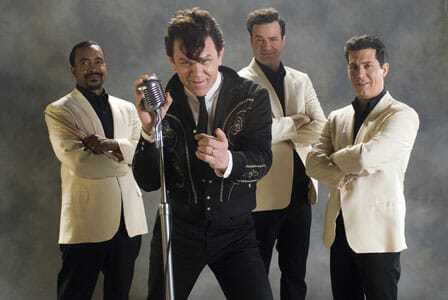 Release Date: Dec. 21
Director: Jake Kasdan
Writers: Judd Apatow, Jake Kasdan
Cinematographer: Uta Briesewitz
Starring: John C. Reilly, Jenna Fischer, Kristen Wiig, Tim Meadows
Studio/Run Time: Columbia Pictures, 92 mins.
Coming off a string of successful films, the word "Apatow" is becoming synonymous with "hit." This time around, Judd Apatow (the man who's worked on Superbad, Knocked Up and Anchorman, to name a few) has co-written (with the film's director Jake Kasdan) a satirical exposé about biopics like Walk The Line and Ray. In making a film like this, a writer is held to the ultimate Spinal Tap test, requiring that the project must be turned to 11.
Although Walk Hard: The Dewey Cox Story claims to be a spoof on biopics and their extreme depictions of music artists, biopics' exaggerations are a reflection of the frailties and eccentricities of the artists which they profile, so it's hard to distinguish a satire about biopics from a satire about musicians. Regardless of what category the film falls into, Walk Hard does not really tow the fine line of being clever so much as it provides a fun and absurd romp with heaps of laughs.
John C. Reilly, who plays rising and troubled music star Dewey Cox, skillfully presents a dopey-yet-conniving and shallow-but-sincere character with a heart of fool's gold. Looking something like Johnny Cash crossed with Tom Waits, Cox has multiple addictions, wives and musical phases. Aspiring to a level beyond greatness after he accidentally kills his brother by splitting him in half with a machete when they are young boys growing up in Alabama, Cox is compelled to compensate for the loss of his brother, leading to a life of excess and indulgence.
But Reilly isn't the only star of the film. Kristen Wiig shines as Cox's frustrated wife and the mother of their seemingly infinite amount of children. As Cox's other frustrated wife and duet partner, Jenna Fischer is superb. Tim Meadows is hysterical with a stand out performance as Cox's bandmate who can't seem to stop doing or introducing Cox to increasingly heavy drugs. Additionally, cameos from Jack White (Elvis Presley), Jack Black (Paul McCartney), Paul Rudd (John Lennon), Jason Schwartzman (Ringo Starr), Justin Long (George Harrison), Eddie Vedder, Jackson Browne and Lyle Lovett make the film even more ridiculous in a good way.
At times silly and a little too over-the-top in its attempts to prove itself, there is something charming about Walk Hard which is further underscored by its genuine love of music and affinity for musicians. It is also obvious from one of the first lines in the film ("Guys, I need Cox!") that this project neither takes itself too seriously nor asks the same of its viewers. Now, if those viewers can suspend disbelief appropriately, they will laugh hard.