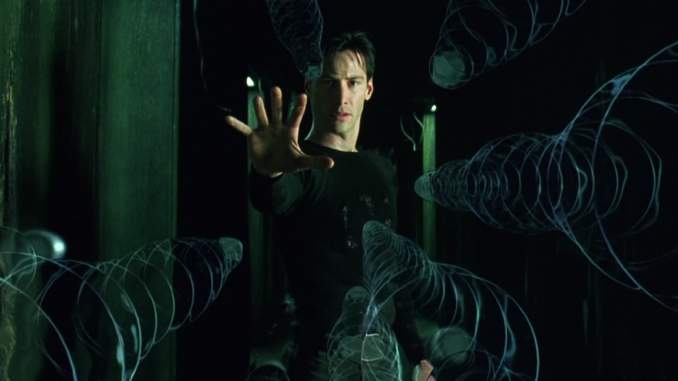 For many who would criticize Keanu Reeves movies, the key to appreciating and understanding the actor's strengths lies not in his various franchise-leading action roles, but in his Shakespearean performances. The same loose softness that allows his body to flow through the Matrix or through the balletic choreography of a John Wick film allows him to slip, nearly undetected, into familiar roles and well-worn words. It's the same laconic mystique that makes us stare at his jocks and Chosen Ones; Reeves in an actor that lets the worlds of his films wash over him–whether that means taking it all in with good-natured ignorance as a slacker teen, or a hard-eyed silence as a weathered hitman. Sometimes, when the role or film needs something different, they can leave him hanging out to dry. But when the filmmakers know how to best use Reeves' subtle magnetism, the results are the star-making turns he's had in decade after decade.–Jacob Oller
Here are the 20 best Keanu Reeves movies:
---
20. Always Be My MaybeYear: 2019
Director: Nahnatchka Khan
Stars: Ali Wong, Randall Park, Keanu Reeves, Michelle Buteau, Vivian Bang, Karan Soni
Rating: PG-13
Runtime: 102 minutes
A film written by and starring Ali Wong and Randall Park was always guaranteed to be a home run, but the endlessly funny and charming Always Be My Maybe truly exceeds all romcom expectations. The duo (who penned the script with Michael Golamco) play childhood friends who lose touch after an impulsive teenage romance ends badly. From there, Wong's Sasha becomes a celebrity chef as Park's Marcus continues to live at home and work for his father's blue collar business after his mother's tragic passing. They each have things to learn from one another, sure, but Always Be My Maybe doesn't just end when romance blossoms; it leans into the complications of two adults with independent lives choosing to be together and figuring out how to make it all work. Part of that, crucially, includes both Marcus and Sasha playing supportive roles in one another's careers rather than compromising and giving up their passions to be together. Director Nahnatchka Khan keeps the stylish film moving at a pleasant comedic clip throughout, and there's a killer cameo appearance you will not want spoiled before you see the movie. Seriously, you should watch it right now. —Allison Keene
---
19. ConstantineYear: 2005
Director: Francis Lawrence
Stars: Keanu Reeves, Rachel Weisz, Shia LaBeouf, Tilda Swinton, Pruitt Taylor Vince, Djimon Hounsou, Gavin Rossdale, Peter Stormare
Rating: R
Runtime: 121 minutes
What kind of a rock star demon-slayer must you be to count yourself among the names on the shit list of the Devil himself? That's the rep preceding John Constantine (Keanu Reeves) in the way-better-than-it-gets-credit-for comic adaptation that didn't really bring many character traits from the comics. Nevertheless, it's a movie with some unforgettable images and incredible scenery-chewing, not the least of which comes courtesy of Peter Stormare's Satan in a very brief appearance that leaves one of the biggest impressions of anyone in the cast. Well-dressed but looking sunken-eyed and wretched, like an outcast playing at being the boss, Lucifer hates Constantine, and so relishes the thought of dragging him to hell that his one scene in the movie fairly boils with vindictive delight. How sadistic is the Prince of Lies? Enough to cure a man's cancer out of spite. —Kenneth Lowe
---
18. River's EdgeYear: 1986
Director: Tim Hunter
Stars: Crispin Glover, Keanu Reeves, Ione Skye Leitch, Roxana Zal, Daniel Roebuck, Joshua Miller, Dennis Hopper
Rating: R
Runtime: 99 minutes
Tim Hunter's film centers on a group of teens (including Crispin Glover, Keanu Reeves and Ione Skye) in a Northern California town who have an oddly indifferent reaction when their friend John (Daniel Roebuck) nonchalantly murders his girlfriend Jamie (Danyi Deats). Neal Jiminez loosely based his script on a real-life murder, and there's something specifically unsettling in the authentic way that River's Edge captures the pervading ennui of eking out an existence in this type of go-nowhere place. With no hope for anything beyond the sad day-to-day that you see around you, what point is there in caring about anything? One of the film's strongest elements is the presence of Feck (Dennis Hopper). A local drug dealer who sells marijuana to the kids, Feck is easily recognizable to anyone who's ever had their odd weed guy try to hang out whenever you buy from him. At the same time, there's an uneasy menace to the man, signposted by the film's horror-tinged score when we are first introduced to his house—the camera looking through his window to show Ellie, his blow-up sex doll girlfriend. Routinely reminding our main characters that he killed a girl himself 20 years ago and that the authorities are after him, there's an unpredictability to Feck that makes you question what he could do at any moment. And yet, while River's Edge could have painted Feck solely as this whacky freak, Hopper is able to ingrain genuine heart into the man. There's a sadness he holds within his gaze, a genuine fondness he has for these kids, and what seems to be a true love he feels for Ellie. Not quite a villain or a heroic Boo Radley loner, Feck is much more complicated, and Hopper creates a remarkably multi-faceted performance. Feck represents what these kids could turn into if they don't change their ways. He's the pitiful embodiment of what a place like this can do to you if you don't get out, a Ghost of Christmas Future they should see as a warning for where they're headed.–Mitchell Beaupre
---
17. ParenthoodYear: 1989
Director: Ron Howard
Stars: Steve Martin, Mary Steenburgen, Dianne Wiest, Jason Robards, Rick Moranis, Tom Hulce, Martha Plimpton, Keanu Reeves, Harley Jane Kozak, Dennis Dugan, Joaquin Phoenix, Eileen Ryan
Rating: PG-13
Runtime: 124 minutes
Parenthood is an irresistibly relatable family dramedy, featuring an ensemble cast of comic actor nirvana, all directed by Ron Howard (who could not be more within his wheelhouse here). Chiefly revolving around the parental anxieties of dad Gil Buckman (Steve Martin), the narrative weaves throughout his family, including sister Helen (the incomparable Dianne Wiest), who's stuck refereeing her rebellious teenage daughter (Martha Plimpton) and secret-husband (Keanu Reeves, hot right off of Bill and Ted's Excellent Adventure, released earlier the same year), as well as troubling over her puberty-stricken son, Gary (Joaquin Phoenix), whose withdrawn behavior is raising eyebrows within the family. Rounding out the dazzling cast are Rick Moranis, Mary Steenburgen and the legendary Jason Robards as Gil's father. Parenthood has an overabundance of heart and simultaneously terrifying, but painfully funny, moments. Is there a parent alive who doesn't wake up in existential horror wondering if their well-meaning choices will turn their child into a deranged watchtower shooter? —Scott Wold
---
16. Bram Stoker's DraculaYear: 1992
Director: Francis Ford Coppola
Stars: Gary Oldman, Winona Ryder, Anthony Hopkins, Keanu Reeves
Rating: R
Runtime: 127 minutes
Based on the 1897 Gothic horror classic, Francis Ford Coppola's unabashedly over-the-top adaptation is at times as chuckle-worthy as it is impressive. The period detail and production design is sumptuous, and the traditional, non-CGI special effects—a deliberate nod by Coppola to the novel's turn-of-the-century origins, which coincided with early filmmaking—are the stuff of lavish spectacle. Be it Gary Oldman (relishing the role, and some masterful makeup) as the soulful but ruthless bloodsucker, Winona Ryder as his long-lost love, or Anthony Hopkins as the equally storied Dr. Van Helsing, nothing about the film or its performances is subtle—and that's before we get to Keanu Reeves. When Coppola's overwrought romantic vision—and an ensemble that also includes Richard E. Grant, Cary Elwes and a marvelous Tom Waits as R.M. Renfield—works, it's intoxicating. When it doesn't, it's an operatic circle jerk, albeit a riveting one. —Amanda Schurr
---
15. Man of Tai ChiYear: 2013
Director: Keanu Reeves
Stars: Keanu Reeves, Tiger Chen, Iko Uwais, Karen Mok, Simon Yam
Rating: R
Runtime: 106 minutes
It's still a phrase that lodges in the throat: "Director: Keanu Reeves." But for anyone who left John Wick loose-limbed and exhausted due to the sheer grace of Reeves' action chops, it should come as absolutely no surprise that the man—the one and only Neo—can direct the fuck out of a martial arts movie. With little frills, barely a plot, a Tai Chi phenom in Tiger Chen (who also served as Reeves' teacher and, for Kill Bill, Uma Thurman's stunt double), a strong woman character who seems smarter than all the 'roided-out dudes beating each other senseless surrounding her, and Reeves' ever-present sonic mangling of the English language, Man of Tai Chi is pretty much exactly what the title suggests: An exhilarating, inertial obsession both with movement as art as power and with those who wield it inimitably. Testament to Reeves' intelligence as a self-didact who just wants to do right by those folks who put their trust in him over the course of his many-decade career, Man of Tai Chi is exactly what you most hoped for when you first saw who directed it. That it's awesome is surprising—and it's even better for that.—Dom Sinacola
---
14. John WickYear: 2014
Director: David Leitch, Chad Stahelski
Stars: Keanu Reeves, Michael Nyqvist, Alfie Allen, Adrianne Palicki, Bridget Moynahan, Dean Winters, Ian McShane, John Leguizamo, Willem Dafoe
Rating: R
Runtime: 101 minutes
It's downright audacious for an increasingly spineless Hollywood studio system to throw in behind a pointedly hard R-rated revenge flick that isn't based on a money-printing franchise or established comic book/graphic novel IP. An absurdly populist, crowd-pleasing movie like John Wick shouldn't feel like a gamble, but at the end of 2014, such unguaranteed fare was fast becoming an endangered animal. The film opens as the eponymous John Wick (Keanu Reeves, perfectly suited to the laconic retired killer role) stumbles out of a car crash with a sucking abdomen wound. What follows is a deftly paced reveal of Wick's world as an ex-hitman by means of his bloody "They killed my dog" rampage, as gorgeously shot as it is wall-to-wall with goons shot full of holes. Cinematographer Jonathan Sela captures the action within the dark, claustrophobic sets in exquisite fashion—there's always something just out of frame to tantalize. But as otherwise entertaining and crisply choreographed as that rampage is, it's the subtler, cool-as-hell details of the killer-for-hire underworld that make for the fun. The implied backstories between these professionals is intriguing; Ian McShane could not have been better cast as an assassin guild leader you should never, ever fuck with. Ditto for Lance Reddick as the smiling "Hotel Manager" and Willem Dafoe as Wick's old colleague with pliable loyalties. The straightforward story is so minimal, of course, it merely serves as a functional hook upon which to hang the setting and characters; Derek Kolstad's screenplay calls but for a spare few monologues and minimal verbal exposition, leaving the capable acting and lens the space to deploy the bon mots. Within that brief window, the blood-slicked, vividly drawn film universe John Wick illustrates is such a generous slice of pulp that, even if not original, per se, it exudes a confidence rarely seen these days, surefire franchises be damned.–Scott Wold
---
13. A Scanner DarklyYear: 2006
Director: Richard Linklater
Stars: Keanu Reeves, Robert Downey Jr., Woody Harrelson, Winona Ryder, Rory Cochrane
Rating: R
Runtime: 100 minutes
A Scanner Darkly, Richard Linklater's second animated-over-live-footage film, can be hard to remember without recalling specific circumstance. It hits that deeply, touches that kind of nerve—looks the way everything feels when pumped full of anesthesia for surgery, nothing in any frame still, everything crawling like hallucinated bugs in the film's opening scene. About a future in which the War on Drugs is lost and a new drug named Substance D is sweeping the nation, A Scanner Darkly adapts the Philip K. Dick novel to follow Bob Arctor (Keanu Reeves) as an undercover detective who becomes an addict, the drug splitting his personality into two. Arctor takes D with his friends James Barris (Robert Downey, Jr.) and Ernie Luckman (Woody Harrelson), and things have gotten bad. Those bugs? They're not real, but they're crawling all over him at any given moment. Accordingly, RDJ and Harrelson are not actors who deal in stillness, constantly moving, always some nervous twitch displaying some desperate itch that begs to be scratched. Toss in animation that dances from frame to frame, and we're a long way from the gorgeous Vienna of Before Sunrise or the suburban high school of Dazed and Confused. Still, Linklater masterfully guides each scene to maintain the sense of dread permeating Dick's dystopian work. —Travis M. Andrews
---
12. Much Ado About NothingYear: 1993
Director: Kenneth Branagh
Stars: Kenneth Branagh, Denzel Washington, Michael Keaton, Robert Sean Leonard, Keanu Reeves, Emma Thompson, Kate Beckinsale
Rating: PG-13
Runtime: 111 minutes

In the history of film adaptations of Shakespeare, certain performances have so captured the essence of a character that the actor and role are forever linked afterwards. There is Olivier's Hamlet, Olivier's Richard III, Welles' Othello, and Keanu Reeves' Don John. Um, wait…did I say Keanu Reeves? How can I include the Maestro of the Monotone—the Duke of "Dude!" and the Wizard of "Whoa!"—in such company? Strangely enough, in Much Ado, Reeves' performance is noteworthy not because he has been cast to his strengths but because he has been cast in a role that feeds upon his weaknesses. Don John, the melancholy, moping bastard brother of Don Pedro, is easily the most impotent of Shakespeare's villains. Within the vestments of such a pallid villain, Reeves' own shortcomings as an actor are completely concealed and even flattered. The result is casting and acting synergy fascinating to behold. Much Ado About Nothing merits viewing for a number of reasons—most of the performances are superb, and Branagh's choice of a sun-drenched Tuscan backdrop is inspired. But as you enjoy the vigor and spirit of the film, please take a moment to appreciate the rare amalgam of poor acting and poor villainy that is Don Keanu. I mean, whoa. —Michael Burgin
---
11. John Wick: Chapter 2Year: 2017
Director: Chad Stahelski
Stars: Keanu Reeves, Common, Laurence Fishburne, Riccardo Scamarcio, Ruby Rose, Lance Reddick, Peter Stormare, Bridget Moynahan, Franco Nero, John Leguizamo, Ian McShane
Rating: R
Runtime: 122 minutes
Perhaps the greatest compliment you can pay to both John Wick movies is via comparison to a contemporary: John Wick films are to guns what The Raid films are to fists. Within their respective spheres of combat, each is on an entirely separate level in terms of presentation. Both aspire to something more vital than to "entertain." They don't want to "satisfy" an audience—they want to make your jaw drop. They want you to stifle a guffaw as John Wick (Keanu Reeves) pulls off a move that is simultaneously so slickly unrealistic and bone-crunchingly visceral that the cognitive dissonance causes a brief misfire in your synapses. They're everything that G.I. Joe or Fast & The Furious never bothers even attempting to be. So yes, both cinephiles and action movie buffs will be pleased to know that John Wick: Chapter 2 is a worthy follow-up to the surprising 2014 original. Holding the torch passed from '80s and '90s John Woo classics, director Chad Stahelski delivers an epic ballet of arm-breaking and gun-kata that somehow manages to run for 122 minutes without ever overstaying its welcome. That's far easier said than done. —Jim Vorel
---
10. The Matrix ResurrectionsYear: 2021
Director: Lana Wachowski
Stars: Keanu Reeves, Carrie-Anne Moss, Yahya Abdul-Mateen II, Jessica Henwick, Jonathan Groff, Neil Patrick Harris
Rating: R
Runtime: 147 minutes
As excitingly fresh and ambitious as The Matrix was in its approach to cyberpunk cinema in 1999, The Matrix Resurrections is just as devoted to its bold and disruptive vision in 2021. By returning us to Neo (Keanu Reeves), Trinity (Carrie-Anne Moss) and the Matrix within a framework keyed into, amused with and ultimately intrigued by remake/reboot culture, Resurrections is a stimulating and often joyous meta narrative—all stuffed into a conventional enough sci-fi suit and tie to pass as Mr. Anderson for those happily horking down blue pills. This clever commentary comes packaged as the life of ol' grown-up Thomas Anderson (Reeves), famed programmer living off his revolutionary-yet-fleeting videogame, The Matrix. Anderson is seeing a therapist for that nagging splinter in his mind—and we get the impression that the hot mom he's been bashfully eye-banging at his local coffee joint, Tiffany (Moss), might suffer a similar affliction. They need saving, which requires going back down the rabbit hole and confronting their shared past. To reunite, to find that old magic, to resurrect, they—and the movie—need to jump through some hoops. But, as it does, you begin to see its stance towards itself shifting: What once was an easy joke, a Super Bowl commercial where Neo puts on some VR gear and says "Woah," villainizes that same crassness to become an optimistic and reclamatory piece of sci-fi playing with new and relevant phenomena (fandom, auteur expectation, canon, the idolization of IP) just as the original trilogy played with the burgeoning cyberpunk and hacker scene. Bugs and her real-world crew are really into The One. How they relate to this new Matrix, how the citizens of Zion live, how the uneasy relationship between machines and humans turned out post-Revolutions (or, to be even more specific, post-The Matrix Online)—we get glimpses of it all, but it's not servicing fans. It's in service of itself. It is a shift from corporate pessimism (the very analysis and identification of which and other themes like it are lovingly mocked in that same montage-heavy opening) to a subversive positivity. Returning characters don't just need to be callbacks. Twisty hallways or underground brawls can be more than reference material. There is value in looking back as long as that experience moves you forward. At its best, which is mostly when Reeves and Moss share the screen and their red-hot chemistry and intimate warmth are able to embody these abstractions, Resurrections leaps from staggering heights and confidently soars. Sometimes literally.—Jacob Oller
---
9./8. Bill & Ted's Excellent Adventure / Bill & Ted's Bogus JourneyYear: 1989 / 1991
Director: Stephen Herek / Pete Hewett
Stars: Keanu Reeves, Alex Winter, George Carlin, Bernie Casey, Amy Stock-Poynton; William Sadler, Joss Ackland, Pam Grier
Rating: PG
Runtime: 90 minutes / 98 minutes
In the end we just can't pick between these two. Both movies are classics, but for different reasons. Both movies are part celebration and part knowing parody of the California party dude stereotype that was so popular in the '80s, and although Excellent Adventure might be the more beloved movie today because of its historical set pieces and the simple fact that it came first, Bogus Journey is the stronger, smarter, and, yes, more challenging movie. It's a surreal trip through the afterlife that at times feels like Tim Burton with more edge, succeeding at both low brow, crowd-pleasing humor and slightly deeper, more philosophical material. (Yeah, today's pretentious Rick & Morty Redditors probably love this movie.) Both are far better than they need to be, two hilarious bookends that prove that sequels can be great, actually.–Garrett Martin
---
7. Dangerous LiaisonsYear: 1988
Director: Stephen Frears
Stars: Glenn Close, John Malkovich, Michelle Pfeiffer, Uma Thurman, Swoosie Kurtz, Keanu Reeves, Mildred Natwick
Rating: R
Runtime: 119 minutes
The source material is excellent, of course—Christopher Hampton's acclaimed play Les Liaisons Dangereuses. Glenn Close is a wonder, delighting in every twist of the plot (until the heartbreaking ending, of course). Michelle Pfeiffer is the picture of Christian virtue corrupted, Uma Thurman a convincingly eager young sexual explorer, and Keanu Reeves is perfectly cast, with that goofy, earnest schoolboy charm he had in his younger days. But the star of the show, of course, is John Malkovich as Valmont—the best role of his distinguished career. His line readings are delicious—he's clearly enjoying himself as much as Valmont is—but what really surprises is perhaps the most fascinating physical performance of the decade from an actor not known for his physicality. His Valmont slithers; there's no other word for it. Despite the achingly empty core at the center of the character's lives, Dangerous Liaisons never fails to please. —M.D.
---
6. Toy Story 4Year: 2019
Director: Josh Cooley
Stars: Tom Hanks, Tim Allen, Annie Potts, Tony Hale, Keegan-Michael Key, Jordan Peele, Madeleine McGraw, Christina Hendricks, Keanu Reeves, Ally Maki, Jay Hernandez, Lori Alan, Joan Cusack
Rating: G
Runtime: 100 minutes
We were all concerned about Toy Story 4. How could we not be? This is perhaps the most beloved animated franchise of the last 50 years, and, in the eyes of many, each movie has been a little better than the last one. That final one, Toy Story 3, ended in such a perfect, emotionally devastating fashion that trying to follow it up felt like the ultimate fool's errand. And in the nine years since that installment, Pixar, as a company, has changed, becoming more corporate, more sequel-focused, more …Disney. What a relief it is, then, that Toy Story 4 is such an immense joy. It might not reach the heights of Toy Story 3—which manages to be a prison escape movie that also happens to be a profound dissertation on grief and death and features a surrealist tortilla—but it is a more than worthy member of the Toy Story family. Like its protagonist, it's less concerned with trying to do something revolutionary just because it's done it in the past and instead worries about what comes next …what the next logical progression is. It finds the next step, for Woody (voiced as ever by Tom Hanks in what honestly has always been one of his best roles), and the franchise, while still being as hellzapoppin' and wildly entertaining as you have come to expect from this franchise. The overarching theme in Toy Story 4 isn't as much death as it is loss—loss of purpose, loss of meaning, loss of value. What do you do with yourself when the best thing you'll ever be a part of is already over? How do you find drive in life when your lifelong goal has been accomplished? How do you handle getting old and not being needed anymore? If these seem like heady concepts for a Toy Story movie …you've never seen a Toy Story movie. —Will Leitch
---
5. Point BreakYear: 1991
Director: Kathryn Bigelow
Stars: Patrick Swayze, Keanu Reeves, Gary Busey, Lori Petty
Rating: R
Runtime: 122 minutes
There are plenty of late '80s/early '90s action flicks anyone could cite, but few epitomized the near-paradoxical dudebro melodrama of the era with as much heart and sincerity as Kathryn Bigelow's Point Break. Johnny Utah—played by the only one on this Earth who could believably play a human being named that, Keanu Reeves, with the sedate gusto that would further vaunt him to action star fame—is an FBI agent who must learn how to be an X-treme surfer in order to infiltrate a cadre of bank robbers led by Bodhi (Patrick Swayze in peak hunk form). Inevitably, Johnny and Bodhi bond—and then clash—over their mutual thirst for salt water, high-stakes adventure and the love of a strong woman (Lori Petty, a wonderfully anti-typical blockbuster love interest), climaxing in the now-iconic scene of Reeves, consumed by X-treme angst, hollering and firing his gun into the sky, a scene so cemented in the cinematic canon that any aging, pacifist Millennial who has never fired a gun before still secretly wet-dreams about having the chance to do the same before their time on this godforsaken planet runs out. —Dom Sinacola
---
4. My Own Private IdahoYear: 1991
Director: Gus Van Sant
Stars: River Phoenix, Keanu Reeves
Rating: R
Runtime: 104 minutes
My Own Private Idaho serves as a reminder that Gus Van Sant used to make great movies. Not that he makes bad movies now, but as this film attests, he certainly found his sweet spot in the '90s. Van Sant's second feature film, a road movie of sorts, centers on two young street hustlers: An introspective narcoleptic played by River Phoenix and the wayward son of the Portland mayor played by Keanu Reeves. With an eclectic, lyrical style that perfectly encapsulates the ethos of its director, My Own Private Idaho moves deliberately, aimlessly from scene to scene and place to place, functioning more as an ambiguous character study than a linear narrative. That said, despite its erratic nature, Van Sant's film still proves intoxicating and heartbreaking at the same time. Anchored by the two lead performances, in which Phoenix possibly gives the best performance of his career, My Own Private Idaho emerges as a sad and hopeless meditation on the search for love and, ultimately, home in all the wrong places.—David Roark
---
3. SpeedYear: 1994
Director: Jan de Bont
Stars: Keanu Reeves, Dennis Hopper, Sandra Bullock, Joe Morton, Jeff Daniels
Rating: R
Runtime: 116 minutes
Of course Hollywood workhorses like Jan de Bont (making his directorial debut) and cinematographer Andrzej Bartkowiak (a favorite of Sidney Lumet) would go on a tear with the action movie equivalent of backseat driving through L.A. A ridiculous yet perfectly high-concept premise pairs with something the moviemaking world knows like the back of their hands at ten and two: Tooling around the California highway system. Jock cop Keanu Reeves and his man-in-the-chair Jeff Daniels take on an unhinged Dennis Hopper and a similarly unhinged (but much flirtier) Sandra Bullock as they all try to keep a bus above 50 MPH—or risk a bomb's detonation. A soft, easygoing Reeves nicely balances the intense close-up camerawork, catchy soundtrack stingers and panicky energy onboard the claustrophobic bus, with measured dialogue and a quick smile compared to the quippy supporters. (Joss Whedon's presence as a punch-up artist is heavily felt, yet mostly matches the self-awareness.) Hopper's cartoonishly villainous smarm is an even more effective engine than the ones on the freeway, pumping the efficient thriller's just-made-its and almost-blew-its like a charisma-powered piston. De Bont and Bartkowiak convince us that we know how elevators, trains, buses and bombs work; Hopper and Reeves convince us that it doesn't matter. The American film industry's relationship with vehicular madness would never be the same after Speed, as things only got more fast and furious from here. It's a strange subgenre you've found yourself in when you're praising Speed's elegance, but rarely has a breakneck tour of the mechanical ways in which we navigate the world felt more exhilarating. —Jacob Oller
---
2. John Wick: Chapter 3 – ParabellumYear: 2019
Director: Chad Stahelski
Stars: Keanu Reeves, Halle Berry, Laurence Fishburne
Rating: R
Runtime: 131 minutes
The promise of John Wick: Chapter 2 is in superposition. Depending on how one comes into John Wick: Chapter 3 – Parabellum, from which angle, that promise is simultaneously fulfilled and squandered. Chad Stahelski's third and by no means last entry in the saga of laconic gentleman terminator John Wick (Keanu Reeves), the Baba Yaga of every gangster's worst nightmares, either lives up to previous entries as far as setting the standard for visceral, eardrum-squelching violence, or it fails to take the series in the direction presaged by the apocalyptic cliffhanger of the previous chapter. No, every living human in New York is not a secret assassin, plunging John Wick into a race against time through a Dantean Hell of his own devising, but John Wick does pretty much murder everybody in the City before traveling to Morocco, where he murders even more people, before returning to New York, where he continues decimating the urban center's population. As Continental Manager Winston (Ian McShane) puts it, John Wick needs to decide whether he's the boogie man or, simply, a man. Whether John Wick is a videogame or something more existential. He chooses both: By the time we reach the final action spectacle, during which the forces aligned against John Wick wear the kind of body armor requiring an exorbitant amount of kill shots and then, halfway through the melee, a weapon upgrade, we've lapsed completely into the realm of the first-person shooter, realizing we've already made our way through numerous, ever-increasingly difficult levels and boss battles with an impeccable kill/death ratio. The limitless beauty of the John Wick franchise, crystalized in Chapter 3, is that alluding to videogames when talking about the movie doesn't matter. None of this matters. As videogames and action movies parabolically draw closer and closer to one another, John Wick 3 may be the first of its kind to figure out how to keep that comparison from being a point of shame. Accordingly, each action set piece is an astounding feat, from the first hand-to-hand fracas in narrow library stacks, to a comic knife fight amidst cases of antique weapons, to a chase on horseback and, later, a chase on motorcycles care of katana-wielding meanies. John Wick 3 revels in its ludicrous gore without losing sight of the very real toll of such unmitigated havoc. It's as much a blast of blood and guts as it is an immersive menagerie of pain, a litigation of the ways in which we imbibe and absorb and demand violence, in which we hyperstylize death. Every gun shot, body blow, shattering jaw and gut slicing rings out sonorously from the screen, so that even if yet another faceless henchperson loses their life, leaving this mortal plane unnoticed, at least the act of violence that ended them will be remembered. –Dom Sinacola
---
1. The MatrixYear: 1999
Director: Lana and Lilly Wachowski
Stars: Keanu Reeves, Laurence Fishburne, Carrie-Anne Moss, Hugo Weaving, Joe Pantoliano
Rating: R
Runtime: 136 minutes
There is little to add about what's been already codified about the film that made cyberpunk not stupid—and therefore is the best cyberpunk movie of all time, amidst its many accomplishments—or that made Keanu Reeves a respectable figure of American kung fu, or that finally made martial arts films a seriously hot commodity outside of Asia. The story of a computer hacker who woke up to the reality that everything he knows is an illusion constructed to placate humanity under the reign of a super-race of robot squids, The Matrix is—next to the Wu-Tang Clan—what proved to a new generation that martial arts films were worth their scrutiny, and in that reputation is bred college classes, heroes' journeys and impossible expectations for special effects. Even today we still have this film to thank for so much of what we love about modern kinetic cinema, about how malleable genius science fiction can be, about just how deeply our connection to mythmaking—to the religiosity of civilization's symbols—can reach. This is our red pill; everything else is an illusion of greatness and everything else is an allusion to what the Wachowskis accomplished, including the two sequels—bloated and beautiful and unlike anything anyone could have expected from the relatively self-contained original—which in turn earned the distinction of setting the course for every multi-part franchise to come —Dom Sinacola