New on Netflix: All the Movies and TV Coming in January
Image via Annapurna Pictures
Movies
Features
Netflix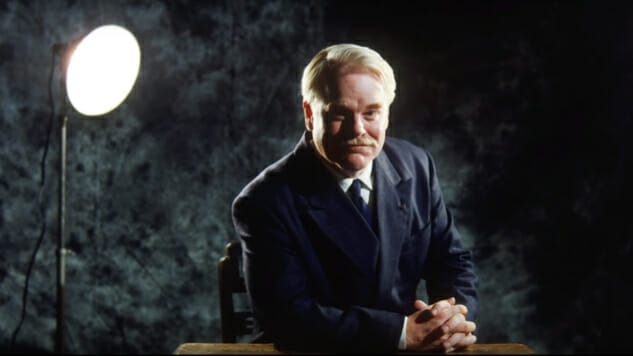 2020 is right around the corner, and what better way to kick off the new year than by avoiding real life in favor of some quality screen-staring time? (Unsure if we're joking? Same!) Netflix is adding its usual cornucopia of new programming in January, though it's also saying goodbye to quite a bit—we break it all down below.
In the feature film department, Netflix's slate is riddled with worthwhile titles, but we'll begin by calling your attention to The Master (Jan. 14, 2020), Paul Thomas Anderson's Oscar-nominated 2012 drama starring Joaquin Phoenix as Freddie Quell, a disturbed WWII veteran and drifter who crosses paths with a mysterious movement called The Cause, led by Lancaster Dodd (the late, great Phillip Seymour Hoffman), aka The Master, and his wife Peggy (Amy Adams). Anderson, as you may know, has never made a bad movie, and on the strength of its mesmerizing performances alone, The Master may quietly be one of his best. Quite a few noteworthy films are incoming on New Year's Day, as well, including Fernando Meirelles' Rio de Janeiro-set 2002 epic City of God, Christopher Nolan's mind-bending Inception, Uma Thurman-starring martial arts revenge saga Kill Bill, J.R.R. Tolkien-based blockbusters The Lord of the Rings: The Two Towers and The Return of the King, Guillermo del Toro's disturbing adult fairy tale Pan's Labyrinth, Leonardo DiCaprio/Tom Hanks-starring con man epic Catch Me If You Can, iconic school-skipping comedy Ferris Bueller's Day Off and much more. Following later in January are the Ni No Kuni movie (Jan. 16, 2020), Aaron Sorkin-scripted and Danny Boyle-directed Apple founder biopic Steve Jobs (Jan. 16, 2020), Tyler Perry's new Netflix original thriller A Fall from Grace (Jan. 17, 2020), Sofia Coppola's A24 crime-drama The Bling Ring (Jan. 18. 2020) and Helen Mirren-starring historical drama The Queen (Jan. 23, 2020), among others.
On the television and comedy end of the equation, Netflix's additions are led by the end of one of the streamer's most long-running and acclaimed original series: BoJack Horseman (Jan. 31, 2020), Season 6B of which debuts at the bitter end of the month. The animated adult dramedy, which has long topped our ranking of Netflix's best original shows, will complete its two-part conclusion with eight last episodes, putting a sure-to-be-bittersweet bow on its titular washed-up sitcom star's (Will Arnett) journey from a self-pitying, substance-abusing has-been to a more well-adjusted, and mentally and physically healthier anthropomorphized horse. Elsewhere in TV, we can anticipate the premiere of Netflix's Michelle Monaghan-starring original thriller series Messiah (Jan. 1, 2020), Janelle Monáe-narrated limited docuseries Sex, Explained (Jan. 2, 2020), the third and final season of Moira Walley-Beckett's Anne of Green Gables adaptation Anne with an E (Jan. 3, 2020), the Childrens Hospital team's new medical/cop drama parody Medical Police (Jan. 10, 2020), 2018 TV documentary Betty White: First Lady of Television (Jan. 12, 2020), the penultimate sixth season of Netflix's longest-running original series Grace and Frankie (Jan. 15, 2020), Season 2 of fan-favorite coming-of-age comedy Sex Education (Jan. 17, 2020), Fortune Feimster's debut Netflix comedy special Sweet & Salty (Jan. 21, 2020), Part 3 of Riverdale-adjacent Sabrina the Teenage Witch adaptation Chilling Adventures of Sabrina (Jan. 24, 2020), the final season of bafflingly popular Netflix original comedy The Ranch (Jan. 24, 2020), Vir Das' historical comedy special For India (Jan. 26, 2020) and Mexican comic Alex Fernández's boldly titled new special El mejor comediante del mundo (Jan. 28, 2020).
Take note of what's leaving Netflix when the new year rolls around, as well: Countless viewers will surely be devastated to learn that all 10 seasons of Friends vanish from the service on Dec. 31, after which it will stream exclusively on HBO Max. Other departing titles include The Fighter (Jan. 12, 2020), Short Term 12 (Jan. 17, 2020), American Psycho (Jan. 31, 2020), Grease (Jan. 31, 2020), Zombieland (Jan. 31, 2020) and so on.
See Netflix's January sizzle reel and slate below.
Podcasts
Behind The Scenes is back with a new season focused on a new and epic show. Learn how Netflix shows and films get made with in depth interviews with cast and crew. Our new season drops Jan. 8.
Coming Soon
Dracula — NETFLIX ORIGINAL
What the Love! with Karan Johar — NETFLIX ORIGINAL
Avail. 1/1/20
Ghost Stories — NETFLIX FILM
Good Girls: Season 2
Messiah — NETFLIX ORIGINAL
Nisman: Death of a Prosecutor — NETFLIX DOCUMENTARY
Spinning Out — NETFLIX ORIGINAL
The Circle — NETFLIX ORIGINAL
21
A Cinderella Story
American Beauty
Catch Me If You Can
Charlie and the Chocolate Factory
Chasing Amy
Chitty Chitty Bang Bang
Chloe
City of God
Dinner for Schmucks
Dragonheart
Dragonheart 3: The Sorcerer
Dragonheart: A New Beginning
Drugs, Inc.: Season 6
Ferris Bueller's Day Off
Free Willy
Ghost Rider
Harold & Kumar Go to White Castle
Hitch
Inception
Instructions Not Included
Julie & Julia
Kate & Leopold
Kill Bill: Vol. 1
Kill Bill: Vol. 2
Kingpin
Kiss the Girls
Monster-in-Law
New York Minute
Pan's Labyrinth
Patriot Games
Saint Seiya: Season 4-5
Seal Team Six: The Raid on Osama Bin Laden
Shrek Forever After
Strictly Ballroom
Teenage Mutant Ninja Turtles II: The Secret of the Ooze
Teenage Mutant Ninja Turtles: The Movie
The Lord of the Rings: The Return of the King
The Lord of the Rings: The Two Towers
The Naked Gun 2 1/2: The Smell of Fear
The Naked Gun: From the Files of Police Squad!
The Original Kings of Comedy
The Ring
The Talented Mr. Ripley
Tremors
True Grit
Up in the Air
What Lies Beneath
Wild Wild West
Willy Wonka & the Chocolate Factory
Wyatt Earp
Yes Man
Avail. 1/2/20
Sex, Explained: Limited Series — NETFLIX DOCUMENTARY
Thieves of the Wood — NETFLIX ORIGINAL
Avail. 1/3/20
Anne with an E: The Final Season — NETFLIX ORIGINAL
All the Freckles in the World — NETFLIX FILM
Avail. 1/4/20
Go! Go! Cory Carson — NETFLIX FAMILY
Avail. 1/8/20
Cheer — NETFLIX DOCUMENTARY
Avail. 1/10/20
AJ and the Queen — NETFLIX ORIGINAL
The Evil Dead
Giri / Haji — NETFLIX ORIGINAL
Harvey Girls Forever!: Season 4 — NETFLIX FAMILY
The Inbestigators: Season 2 — NETFLIX FAMILY
Medical Police — NETFLIX ORIGINAL
Scissor Seven — NETFLIX ANIME
Until Dawn — NETFLIX ORIGINAL
Zumbo's Just Desserts: Season 2 — NETFLIX ORIGINAL
Avail. 1/12/20
Betty White: First Lady of Television
Avail. 1/13/20
The Healing Powers of Dude — NETFLIX FAMILY
Avail. 1/14/20
Kipo and the Age of Wonderbeasts — NETFLIX FAMILY
The Master
Avail. 1/15/20
Big Fat Liar
Quien a hierro mata — NETFLIX FILM
Grace and Frankie: Season 6 — NETFLIX ORIGINAL
Avail. 1/16/20
NiNoKuni — NETFLIX ANIME
Steve Jobs
Avail. 1/17/20
Ares — NETFLIX ORIGINAL
Hip-Hop Evolution: Season 4 — NETFLIX ORIGINAL
Sex Education: Season 2 — NETFLIX ORIGINAL
Tiny House Nation: Volume 2
Tyler Perry's A Fall from Grace — NETFLIX FILM
Vivir dos veces — NETFLIX FILM
Wer kann, der kann! — NETFLIX ORIGINAL
Avail. 1/18/20
The Bling Ring
Avail. 1/20/20
Family Reunion: Part 2 — NETFLIX FAMILY
Avail. 1/21/20
Fortune Feimster: Sweet & Salty — NETFLIX ORIGINAL
Word Party: Season 4 — NETFLIX FAMILY
Avail. 1/22/20
Pandemic: How to Prevent an Outbreak — NETFLIX DOCUMENTARY
Playing with Fire: Season 1
Avail. 1/23/20
The Ghost Bride — NETFLIX ORIGINAL
October Faction — NETFLIX ORIGINAL
The Queen
SAINT SEIYA: Knights of the Zodiac: Season 1 / Part 2 — NETFLIX ANIME
Avail. 1/24/20
A Sun — NETFLIX FILM
Chilling Adventures of Sabrina: Part 3 — NETFLIX ORIGINAL
The Ranch: The Final Season — NETFLIX ORIGINAL
Rise of Empires: Ottoman — NETFLIX ORIGINAL
Avail. 1/26/20
Vir Das: For India — NETFLIX ORIGINAL
Avail. 1/27/20
Country Strong
We Are Your Friends
Avail. 1/28/20
Alex Fernández: El mejor comediante del mundo — NETFLIX ORIGINAL
Avail. 1/29/20
Frères Ennemis — NETFLIX FILM
Next In Fashion — NETFLIX ORIGINAL
Night on Earth — NETFLIX DOCUMENTARY
Omniscient — NETFLIX ORIGINAL
Avail. 1/30/20
Ainori Love Wagon: African Journey — NETFLIX ORIGINAL
Nighthawks
Raising Cain
The Stranger — NETFLIX ORIGINAL
Avail. 1/31/20
37 Seconds — NETFLIX FILM
American Assassin
BoJack Horseman: Season 6 (Part B) — NETFLIX ORIGINAL
Diablero: Season 2 — NETFLIX ORIGINAL
I AM A KILLER: Season 2 — NETFLIX ORIGINAL
Luna Nera — NETFLIX ORIGINAL
Ragnarok — NETFLIX ORIGINAL
LAST CALL
Leaving 12/31/19
Friends Seasons 1-10
Leaving 1/11/20
Becoming Jane
Leaving 1/12/20
The Fighter
Maron: Season 1-4
Leaving 1/15/20
Forks Over Knives
The Rezort
Leaving 1/17/20
Short Term 12
Leaving 1/31/20
Æon Flux
American Psycho
Good Luck Chuck
Grease
La Reina del Sur: Season 1
Panic Room
Revolutionary Road
Something's Gotta Give
Spartacus: Blood and Sand
Spartacus: Gods of the Arena
Spartacus: Vengeance
Spartacus: War of the Damned
Zombieland