New on Netflix: All the Movies and TV Coming in July
Images via Universal Pictures
Movies
Features
Netflix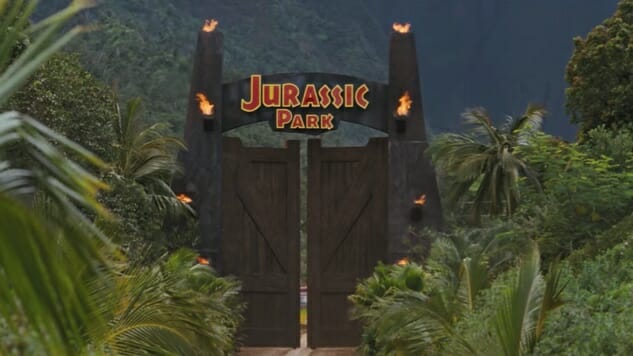 Summer officially started yesterday, June 21, but July is when it kicks into high gear. You can catch us beating the heat indoors, scrolling mindlessly through Netflix's Marianas Trench of offerings until at last we land on something to watch. The calculus of that decision changes ever so slightly next month, as Netflix's scales are both weighed down by new additions and lightened by departing titles. That's plenty of ado—here's the skinny on the streamer's July slate, which is a well-balanced one in terms of its TV/movie mix.
That said, we'll start in the film department, as Netflix's most notable overall addition is of the feature-length variety: Presumably prompted by the premiere of Jurassic World: Fallen Kingdom today, June 22, the original Jurassic Park trilogy (read: the only Jurassic films you really need to see) starts streaming on July 1. These films, of course, include 1993's modern-day classic Jurassic Park, 1997's lackluster sequel The Lost World: Jurassic Park and 2001's solid, if uninspired follow-up Jurassic Park III, so if you care to recreate our three-movie Jurassic spree, by all means have at it. Other highlights inbound on July 1 are 2013 stand-up special Bo Burnham: what., Marc Forster's Oscar-winning Finding Neverland, Adam Sandler golf (or is it hockey?) comedy Happy Gilmore, star-studded and Oscar-nominated Anne Rice adaptation Interview with the Vampire, dorm room poster favorite The Boondock Saints and Joaquin Phoenix-starring crime thriller We Own the Night. That's not all, either, as later in the month Netflix brings in acclaimed romantic drama Blue Valentine (July 5), Oscar-nommed kidnapping mystery Gone Baby Gone (July 12), acclaimed coming-of-age drama An Education (July 22) and Spike Jonze's Oscar-winning, sci-fi-tinged romance tale Her (July 29). It's a solid month for movies overall, namely if you're a fan of dinosaurs and Joaquin Phoenix.
As for the small screen, Netflix's incoming offerings are highlighted by the return of one of the streamer's very best original series, as well as fresh episodes of two relatively new comedy favorites. The first of those is Emmy-winning women's prison dramedy Orange Is the New Black, due back for a sixth season on July 27. As implied by the show's most recent teaser, the jailbird ladies of Litchfield are bidding their state-mandated domicile adieu and taking it "to the max." The Jenji Kohan-created series is one of Netflix's most successful and long-running originals, and there's a minimum of one more season in the offing after this sixth, so we're looking forward to seeing where OITNB takes us after moving beyond Litchfield's walls. Before that, though, July 6 brings a dozen new episodes of Jerry Seinfeld's Comedians in Cars Getting Coffee, the Seinfeld co-creator's real show about nothing. Seinfeld and his newest murderer's row of guest comics, including the likes of Jerry Lewis, Ellen DeGeneres and Dave Chappelle, are sure to ride in plenty of cars and drink plenty of coffee in the freshly brewed episodes, pleasing fans of comedians, cars, coffee and Comedians in Cars Getting Coffee. If you're more of a Joel McHale person, you're also in luck, as The Joel McHale Show with Joel McHale returns for Part Two on July 15. The green-screen comedy show's inaugural season has comprised 13 episodes to date, but Netflix recently ordered six more, which will debut all at once, as opposed to weekly. And if you prefer your comedy pure and uncut, be advised that Netflix is debuting new stand-up specials from the likes of Jim Jefferies (This Is Me Now, his third Netflix special, debuting July 13), Iliza Shlesinger (Elder Millennial, her fourth Netflix special, out on July 24) and many more (The Comedy Lineup, a series showcasing 15-minute sets from "a diverse group of up-and-coming comedians," streaming July 3).
The flip side of all this incoming goodness is what's leaving Netflix next month, because such is the cycle of streaming services. The bulk of departing titles disappear on July 1, including boozy Broken Lizard comedy Beerfest, more Bring It On movies than we realized had been made (five), all four Lethal Weapons, Tony Gilroy's quietly stellar 2007 fixer thriller Michael Clayton, Oscar-winning literary reverie Midnight in Paris, shockingly influential slasher parody Scary Movie, Ben Stiller's Vietnam war farce Tropic Thunder and iconic Alan Moore adaptation V for Vendetta. Later in the month, Netflix loses 1961 classic Breakfast at Tiffany's (July 2), ill-received Alice sequel Alice Through the Looking Glass (July 11), dad-friendly road flick Wild Hogs (July 14), bullet-bending actioner Wanted (July 16) and Wet Hot American Summer making-of doc Hurricane of Fun: The Making of Wet Hot (July 30), among others. Prioritize your must-see picks, adjust your viewing queue accordingly and make the most of your month, streamers.
See Netflix's complete July streaming slate below, beneath their sizzle reel.
Coming Soon
Us And Them— NETFLIX FILM (arrives June 22)
Like Father— NETFLIX FILM (arrives August 3)
The Guernsey Literary and Potato Peel Pie Society— NETFLIX FILM (arrives August 10)
To All The Boys I've Loved Before— NETFLIX FILM (arrives August 17)
Sierra Burgess is a Loser— NETFLIX FILM (arriving in September 7)
Arriving in July (Date Not Announced)
El Chapo: Season 3
Avail. 7/1/18
Blue Bloods: Season 8
Bo Burnham: what.
Chocolat
Deceived
Finding Neverland
Get Smart
Happy Gilmore
Hawaii Five-O: Season 8
Interview with the Vampire
Journey to the Center of the Earth
Jurassic Park
Jurassic Park III
Madam Secretary: Season 4
Menace II Society
NCIS: Season 15
Pandorum
Penelope
Queens of Comedy: Season 2
Rica, Famosa, Latina: Seasons 1-4
Scooby-Doo
Scooby-Doo 2: Monsters Unleashed
Spanglish
Stealth
Swordfish
The Boondock Saints
The Lost World: Jurassic Park
The Princess Diaries
The Voices
Traitor
Troy
Van Helsing
We Own the Night
We the Marines
What We Started
Avail. 7/2/18
Dance Academy: The Comeback
Good Witch: Season 4
King of Peking
Romina
The Sinner: Season 1
Avail. 7/3/18
The Comedy Lineup— NETFLIX ORIGINAL
Avail. 7/5/18
Blue Valentine
Avail. 7/6/18
Anne with an E: Season 2— NETFLIX ORIGINAL
Comedians in Cars Getting Coffee: New 2018: Freshly Brewed— NETFLIX ORIGINAL
First Team: Juventus: Part B— NETFLIX ORIGINAL
Free Rein: Season 2— NETFLIX ORIGINAL
Inside the World's Toughest Prisons: Season 2— NETFLIX ORIGINAL
Sacred Games— NETFLIX ORIGINAL
Samantha!— NETFLIX ORIGINAL
Somebody Feed Phil: The Second Course— NETFLIX ORIGINAL
The Fosters: Season 5 New Episodes
The Legacy of a Whitetail Deer Hunter— NETFLIX FILM
The Skin of The Wolf— NETFLIX FILM
White Fang— NETFLIX FILM
Avail. 7/7/18
Scream 4
Avail. 7/9/18
Lockup: Extended Stay: Collection 1
Avail. 7/10/18
Drug Lords: Season 2— NETFLIX ORIGINAL
Avail. 7/12/18
Gone Baby Gone
Avail. 7/13/18
How It Ends— NETFLIX FILM
Jim Jefferies: This Is Me Now— NETFLIX ORIGINAL
Kevin Hart: Let Me Explain
Sugar Rush— NETFLIX ORIGINAL
The Epic Tales of Captain Underpants— NETFLIX ORIGINAL
Avail. 7/15/18
Bonusfamiljen: Season 2— NETFLIX ORIGINAL
Going for Gold
The Joel McHale Show with Joel McHale: Part 2— NETFLIX ORIGINAL
Avail. 7/20/18
Amazing Interiors— NETFLIX ORIGINAL
Dark Tourist— NETFLIX ORIGINAL
Deep Undercover: Collection 3
Duck Duck Goose— NETFLIX FILM
Father of the Year— NETFLIX FILM
Fix It and Finish It: Collection 3
Home: Adventures with Tip & Oh: Season 4— NETFLIX ORIGINAL
Jimmy: The True Story of a True Idiot— NETFLIX ORIGINAL
Last Chance U: EMCC & Life After— NETFLIX ORIGINAL
Last Chance U: INDY: Part 1— NETFLIX ORIGINAL
Luna Petunia: Return to Amazia: Season 2— NETFLIX ORIGINAL
Avail. 7/22/18
An Education
Disney's Bolt
Avail. 7/24/18
The Warning— NETFLIX FILM
Iliza Shlesinger: Elder Millennial— NETFLIX ORIGINAL
Avail. 7/27/18
Cupcake & Dino – General Services— NETFLIX ORIGINAL
Extinction— NETFLIX FILM
Orange Is the New Black: Season 6— NETFLIX ORIGINAL
Roman Empire: Reign of Blood: Master of Rome— NETFLIX ORIGINAL
The Bleeding Edge— NETFLIX ORIGINAL
The Worst Witch: Season 2— NETFLIX ORIGINAL
Welcome to the Family— NETFLIX ORIGINAL
Avail. 7/28/18
Shameless: Season 8
The Company Men
Avail. 7/29/18
Her
Sofia the First: Season 4
Avail. 7/30/18
A Very Secret Service: Season 2— NETFLIX ORIGINAL
Avail. 7/31/18
Terrace House: Opening New Doors: Part 3— NETFLIX ORIGINAL
LAST CALL
Leaving 7/1/18
Alive
Along Came Polly
An Honest Liar
Beerfest
Before Midnight
Bring It On
Bring It On Again
Bring It On: All or Nothing
Bring It On: Fight to the Finish
Bring It On: In It to Win It
Cocktail
Extremely Loud and Incredibly Close
Lethal Weapon
Lethal Weapon 2
Lethal Weapon 3
Lethal Weapon 4
Little Women
Michael Clayton
Midnight in Paris
Mixed Signals
More Than a Game
Pandemic
Piglet's Big Movie
Rugrats Go Wild
Scary Movie
Scream 3
Terminator 3: Rise of the Machines
The Art of War
Tropic Thunder
V for Vendetta
Leaving 7/2/18
Breakfast at Tiffany's
Leaving 7/8/18
Alpha & Omega: Journey to Bear Kingdom
Real Husbands of Hollywood: Seasons 1-5
Leaving 7/9/18
Ratchet and Clank
Serena
Leaving 7/11/18
Alice Through the Looking Glass
Leaving 7/14/18
Wild Hogs
Leaving 7/15/18
Convergence
Lockup: State Prisons: Collection 1
Small Is Beautiful: A Tiny House Documentary
Leaving 7/16/18
Changeling
Wanted
Leaving 7/29/18
The Den
Leaving 7/30/18
A Cinderella Story
Hurricane of Fun: The Making of Wet Hot
Swing State