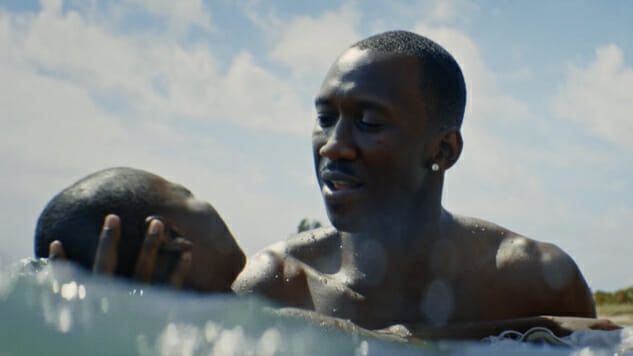 A new month of Netflix content is, to quote a dopey Tom Hanks movie, like a box of chocolates: You never know what you're going to get. The streamer's May slate is as wide-ranging as ever, with feature films and television shows just waiting to be bitten into and identified. Time to leave this dumb metaphor behind and get to the goods, eh?
We'll begin with Netflix's incoming film additions, a highlight of which is Barry Jenkins' stunning Best Picture winner Moonlight (May 21), a poignant drama that chronicles the life of a young black man, Chiron, as he struggles to find his place in the world while growing up in a rough Miami neighborhood. There's plenty preceding Moonlight earlier in the month, though, with a majority of Netflix's new films arriving on May 1: That includes powerful political documentary Knock Down The House, Bong Joon-ho's exceptional sci-fi thriller Snowpiercer, the Wachowski siblings' visionary The Matrix trilogy, dim-bulb Farrelly brothers comedy Dumb and Dumber, mid-'80s basketball classic Hoosiers, Jim Henson's disturbing The Dark Crystal, Oscar-winning 1966 Mike Nichols drama Who's Afraid of Virginia Woolf?, horror-comedy hit Zombieland, Wes Craven's iconic horror satire Scream, Hunter S. Thompson romp Fear and Loathing in Las Vegas, Brian DePalma's over-the-top gangster classic Scarface and a couple of Austin Powers movies. You'll have to wait a bit longer for Antoine Fuqua actioner Olympus Has Fallen (May 2), Netflix's Zac Efron-starring Ted Bundy biopic Extremely Wicked, Shockingly Evil and Vile (May 3), horror franchise launcher Insidious (May 9), Amy Poehler party comedy Wine Country (May 10) and Disney's The Nutcracker and the Four Realms (May 28), which—and this is news to us—is a movie that was shown in theaters at some point.
In the TV and comedy department, one of our most-anticipated May additions is near the top of the month's schedule: Tuca & Bertie (May 3), the animal-centric animated comedy from the creators of BoJack Horseman that stars comedians Tiffany Haddish and Ali Wong as its eponymous duo, "two bird women—a carefree toucan and anxious songbird—[who] live in the same apartment building and share their lives," per Netflix. Other standouts in TV and comedy include Volume 3 of Peabody Award-winning talk show Patriot Act with Hasan Minhaj (May 12), Laugh-In tribute special Still LAUGH-IN: The Stars Celebrate (May 14), a new Wanda Sykes stand-up special titled Not Normal (May 21), season two of Netflix's Spike Lee adaptation She's Gotta Have It (May 24), the debut season of the streamer's Renée Zellweger-led neo-noir social thriller series What/If (May 24) and When They See Us (May 31), Ava DuVernay's four-part limited series centering on the five boys of color who were wrongfully accused and convicted of rape, and labeled the "Central Park Five." And you can also catch seasons of various network shows in May, including the fourth season of Lucifer (which is actually its first as a "Netflix original" after the show was axed by Fox) on May 8, the first season of Ryan Murphy's acclaimed FX series Pose on May 10, seasons seven and five of CW superhero hits Arrow and The Flash on May 21 and 22, respectively, season three of popular Archie Comics-inspired soap opera Riverdale on May 23 and the first two seasons of Starz fantasy hit Outlander on May 27, to name a few.
We'll leave you with what's leaving Netflix next month, as the streamer is losing a number of quality titles. Departing on May 1 are Eternal Sunshine of the Spotless Mind, Jaws, Sixteen Candles, The Dirty Dozen, Watchmen and a whole bunch of Bond films, followed later by The Boss Baby (May 22), Southpaw (May 24) and 1961's West Side Story (May 31), so if any of the above vanish from your queue before you can watch, don't say we didn't warn you.
See Netflix's May sizzle reel and slate below.
Podcasts
Human Algorithm – Coming up: Jeff Ross shares what's new on Netflix for May.
I'm Obsessed with This – Now Streaming: a chat with Ryan O'Connell from Special.
The Strong Black Lead Podcast: Strong Black Legends – Coming Soon: Tracy Clayton talks The Two Killings of Sam Cooke with director Kelly Duane.
You Can't Make This Up – Now streaming: an interview with Robert Townsend.
Coming in May
Charmed (2018): Season 1
DC's Legends of Tomorrow: Season 4
The Mechanism: Season 2 — NETFLIX ORIGINAL
Supergirl: Season 4
Avail. 5/1/19
Knock Down The House — NETFLIX FILM
Munafik 2 — NETFLIX FILM
Angels & Demons
Austin Powers: International Man of Mystery
Austin Powers: The Spy Who Shagged Me
Casper
Chasing Liberty
Code Geass Lelouch of the Rebellion Part 1 & 2
Dr. Seuss' The Cat in the Hat
Dumb and Dumber
Fear and Loathing in Las Vegas
Gosford Park
Gremlins
Hairspray (1988)
Harold & Kumar Escape from Guantanamo Bay
Her Only Choice
Hoosiers
Inside the Mind of a Serial Killer: Season 2
John & Yoko: Above Us Only Sky
Just Friends
Revolutionary Road
Roswell, New Mexico: Season 1
Scarface
Scream
Snowpiercer
Taking Lives
The Da Vinci Code
The Dark Crystal (1982)
The Matrix
The Matrix Reloaded
The Matrix Revolutions
To Rome With Love
Wedding Crashers
Who's Afraid of Virginia Woolf?
Zombieland
Avail. 5/2/19
Colony: Season 3
Olympus Has Fallen
Avail. 5/3/19
A Pesar De Todo — NETFLIX FILM
All In My Family — NETFLIX ORIGINAL
Alles ist gut — NETFLIX FILM
Cupcake & Dino – General Services: Season 2 — NETFLIX ORIGINAL
Dead to Me — NETFLIX ORIGINAL
Extremely Wicked, Shockingly Evil and Vile — NETFLIX FILM
Flinch — NETFLIX ORIGINAL
Jo Pil-ho: The Dawning Rage — NETFLIX FILM
The Last Summer — NETFLIX FILM
Mr. Mom
Supernatural: Season 14
True and the Rainbow Kingdom: Mushroom Town — NETFLIX ORIGINAL
Tuca & Bertie — NETFLIX ORIGINAL
Undercover — NETFLIX ORIGINAL
Avail. 5/4/19
Like Arrows
Avail. 5/6/19
Abyss — NETFLIX ORIGINAL
Avail. 5/7/19
The Heat: A Kitchen®evolution
Queen of the South: Season 3
Avail. 5/8/19
Lucifer: Season 4 — NETFLIX ORIGINAL
Avail. 5/9/19
Bathtubs Over Broadway
Insidious
Avail. 5/10/19
Dry Martina — NETFLIX FILM
Easy: Season 3 — NETFLIX ORIGINAL
Gente que viene y bah — NETFLIX FILM
Harvey Girls Forever!: Season 2 — NETFLIX ORIGINAL
Jailbirds — NETFLIX ORIGINAL
Pose: Season 1
ReMastered: The Lion's Share — NETFLIX ORIGINAL
Shéhérazade — NETFLIX FILM
The Society — NETFLIX ORIGINAL
Wine Country — NETFLIX FILM
Avail. 5/12/19
Patriot Act with Hasan Minhaj: Volume 3 — NETFLIX ORIGINAL
Avail. 5/13/19
Malibu Rescue — NETFLIX ORIGINAL
Avail. 5/14/19
revisions — NETFLIX ANIME
Still LAUGH-IN: The Stars Celebrate — NETFLIX ORIGINAL
Weed the People
Avail. 5/15/19
Dennis & Gnasher: Unleashed!
Avail. 5/16/19
Good Sam — NETFLIX FILM
Take Me Home Tonight
Avail. 5/17/19
1994: Limited Series — NETFLIX ORIGINAL
Chip & Potato — NETFLIX ORIGINAL
It's Bruno — NETFLIX ORIGINAL
Maria — NETFLIX FILM
Morir para contar — NETFLIX FILM
Nailed It!: Season 3 — NETFLIX ORIGINAL
See You Yesterday — NETFLIX FILM
The Rain: Season 2 — NETFLIX ORIGINAL
Well Intended Love — NETFLIX ORIGINAL
White Gold: Season 2 — NETFLIX ORIGINAL
Avail. 5/18/19
The Blackcoat's Daughter
Avail. 5/20/19
Prince of Peoria: Part 2 — NETFLIX ORIGINAL
Rosario Tijeras (Mexico Version): Season 2
Avail. 5/21/19
Arrow: Season 7
Moonlight
Wanda Sykes: Not Normal — NETFLIX ORIGINAL
Avail. 5/22/19
A Tale of Two Kitchens — NETFLIX ORIGINAL
One Night in Spring — NETFLIX ORIGINAL
The Flash: Season 5
Avail. 5/23/19
Riverdale: Season 3
Slasher: Solstice — NETFLIX ORIGINAL
Avail. 5/24/19
After Maria — NETFLIX ORIGINAL
Alta Mar — NETFLIX ORIGINAL
Joy — NETFLIX FILM
Rim of the World — NETFLIX FILM
She's Gotta Have It: Season 2 — NETFLIX ORIGINAL
The Perfection — NETFLIX FILM
WHAT / IF — NETFLIX ORIGINAL
Avail. 5/27/19
Historical Roasts — NETFLIX ORIGINAL
Outlander: Seasons 1-2
Avail. 5/28/19
Disney's The Nutcracker and the Four Realms
Avail. 5/30/19
Chopsticks — NETFLIX FILM
My Week with Marilyn
Svaha: The Sixth Finger — NETFLIX FILM
The One I Love
Avail. 5/31/19
Always Be My Maybe — NETFLIX FILM
Bad Blood: Season 2 — NETFLIX ORIGINAL
Black Spot: Season 2 — NETFLIX ORIGINAL
How to Sell Drugs Online (Fast) — NETFLIX ORIGINAL
Killer Ratings — NETFLIX ORIGINAL
When They See Us — NETFLIX ORIGINAL
LAST CALL
Leaving 5/1/19
8 Mile
Chocolat
Cold Justice: Collection 3
Dances with Wolves
Disney High School Musical 3: Senior Year
Dr. No
Eternal Sunshine of the Spotless Mind
For Your Eyes Only
From Dusk Till Dawn
From Russia with Love
Godzilla
GoldenEye
Hostel
Jaws
Jaws 2
Jaws 3
Jaws: The Revenge
Licence to Kill
On Her Majesty's Secret Service
Sixteen Candles
Sliding Doors
Somm
Somm: Into the Bottle
The Birdcage
The Dirty Dozen
The English Patient
The Lovely Bones
The Notebook
The Other Boleyn Girl
Tomorrow Never Dies
Watchmen
Leaving 5/11/19
Switched at Birth: Seasons 1-5
Leaving 5/15/19
Bill Nye, the Science Guy: Collection 1
Leaving 5/19/19
Disney's Bridge to Terabithia
Leaving 5/22/19
The Boss Baby
Leaving 5/24/19
Southpaw
Leaving 5/31/19
I Know What You Did Last Summer
West Side Story (1961)