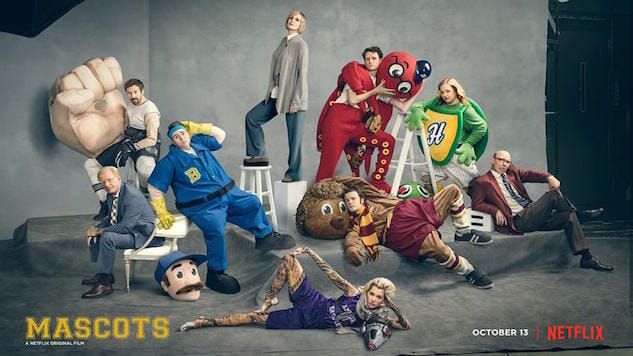 Everybody's favorite streaming service is getting a bevy of good shows and movies in October, especially when it comes to Netflix originals. Probably the two biggest Netflix-backed additions are Christopher Guest's mockumentary Mascots which premieres on Oct. 13 and the first part of Black Mirror's third season which debuts on Oct. 21. Netflix is also getting the second season of The Flash, Werner Herzog's documentary on volcanoes Into the Inferno, and classics like Brekafast at Tiffany's and Dazed and Confused.
The schedule for departures isn't as bad as it is other months. The biggest losses are probably the Back to the Future trilogy, The Warriors and The Truman Show, but other than that, Netflix isn't losing too much of note.
Watch a video that breaks down the streamer's most notable additions below, and find the full list of Netflix's comings and goings beneath that.
New Netflix Programming
TV:
Murder Maps: Season 2, 2015 (10/1)
Unsealed: Alien Files: Season 4 (10/1)
American Horror Story: Hotel, Season 5 (10/4)
The Flash: Season 2 (10/4)
The Grinder: Season 1 (10/4)
Arrow: Season 4 (10/5)
iZombie: Season 2 (10/6)
Dinotrux^: Season 3 (10/7)
The Ranch^: Season 1 Part 2 (10/7)
Supernatural: Season 11 (10/7)
The Originals: Season 3 (10/8)
Vampire Diaries: Season 7 (10/8)
Kuromukuro^: Season 2 (10/10)
DC's Legends of Tomorrow: Season 1 (10/13)
Haters Back Off!^: Season 1 (10/14)
Project MC2^: Season 3 (10/14)
Glitch^: Season 1 (10/15)
Power Rangers Dino Super Charge: Season 1: Part 1 (10/15)
Dark Matter: Season 2 (10/16)
Black Mirror^: Season 3, Part 1 (10/21)
Containment: Season 1 (10/21)
The Mr. Peabody and Sherman Show^: Season 3 (10/21)
Word Party^: Season 2 (10/21)
Doctor Foster: Season 1 (10/24)
Skylanders Academy^: Season 1 (10/28)
The Fall^: Season 3 (10/29)
Chewing Gum^: Season 1 (10/31)
Movies:
A Cinderella Story, 2004 (10/1)
Barbershop 2: Back in Business, 2004 (10/1)
Blue Streak, 1999 (10/1)
Breakfast at Tiffany's, 1961 (10/1)
Dazed and Confused, 1993 (10/1)
Dr. Dolittle: Tail to the Chief, 2008 (10/1)
Fairy Tale: A True Story, 1997 (10/1)
Ferris Bueller's Day Off, 1986 (10/1)
Gentleman's Agreement, 1947 (10/1)
Ghost Town, 2008 (10/1)
Grizzly Man, 2005 (10/1)
How to Lose a Guy in 10 Days, 2003 (10/1)
Millennium, 1989 (10/1)
My Little Pony Equestria Girls: Legend of Everfree, 2016 (10/1)
Once Upon a Time in the West, 1968 (10/1)
Oriented, 2015 (10/1)
Patton, 1970 (10/1)
Picture This!, 2008 (10/1)
Pooh's Grand Adventure: The Search for Christopher Robin, 1997 (10/1)
The Queen of the Damned, 2002 (10/1)
Quiz Show, 1994 (10/1)
Robotech, 1985 (10/1)
RV, 2006 (10/1)
Saving Mr. Wu, 2015 (10/1)
Snake Eyes, 1998 (10/1)
Snow Day, 2000 (10/1)
Sphere, 1998 (10/1)
Three Kings, 1999 (10/1)
Titanic, 1997 (10/1)
Unforgiven, 1992 (10/1)
The Uninvited, 2009 (10/1)
Without a Paddle, 2004 (10/1)
Dheepan, 2015 (10/3)
Chevalier, 2015 (10/4)
Dartmoor Killing, 2015 (10/4)
13TH^, 2016 (10/7)
Russell Peters: Almost Famous^ (10/7)
The Siege of Jadotville^, 2016 (10/7)
Love Between the Covers, 2015 (10/10)
Justin Timberlake + The Tennessee Kids^, 2016 (10/12)
Mascots^, 2016 (10/13)
Sky Ladder: The Art of Cai Guo­Qiang^, 2016 (10/14)
Being George Clooney, 2016 (10/15)
Chapo: el escape del siglo, 2016 (10/15)
Joe Rogan^: Triggered (10/21)
Midnight Diner^: Tokyo Stories (10/21)
Big Eyes, 2014 (10/25)
Jesus Camp, 2006 (10/26)
Kung Fu Panda 3, 2016 (10/26)
7 años^, 2016 (10/28)
I Am the Pretty Thing That Lives in the House^, 2016 (10/28)
Into the Inferno^, 2016 (10/28)
Trailer Park Boys: Out of the Park: Europe^ (10/28)
Last Chance to Catch
TV:
Heroes: Season 1­4 (10/1)
Psych: Seasons 1­8 (10/1)
Saturday Night Live: The 2010s: Season 38 (10/1)
Marvel's Avengers Assemble: Season 2 (10/20)
Movies:
10.0 Earthquake, 2014 (10/1)
Back to the Future, 1985 (10/1)
Back to the Future Part II, 1989 (10/1)
Back to the Future Part III, 1990 (10/1)
Beverly Hills Cop II, 1987 (10/1)
Congo, 1995 (10/1)
Deep Impact, 1998 (10/1)
Erin Brockovich, 2000 (10/1)
The Exorcist, 1973 (10/1)
Honey, 2003 (10/1)
Honey 2, 2011 (10/1)
Insomnia, 2002 (10/1)
Jimmy Neutron: Boy Genius, 2001 (10/1)
Mr. Deeds, 2002 (10/1)
My Girl, 1991 (10/1)
Nick of Time, 1995 (10/1)
The Phantom, 1996 (10/1)
The Running Man, 1987 (10/1)
Timeline, 2003 (10/1)
Uncommon Valor, 1983 (10/1)
The Warriors, 1979 (10/1)
The Big Green, 1995 (10/2)
Ivan the Incredible, 2013 (10/15)
Devil, 2010 (10/16)
Estranged, 2015 (10/16)
The Taking of Deborah Logan, 2014 (10/21)
Redemption, 2013 (10/24)
The Interview, 2014 (10/25)
The Many Adventures of Winnie the Pooh, 1977 (10/27)
The Truman Show, 1998 (10/31)
(^ = Netflix original)