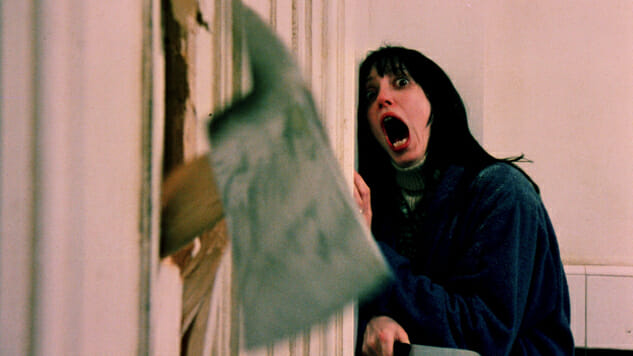 Netflix is essentially its own sovereign tract of the entertainment industry at this point, and the big red empire is expanding into some exciting territory in the month of October. Yes, there's the requisite holiday fare, the spooky stuff everyone counting down to Halloween needs, but there's also a whole bunch of enticing new movies and returning TV shows you ought to know about.
First and foremost is Netflix's feature film offerings, with an eminently Halloween-appropriate title leading the way: Stanley Kubrick's chilling Stephen King adaptation, The Shining, arriving on Oct. 1. Though King himself famously despises the film, which differs quite a bit from his 1977 novel, The Shining is widely agreed upon as one of the finest horror movies ever made, so as far as Halloween viewing options are concerned, you could do much worse. (Last year, Netflix let The Shining expire on Oct. 1, so we're glad to see they've learned from their mistake.) Also debuting on the first of next month are sprawling Sergio Leone crime epic Once Upon a Time in America, another acclaimed King adaptation in Frank Darabont's Oscar-nominated The Green Mile, Mel Brooks' Western-comedy classic Blazing Saddles, iconic Alan Moore adaptation V for Vendetta, signature Adam Sandler farce Billy Madison and Tim Burton's mid-'80s directorial debut, Pee-wee's Big Adventure. The bulk of Netflix's licensed films for October arrive that same day, but you'll have to wait until later in the month for a handful of exciting Netflix originals: Tamara Jenkins' acclaimed family drama Private Life (Oct. 5), starring Paul Giamatti and Kathryn Hahn as a couple coping with infertility struggles; Oscar nominee Paul Greengrass' 22 July (Oct. 10), inspired by the harrowing true story of Norway's deadliest terrorist attack; and Gareth Evans-directed (The Raid) horror-thriller Apostle (Oct. 12), starring Legion's Dan Stevens as a man forced to rescue his sister after she is kidnapped by a mysterious religious cult.
Next month's Netflix streaming TV slate is just as enticing, if not more so. Arguably the most prominent addition is season three of Marvel's Daredevil (Oct. 19), in which Charlie Cox's Matt Murdock—lawyer by day, masked crimefighter Daredevil by night—must rise from the ashes to face a newly resurgent Wilson Fisk (Vincent D'Onofrio) in the latest battle in the war for Hell's Kitchen. And another stand-out returning title arrives on Netflix that same day, Oct. 19: Making a Murderer: Part 2, in which Emmy-winning executive producers, writers and directors Laura Ricciardi and Moira Demos return to the Midwest to follow the post-conviction stages of convicted murderer Steven Avery's singularly confounding case. And that's truly just the beginning: October also brings the second season of delightfully raunchy, animated teen comedy series Big Mouth (Oct. 5), featuring the voices of Nick Kroll, John Mulaney and many more; new Netflix original horror series The Haunting of Hill House (Oct. 12), based on the classic Shirley Jackson novel of the same name; 100% Fresh (Oct. 23), Adam Sandler's first stand-up comedy special in more than two decades; the second season of exceptional animated horror series Castlevania, based on the iconic Konami videogame franchise of the same name; and the debut of Patriot Act with Hasan Minhaj (Oct. 28), a new weekly show hosted by the acclaimed stand-up comic and Daily Show correspondent.
With all that good news must come some bad: Netflix is losing a number of excellent titles in October, as well. Leaving on Oct. 1 are towering anime classic Akira, Paul Thomas Anderson-directed porn drama Boogie Nights, Stanley Kubrick's mesmerizing final film Eyes Wide Shut, the first (and, tragically, only) season of cult-classic comedy Freaks and Geeks, Kubrick's unnerving Vietnam war drama Full Metal Jacket, Roberto Benigni's heartbreaking Life Is Beautiful, hyper-stylish Frank Miller adaptation Sin City and late-'80s teen vampire thriller The Lost Boys, among others. Following those films out the door later in the month are Oscar-nominated stop-motion adventure Kubo and the Two Strings (Oct. 8), Jennifer Kent's modern-day horror classic The Babadook (Oct. 14) and Richard Kelly's singular directorial debut Donnie Darko (Oct. 17). So whether it's news to you those flicks are even on Netflix, or they've been sitting on your list for quite some time, you'll want to give those gems a spin before another page comes off the calendar.
Find Netflix's complete October slate below, beneath their sizzle reel.
Avail. 10/1/18
Angel Eyes
Anger Management
Billy Madison
Black Dynamite
Blade
Blade II
Blazing Saddles
Empire Records
Gotham: Season 4
Kevin Hart: Laugh at My Pain
Kevin Hart: Seriously Funny
Must Love Dogs
My Little Pony Equestria Girls: Rollercoaster of Friendship
Mystic River
New York Minute
Once Upon a Time in America
Pay It Forward
Pee-wee's Big Adventure
Robin Hood: Prince of Thieves
Rumble in the Bronx
She's Out of My League
Sommersby
The Dead Pool
The Devil's Advocate
The Green Mile
The Lake House
The NeverEnding Story
The Shining
V for Vendetta
Zack and Miri Make a Porno
Avail. 10/2/18
Joe Rogan: Strange Times— NETFLIX ORIGINAL
MeatEater: Season 7— NETFLIX ORIGINAL
Monty Python: The Meaning of Life
Monty Python's Life of Brian
Avail. 10/3/18
Truth or Dare (2017)
Avail. 10/4/18
Creeped Out— NETFLIX ORIGINAL
The Haunting of Molly Hartley
Violet Evergarden: Special: Extra Episode
Avail. 10/5/18
Big Mouth: Season 2— NETFLIX ORIGINAL
Dancing Queen— NETFLIX ORIGINAL
Élite— NETFLIX ORIGINAL
Empire Games— NETFLIX ORIGINAL
Little Things: Season 2— NETFLIX ORIGINAL
Malevolent— NETFLIX FILM
Private Life— NETFLIX FILM
Super Monsters Save Halloween— NETFLIX FILM
Super Monsters: Season 2— NETFLIX ORIGINAL
The Rise of Phoenixes— NETFLIX ORIGINAL (Streaming Every Friday)
YG Future Strategy Office— NETFLIX ORIGINAL
Avail. 10/6/18
Little Things: Season 1
Avail. 10/8/18
Disney's Sofia the First: Season 4
Mo Amer: The Vagabond— NETFLIX ORIGINAL
Avail. 10/9/18
Terrace House: Opening New Doors: Part 4— NETFLIX ORIGINAL
Avail. 10/10/18
22 July— NETFLIX FILM
Pacto de Sangue— NETFLIX ORIGINAL
Avail. 10/11/18
Salt Fat Acid Heat— NETFLIX ORIGINAL
Schitt's Creek: Season 4
Avail. 10/12/18
Apostle— NETFLIX FILM
Errementari: The Blacksmith and the Devil— NETFLIX FILM
Feminists: What Were They Thinking?— NETFLIX ORIGINAL
FightWorld— NETFLIX ORIGINAL
ReMastered: Who Shot the Sheriff— NETFLIX ORIGINAL
Tarzan and Jane: Season 2— NETFLIX ORIGINAL
The Boss Baby: Back in Business: Season 2— NETFLIX ORIGINAL
The Curious Creations of Christine McConnell— NETFLIX ORIGINAL
The Haunting of Hill House— NETFLIX ORIGINAL
The Kindergarten Teacher— NETFLIX FILM
Avail. 10/15/18
Octonauts: Season 4
The Seven Deadly Sins: Revival of The Commandments— NETFLIX ORIGINAL
Avail. 10/16/18
Ron White: If You Quit Listening, I'll Shut Up— NETFLIX ORIGINAL
Avail. 10/19/18
Accidentally in Love— NETFLIX ORIGINAL
Ask the Doctor— NETFLIX ORIGINAL
Best.Worst.Weekend.Ever.: Limited Series— NETFLIX ORIGINAL
Derren Brown: Sacrifice— NETFLIX ORIGINAL
Distrito salvaje— NETFLIX ORIGINAL
Gnome Alone— NETFLIX FILM
Haunted— NETFLIX ORIGINAL
Hip-Hop Evolution: Season 2— NETFLIX ORIGINAL
Illang: The Wolf Brigade— NETFLIX FILM
Larva Island— NETFLIX ORIGINAL
Making a Murderer: Part 2— NETFLIX ORIGINAL
Marvel's Daredevil: Season 3— NETFLIX ORIGINAL
The Night Comes For Us— NETFLIX FILM
Wanderlust— NETFLIX ORIGINAL
Avail. 10/21/18
Robozuna— NETFLIX ORIGINAL
Avail. 10/23/18
ADAM SANDLER 100% FRESH— NETFLIX ORIGINAL
Avail. 10/24/18
Bodyguard— NETFLIX ORIGINAL
Avail. 10/25/18
Great News: Season 2
Avail. 10/26/18
Been So Long— NETFLIX FILM
Castlevania: Season 2— NETFLIX ORIGINAL
Chilling Adventures of Sabrina— NETFLIX ORIGINAL
Dovlatov— NETFLIX FILM
Jefe— NETFLIX FILM
Shirkers— NETFLIX ORIGINAL
Terrorism Close Calls— NETFLIX ORIGINAL
Avail. 10/27/18
Girl from Nowhere— NETFLIX ORIGINAL
Avail. 10/28/18
Patriot Act with Hasan Minhaj— NETFLIX ORIGINAL (Streaming Every Sunday)
Avail. 10/30/18
Fate/EXTRA Last Encore: Illustrias Geocentric Theory— NETFLIX ORIGINAL
The Degenerates— NETFLIX ORIGINAL
Avail. 10/31/18
Goldie & Bear: Season 2
GUN CITY— NETFLIX FILM
LAST CALL
Leaving 10/1/18
21
Adventureland
Akira
Bad Boys
Boogie Nights
Cinderella Man
Curse of Chucky
Eyes Wide Shut
Freaks and Geeks: Season 1
Full Metal Jacket
Guess Who
Inside Man
Let Me In
Life Is Beautiful
Menace II Society
Red Dragon
Scream 2
Sin City
Stealth
The Adventures of Tintin
The Clan
The Family Man
The Human Centipede 2: Full Sequence
The Lost Boys
The Rugrats Movie
Trading Places
White Collar: Seasons 1-6
Leaving 10/2/18
The Human Centipede: First Sequence
Leaving 10/6/18
The BFG
Leaving 10/8/18
90210: Seasons 1-5
Kubo and the Two Strings
Leaving 10/10/18
Leap Year
Leaving 10/13/18
The Nut Job
Leaving 10/14/18
About a Boy: Seasons 1-2
The Babadook
Leaving 10/17/18
Donnie Darko
Leaving 10/22/18
The Secret Life of Pets
Leaving 10/24/18
V/H/S/2
Leaving 10/25/18
Big Eyes
Queen of Katwe
Leaving 10/26/18
Southside with You
Leaving 10/28/18
Bridget Jones's Baby