Pixar's Latest Flick Onward Has A (Second) Trailer, And It's Weird
Image via Pixar
Movies
News
Onward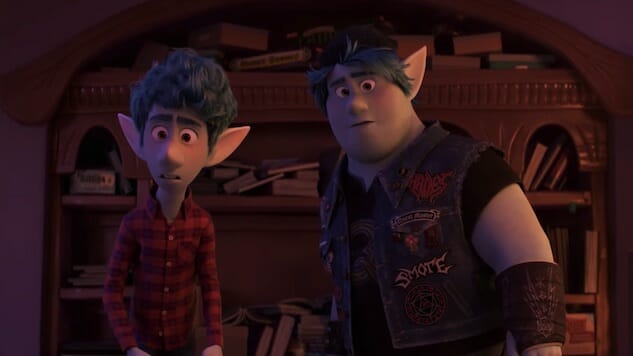 Pixar and Disney's Onward has its second trailer,after Pixar originally announced the second trailer debut on Twitter with a video showing Chris Pratt and Tom Holland catching a sneak peek before the rest of the world.
Here's how Chris Pratt (@prattprattpratt) & Tom Holland (@TomHolland1996) reacted when they saw the brand-new trailer for Disney and Pixar's Onward. Tomorrow, it's your turn. pic.twitter.com/KtJUFGnWQT

— Pixar (@Pixar) October 9, 2019
With the film slated for theatrical release in March 2020, this is the first full trailer for the beloved animation studios' feature. The film stars Tom Holland and Chris Pratt as two elven brothers, Ian and Barley, who upon turning 16 are given a magical staff by their mother (Julia Louis-Dreyfus). The staff, a gift from their dead father, houses a "visitation" spell, which lets the brothers summon their father's spirit back to the mortal realm for 24 hours, letting them spend one last day with him… if they get the spell right. Spoiler alert(not really): they don't and wacky shenanigans ensues.
Anyways, you'll see what I mean. Watch the trailer below: