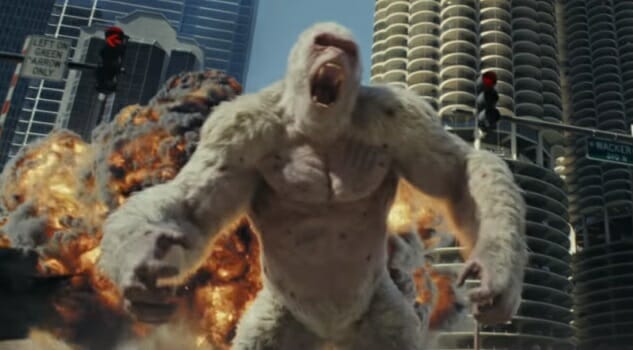 Most videogame adaptations are just awful. Luckily, Rampage only takes the faintest inspiration from its eponymous videogame and has constructed an entirely new story (which is to say any story at all) centered around a primatologist (Dwayne Johnson) and his relationship with an albino gorilla named George. After a chemical affects George, causing him to increase in size and become quite violent, it's an all-out struggle for Johnson to try to save him from being killed. Of course, George wasn't the only animal affected by this chemical. Now, the rampaging begins. A giant wolf that flies (why?) and a giant crocodile (and who knows what else this movie has in store) all wreak havoc on Chicago, forcing Johnson, George and Naomie Harris (a smart and refreshing casting for a studio action flick) to team up to save the world.
The film may not be totally absurd, unlike the trailer. It definitely won't be a cinematic masterpiece, but maybe it will be one of those guilty pleasure films that you just want to watch over and over again, like any of those Chuck Norris explosive films from the '80s. Only Dwayne Johnson could play the action superstar and still provide the almost painful comic relief we get a glimpse of in the trailer. All we can say for sure is that this trailer is hardcore, which means the film is sure to be nothing but action-packed and full of explosions, a near-perfect recipe for those who watch films simply to be entertained.
The film rampages into theaters on April 20 and stars Johnson, Harris (Moonlight), Joe Manganiello (True Blood), Malin Akerman (Billions) and Jeffrey Dean Morgan (The Walking Dead). Watch the new trailer above and a previous trailer here.