Nicolas Cage's Dracula Is the Boss From Hell in the First Trailer for Renfield
Photos via Universal Pictures
Movies
News
renfield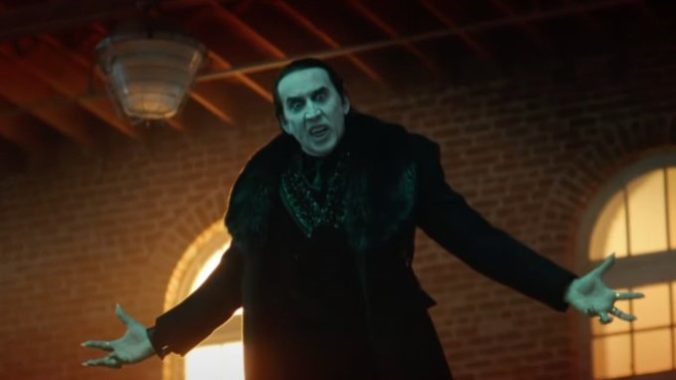 You have to imagine that the mere idea of "Nicolas Cage as Dracula" must have been enough to sell Universal on the concept for Renfield, but it's nice to see that the rest of the cast has been filled out with some of the best comedic actors on the scene today. Judging from the just-released first trailer, Renfield looks like a hoot—a surprisingly action driven refresh on the Dracula mythos, set in the present day and told from the perspective of the Count's long-suffering right-hand man. Or as the official synopsis puts it:
In this modern monster tale of Dracula's loyal servant, Nicholas Hoult stars as Renfield, the tortured aide to history's most narcissistic boss, Dracula (Oscar winner Nicolas Cage). Renfield is forced to procure his master's prey and do his every bidding, no matter how debased. But now, after centuries of servitude, Renfield is ready to see if there's a life outside the shadow of The Prince of Darkness. If only he can figure out how to end his codependency.
Unlike previous cinematic depictions of Renfield, however, Hoult's version appears to essentially be imbued with superpowers by Dracula, which he can tap into by munching on insects—Renfield's most famous tic. How exactly Renfield would be expected to have constant access to tiny beetles and spiders is anybody's guess, but it makes for a delightfully unhinged trailer, which you can see below.
Though Cage is sure to get marquee billing, Hoult is undoubtedly the star of Renfield, and he looks to be capturing both the manic energy of The Great and some of the monster pathos of Warm Bodies in this performance. He's joined by Awkwafina as a "feisty but perennially aggressive traffic cop," along with other comedy luminaries such as Ben Schwartz and Brandon Scott Jones of Ghosts.
Renfield hits theaters on April 14, 2023. In the meantime, check out the trailer below.