Everything We Know about Spider-Man: Far From Home So Far
Images via Sony Pictures/Marvel Studios
Movies
Features
spider-man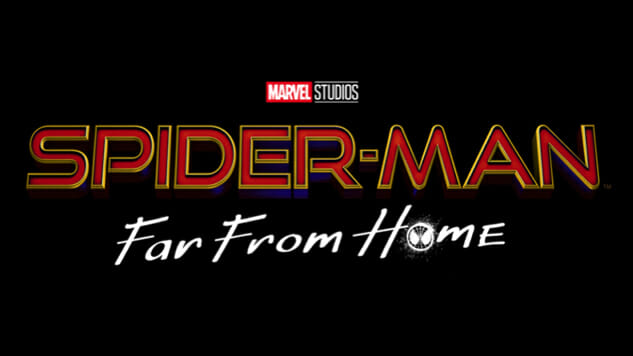 "Everything We Know about … " is Paste's series of deep dives into the forthcoming projects we're most excited about. Explore them all here.
Avengers 4 is currently monopolizing the attention of Marvel Cinematic Universe enthusiasts everywhere—the film's first trailer, new release date and title, Avengers: Endgame, were revealed Friday—but let's not forget another of the MCU's most-anticipated entries: Spider-Man: Far From Home, the forthcoming sequel to 2017's Spider-Man: Homecoming, the first standalone Spider-Man film to feature Tom Holland's iteration of the iconic Marvel superhero after he made his MCU debut in 2016's Captain America: Civil War. Though the events of Avengers: Infinity War left the fates of many of our favorite Marvel heroes—including, in a particularly unpleasant surprise, Holland's fan-favorite take on the web-head—hanging in the balance, the very existence of Far From Home is a reassuring reminder that we haven't seen the last of this new Spidey in the MCU. That said, his next adventure is still a ways out, with many questions yet to be answered—although word on the web (ahem) is we'll be hearing more about it (and perhaps even seeing its first footage) soon—so let's take stock of what we know about Far From Home for now.
---
Let's start with the basics
The first significant bit of info revealed about the Spider-Man: Homecoming sequel was its title: Notoriously spoiler-happy star Holland revealed the film's subtitle and logo via Instagram in June, sharing a video in which he flashed an iPad purporting to contain the sequel's script. (Intentional tease? Probably. Unintentional slip? We wouldn't put it past him!)
Sony Pictures soon confirmed the reveal, sharing the same title image Holland had and noting the sequel's summer 2019 release window.
July 2019. pic.twitter.com/LnpnUcBYdP

— Sony (@Sony) August 21, 2018
Fast-forward to mid-October and production on Far From Home had concluded, with Holland sharing the below wrap photo from set:
Sony and Marvel will release Far From Home in U.S. theaters on Friday, July 5, 2019, just two weeks before Disney's new-look The Lion King; arrives. This puts Spidey's next outing in line behind Captain Marvel (March 8) and Avengers: Endgame (April 26), two movies with massive MCU-altering implications.
Who's in front of the camera? Who's behind it?
Holland will, of course, reprise his Homecoming role in the follow-up, as will Marisa Tomei as Aunt May; Jacob Batalon and Zendaya as Peter's friends Ned and M.J. (no, not that one), respectively; Tony Revolori as Flash Thompson; Martin Starr as debate team leader Mr. Harrington; Angourie Rice as Peter's classmate Betty Brant; and Michael Keaton as Adrian Toomes, aka scrap-picking villain Vulture. MCU mainstays Samuel L. Jackson and Cobie Smulders—S.H.I.E.L.D.'s Nick Fury and Maria Hill, respectively—will also appear, sharing the screen with Spidey for the first time, as Vulture (no, not that one) first reported.
In addition to those familiar faces, we have a particularly noteworthy new one to look forward to: Oscar nominee Jake Gyllenhaal, who will make his comic-book movie debut by donning the iconic bubble helmet of classic Spider-Man villain Mysterio, who's presumably Far From Home's "big bad." Word first got out that Gyllenhaal was in talks for the role back in May, but as of this week, we finally have confirmation of his casting, as the actor shared a cheeky Instagram video Wednesday, lamenting the realization that he'll be playing the film's villain and not its hero.
As we summarized in our initial report on Gyllenhaal circling the role:
First appearing in 1964's Amazing Spider-Man #13, Mysterio (whose first iteration was born Quentin Beck) is a master of illusions and deception best known for his bubble-esque helmet. The villain has never appeared in a Spider-Man movie, though storyboards shared by artist Jeffrey Henderson in 2016 showed that Mysterio was meant to appear in Sam Raimi's canceled Spider-Man 4, with Bruce Campbell reportedly tapped to play him. That film was mothballed back in 2010, but now, nearly a decade later, [Mysterio's] moment has finally arrived.
At risk of delving too far into the film's plot, it's worth noting that Gyllenhaal himself has suggested that Mysterio may be more friend than foe: Appearing at CCXP 2018 in December, the actor explained, "There are these threats to the world, the Elementals, elemental creatures … and Mysterio, who knows about them and wants to make sure that the world is safe from them, Nick Fury asks him to come on and help because he's the only one who really understands them in a way. And then he teams up your friendly neighborhood Spider-Man, and unfortunately has to make him become more than just your friendly neighborhood Spider-Man." So it would appear that Mysterio and Spidey are forced to become something more like frenemies in the face of the Elemental threat.
Other new additions to Far From Home's cast include Curb Your Enthusiasm's J.B. Smoove and In The Fade's Numan Acar, both of whom were cast in early July, per Deadline, and Remy Hii of Crazy Rich Asians, who boarded Far From Home in mid-August, as TheWrap first reported. Smoove and Hii will appear in undisclosed roles, while nothing is known about Acar's character except his name: Dimitri.
Behind the camera, Homecoming's principle creative team remains intact for Far From Home: Jon Watts (Cop Car) will return to direct the sequel, working from a script by returning writers Chris McKenna and Erik Sommers. McKenna and Sommers worked on Homecoming's script alongside Watts, Jonathan Goldstein, John Francis Daley and Christopher Ford.
What kind of story can we expect?
Far From Home is said to take place during summer vacation between Peter Parker's sophomore and junior years in high school, with Peter and his buddies (his debate team, specifically, is our educated guess) embarking on a European vacation. MCU mastermind Kevin Feige, for his part, has played coy about when exactly that summer takes place, gamely protecting the "They aren't dead for keeps!" twist most Infinity War viewers can see coming many miles away. Feige teased io9 in June (not long after Infinity War's release), "Well, when does [Far From Home] take place? We know it's the summer. I think it's summer vacation. I think he's going to Europe with his friends. I don't know what summer … I mean, I do know [but you don't]."
However, Feige offered a more revealing summation Far From Home's plot one year earlier, also in conversation with io9, explaining:
So much happens in [the third and fourth Avengers movies], as you can imagine, and so much is affected by it that we felt what better person to hold your hand and lead you into the next incarnation of the MCU, in a grounded, realistic manner, than Peter Parker? So, coming out two months after Untitled Avengers, [that's what] much of what the next Spider-Man film will be about.
It was purposefully done like this. Like how the events of Captain America: Civil War impacted Peter as he was dropped off by Tony and expected to go back to continue his sophomore year, how the hell are the events of Infinity War and Untitled [Avengers] going to affect him as he, yes, goes back to his junior year?
It would appear, despite Feige's more recent playful obfuscations, that Far From Home follows directly after Avengers: Endgame chronologically—it stands to reason that, just as Homecoming found Peter Parker reckoning with his newfound status as an Avengers affiliate and generally unpacking the events of Civil War, Far From Home will find a newly un-disintegrated Spider-Man adjusting to a presumably post-Thanos world. The big mystery of Avengers: Endgame—exactly how Captain Marvel is going to save the day by helping the Avengers unmake the mess Thanos made and vanquish the Mad Titan—remains intact.
Feige has called Far From Home the "first taste" of Marvel's Phase 4, so a fun outing in Europe, with Spidey and friends facing off against Mysterio and "villains we haven't seen before" from Spider-Man's "amazing rogues gallery," another telling Feige tease from last summer, will likely be just what the doctor ordered after the exhausting ordeal of Infinity War and Endgame.
Also promising is the idea that Holland's Peter Parker, now far more comfortable with the Spider-Man mantle, will be more confident in utilizing all the Stark gadgets at his fingertips. For instance, in a reveal out of Sao Paulo comics convention CCXP, Brazilian outlet Omelete shared photos of new variations on Homecoming's Spidey suit:
Uniforme preto revelado! Novos trajes de Homem-Aranha: Longe de Casa são exibidos na CCXP; confira https://t.co/1mMlapKoT3pic.twitter.com/8UxnwiiH5a

— omelete (@omelete) December 5, 2018
Granted, the black stealth suit looks like what Spider-Man would wear to undertake an Ocean's 11-style heist, while the more traditional-looking suit simply tweaks Spidey's Homecoming get-up by replacing its blue with black. But we're excited nonetheless to see some new tricks up Spider-Man's skintight sleeves, especially seeing as how there's a chance, however remote, that the iconic character may not have many adventures left in the MCU.
What's the next step in this movie's hype cycle?
We're glad you asked: Multiple outlets have reported that the Spider-Man: Far From Home trailer will debut tomorrow, Saturday, Dec. 8, after first premiering at the aforementioned CCXP. Keep your Spider-Sense sharp!
What's the latest?
It turns out the first Far From Home teaser took a bit longer to drop than had been expected—Sony Pictures ended up waiting until Tuesday, Jan. 15, to release it, also sharing a new poster for the film. The teaser offers our first official look at Gyllenhaal's Mysterio—see for yourself below.
In theaters July 5. #SpiderManFarFromHomepic.twitter.com/QC7ib7SrO8

— Spider-Man (@SpiderManMovie) January 15, 2019
The first full-length trailer for the film arrived on Monday, May 6, the day the Avengers: Endgame "spoiler ban" lifted, revealing how Far From Home will slot into a post-Infinity Saga MCU. See for yourself below, but only if you've seen Endgame, some serious spoilers for which are included in the trailer.
---
Watch this space for further updates on Spider-Man: Far From Home.