It's Official: Ron Howard Is Now Directing the Han Solo Spinoff
Photo by Jemal Countess/Getty
Movies
News
Star Wars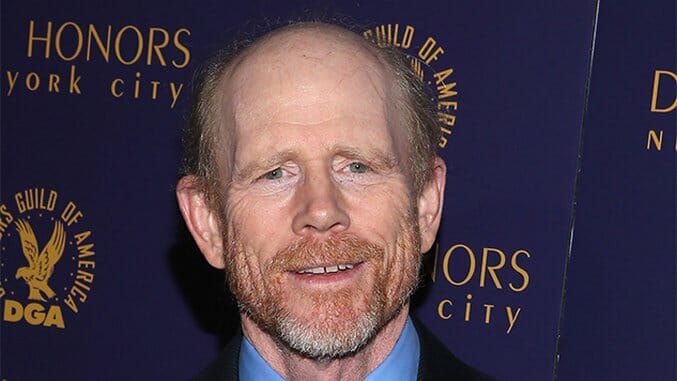 It's official: Oscar-winning filmmaker Ron Howard will take over the director's chair for the Star Wars Han Solo standalone. The announcement comes soon after news broke that Lucasfilm fired Phil Lord and Christopher Miller, citing creative differences on Tuesday.
Lucasfilm chief Kathleen Kenndy and co-writer/executive Lawrence Kasdan reportedly butted heads with the director duo known for taking risks with their strange yet comical films such as Cloudy With a Chance of Meatballs, The LEGO Movie and 21 Jump Street. The filmmakers pushed for more free-wheeling, improvisational techniques on the set of Han Solo's Star Wars Story, to the horror of Kasdan, who reportedly envisions Han Solo as more sardonic and full of dry wit, rather than a goofball.
Howard was Lucasfilm's most likely replacement for the spinoff and will begin work immediately. The film has several weeks left on its shooting schedule, with an additional five weeks of pre-scheduled reshoots planned for later this year. Howard will first have to peruse the script and previously shot footage to decide how much needs to be changed.
The question of how much credit Lord and Miller will receive for their work also remains. They have the right to appeal any decision made, whether it's sharing a space with Howard or one party being cut out completely, but the Directors Guild of America will make the final decision.
Howard has won several Academy Awards and earned nominations for films like Willow, with Lucasfilm in 1988, and A Beautiful Mind, but recently has produced duds as well, including The Heart of the Sea and The Dilemma.
Some critics have claimed the firing of Lord and Miller is emblematic of a larger movement in Hollywood for big-budget films franchises to cast directors who will suppress their own style and instead let producers make all of the major creative decisions.
Howard and Kasdan may not overwrite too much of Lord and Miller's work, though, as the release date is still scheduled for May 25, 2018. The adorable cast might have to work overtime to wrap up the project punctually. Stick with us here for more info from the never-ending stream of Star Wars news.