New on Starz: All the Movies and TV Coming in December
Image via Walt Disney Studios
Movies
Features
Starz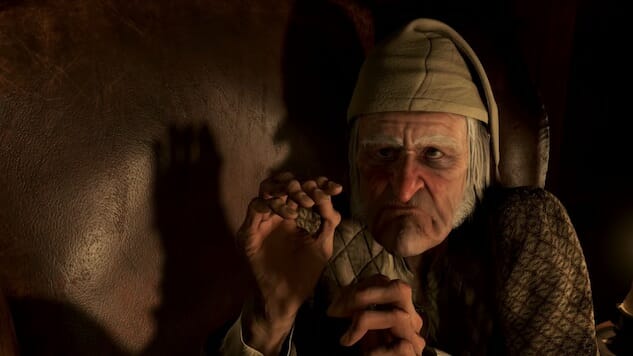 December is so close that you can hear the sleigh bells, and with the holidays come cold weather, lots of last-minute gift shopping, unnecessary family dinners and the most exciting of them all: the updating of your favorite streaming apps' slew of titles. The last month of the year is the perfect time to unwind away from the cold, with a cup of hot chocolate and curled up on the couch ready to stream the night away. Starz has a handful of great titles coming to the service next month—an eclectic mix of horror hits and holiday classics. Here's our breakdown of what you can't miss this coming month.
Ah, Christmas—a season of love, sharing and good feelings. Well, not for Ebenezer Scrooge. Disney's 2009 feature A Christmas Carol (dir. Robert Zemeckis) is returning to your screens to get all in your face about being a good person, or else ghosts will haunt you and you'll see how miserable life can get. If you're not too keen on teaching your kids life lessons via film, also available are My Little Pony: A Very Minty Christmas and Caillou's Holiday Movie. Starz is also updating their holiday lineup of available series episodes. Their unscripted documentary series, America to Me, is airing an episode that takes place over Thanksgiving and Christmas. The show, which presents an exclusive look into an academic year at suburban Chicago's Oak Park and River Forest High School, made it to the final spot of Paste's TV Power Rankings in September 2018. The Bernie Mac Show, Sabrina, The Animated Series and Digimon Adventure are a few of the numerous other shows that will be getting a little holiday-themed episode in their lineups.
For the less holiday-oriented, Starz is refreshing their movie choices with some popular titles. 1997's Good Will Hunting, one of our 15 classic fall movies, is available on the very first of the month and is joined by Quentin Tarantino's Reservoir Dogs. Another notable title coming Dec. 1 is the 1995 film starring Antonio Banderas, Desperado. Also on the way are six short films from TheWrap's Telling Our Stories short film competition during the Power Women Summit in October. Crystal Kayiza's See You Next Time, a short film about a Chinese American nail technician and her black client, took home the grand prize. Season two of Idris Elba's family comedy In the Long Run, inspired by his experience growing up in east London in the '80s, premieres exclusively on Starz on Dec. 6 with the Christmas special premiering on Dec. 20. A little late to the spooky season is the original Pet Sematary and Pet Sematary II, and cult-favorite Pumpkinhead, all getting on the app Dec. 13. Starz's original documentary This Changes Everything—in which the misrepresentation of women in the industry is examined firsthand by some of Hollywood's top talent behind and in front of the camera, including interviews with Meryl Streep and Cate Blanchett—will be live on the streaming service on Dec. 16. The latest installation in the Men in Black franchise, Men In Black: International, is rounding off 2019 and will be streamable on Dec. 21.
In with the new and out with the old—there are titles we wave goodbye to as the new year approaches. The Cher and Christina Aguilera musical Burlesque and coming-of-age European romance film Call Me By Your Name are leaving Starz on Dec. 15 and 27, respectively. There's still time to catch the 1998 family favorite Babe: Pig in the City (one of our best movies of 1998) and Chitty Chitty Bang Bang as those depart on Dec. 31. Also leaving are Adam Sandler comedies Happy Gilmore and I Now Pronounce You Chuck and Larry, and the six shorts from the Telling Our Stories competition.
See the full list of programs coming (and going) next month below.
WHAT'S NEW ON THE STARZ APP – DECEMBER 2019
AVAILABLE DECEMBER 1
"Dublin Murders"
Telling Our Stories: 25 Hours (2019)
Telling Our Stories: Hers To Take (2019)
Telling Our Stories: Las Del Diente (2019)
Telling Our Stories: Let's Talk About Tits (2019)
Telling Our Stories: See You Next Time (2019)
Telling Our Stories: Street Heroines (2019)
Across The Great Divide (1976)
All Is Lost (2013)
Curly Sue (1991)
Desperado (1995)
Dragonball Evolution (2009)
Extract (2009)
Getaway, The (1994)
Good Will Hunting (1997)
Harley Davidson And The Marlboro Man (1991)
Harry And The Hendersons (1987)
Hearts In Atlantis (2001)
Heaven's Gate (1980)
Hondo (1953)
Hoosiers (1986)
Hulk (2003)
Johnson Family Vacation (2004)
Machine Gun Preacher (2011)
Man Without A Star (1955)
Once Upon A Time In Mexico (2003)
Out Of The Furnace (2013)
Prince Of Darkness (1987)
Pumpkinhead II: Blood Wings (1993)
Quinceanera (2006)
Reservoir Dogs (1991)
Rooster Cogburn (1975)
Sierra (1950)
Spoilers, The (1942)
Very Bad Things (1998)
Very Brady Sequel, A (1996)
Walking Tall (2004)
We're Back! A Dinosaur's Story (1993)
Wiz, The (1978)
You Again (2010)
AVAILABLE DECEMBER 6
"In the Long Run"
Girl With The Dragon Tattoo, The (2011)
Intruder, The (2019)
AVAILABLE DECEMBER 8
"Dublin Murders"
AVAILABLE DECEMBER 13
"In the Long Run"
24 Hour Party People (2001)
48 Hrs. (1982)
Adventureland (2008)
Amityville Horror, The (1979)
Appaloosa, The (1966)
Better Luck Tomorrow (2003)
Cry Freedom (1987)
Dances With Wolves (1990)
Day Of Fury, A (1956)
Don Jon (2013)
Dracula (1979)
Favor, The (1994)
Ferngully: The Last Rainforest (1992)
Four Weddings And A Funeral (1994)
Gal Who Took The West, The (1949)
Garfield: A Tail Of Two Kitties (2006)
Ghost And The Darkness, The (1996)
Horsemen, The (2009)
In & Out (1997)
Miss March (2009)
Nurse Betty (1999)
Pet Sematary (1989)
Pet Sematary II (1992)
Pumpkinhead (1988)
Ride With The Devil (1999)
AVAILABLE DECEMBER 14
Stockholm (2018)
AVAILABLE DECEMBER 15
"Dublin Murders" – Episode 106
AVAILABLE DECEMBER 16
This Changes Everything (2019)
AVAILABLE DECEMBER 18
Fall Of The American Empire, The (2018)
AVAILABLE DECEMBER 20
"In the Long Run"
"In the Long Run"
Flaming Star (1960)
Proud Ones, The (1956)
Western Union (1941)
AVAILABLE DECEMBER 21
"Dublin Murders"
Men In Black: International (2019)
AVAILABLE DECEMBER 25
My Days Of Mercy (2017)
AVAILABLE DECEMBER 28
Brightburn (2019)
AVAILABLE DECEMBER 29
"Dublin Murders"
AVAILABLE DECEMBER 31
Lions For Lambs (2007)
HOLIDAY THEMED MOVIES AND SERIES:
Movies:
Disney's A Christmas Carol
Jingle All the Way 2
The Family Man
Serendipity
Saving Santa
Snowtime!
The Cat in the Hat Knows a Lot About Christmas Special
Inspector Gadget Saves Christmas
Sonic Christmas Blast
My Little Pony: A Very Minty Christmas
Caillou's Holiday Movie
Silent Night
Series Episodes:
America to Me
The Bernie Mac Show
The Parent 'Hood
Good Times
Diff'rent Strokes
Sanford and Son
The Jeffersons
Knight Rider
Laramie
The Big Valley
Super Mario World
Eloise
Sabrina, The Animated Series
Garfield and Friends
Heathcliff
Madeline
The New Adventures of Madeline
The Wubbulous World of Dr. Seuss
The Doodlebops
Pet Alien
Atomic Betty
Martian Successor Nadesico
Robotech
Digimon Adventure
WHAT'S LEAVING ON THE STARZ APP – DECEMBER 2019
LEAVING DECEMBER 2
My Boss's Daughter (2003)
LEAVING DECEMBER 11
Other Guys, The (2010)
X Games: The Movie (2009)
LEAVING DECEMBER 14
Wilde Wedding, The (2016)
"Pumpkin Reports"
LEAVING DECEMBER 15
Burlesque (2010)
Reservation Road (2007)
Only The Rocks Live Forever (1978)
Yellow Apron, The (1978)
Wagon And The Elephant, The (1978)
For As Long As The River Flows (1978)
Massacre, The (1978)
Long Horns, The (1978)
Shepherds, The (1978)
Storm, The (1979)
Crime, The (1979)
Winds Of Fortune, The (1979)
Winds Of Death, The (1979)
Scream Of Eagles, The (1979)
LEAVING DECEMBER 20
Novitiate (2017)
LEAVING DECEMBER 25
Monster Hunt 2 (2018)
Surrogates (2009)
LEAVING DECEMBER 27
Call Me By Your Name (2017)
LEAVING DECEMBER 31
4.3.2.1. (2010)
4th & Goal (2010)
Anonymous (2011)
Astronaut Farmer, The (2007)
Babe: Pig In The City (1998)
Baby Geniuses (1999)
Big Star: Nothing Can Hurt Me (2013)
Billy Madison (1995)
Blue Chips (1994)
Boss Of Hangtown Mesa (1942)
Boss Rider Of Gun Creek (1936)
Breakdown (1997)
Bury Me Not On The Lone Prairie (1940)
Chitty Chitty Bang Bang (1968)
Chloe (2009)
Clear And Present Danger (1994)
Clockstoppers (2002)
Coal Miner's Daughter (1980)
Comancheros, The (1961)
Crocodile Dundee In Los Angeles (2001)
D.A.R.Y.L. (1985)
Diggstown (1992)
Dragon Blade (2015)
Eastern Promises (2007)
Four Guns To The Border (1954)
Gamer (2009)
Getting Even With Dad (1994)
Good Man, A (2014)
Happy Gilmore (1996)
Harriet The Spy (1996)
Hero And The Terror (1988)
Home Fries (1998)
Hunt For Red October, The (1990)
Hunted, The (1995)
I Now Pronounce You Chuck And Larry (2007)
In Good Company (2004)
Incomparable Rose Hartman, The (2016)
Inside Deep Throat (2005)
Intersection (1994)
Kate & Leopold (2001)
Kissing A Fool (1998)
Lachlan Patterson Live From Venice Beach (2016)
Last Days Of Disco, The (1998)
Lawless Breed (1946)
Lone Hand, The (1953)
Long Riders, The (1980)
Love V. Kentucky (2017)
M*A*S*H (1970)
Mighty Morphin Power Rangers: The Movie (1995)
Mothman Prophecies, The (2002)
Nash (2013)
Night Passage (1957)
North Shore (1987)
Pan's Labyrinth (2006)
Political Animals (2016)
Queens & Cowboys: A Straight Year On The Gay Rodeo (2014)
Rape Of Recy Taylor, The (2017)
Rawhide Rangers (1941)
Red River (1947)
Red Sundown (1956)
Relic, The (1997)
Return To House On Haunted Hill (2007)
Return, The (2006)
Riders of Pasco Basin (1939)
Running Man, The (1987)
Saddle Tramp (1950)
Saving Santa (2013)
Serpico (1973)
Sex Drive (2008)
Smoky (1966)
Space Dogs: Adventure To The Moon (2016)
Spoilers, The (1955)
Take A Hard Ride (1975)
Telling Our Stories: 25 Hours (2019)
Telling Our Stories: Hers To Take (2019)
Telling Our Stories: Las Del Diente (2019)
Telling Our Stories: Let's Talk About Tits (2019)
Telling Our Stories: See You Next Time (2019)
Telling Our Stories: Street Heroines (2019)
Things Never Said (2013)
This Is Congo (2018)
Three Violent People (1956)
Top Gun (1955)
Tremors (1989)
Tremors 2: Aftershocks (1995)
Tremors 3: Back To Perfection (2001)
Tremors 4: The Legend Begins (2003)
Tremors 5: Bloodlines (2015)
Tumbleweed (1953)
Violeta Al Fin (2017)
Voices, The (2015)
Von Trapp Family: A Life Of Music, The (2015)
Walking Tall (1973)
Weekend Sailor, The (2016)
Wells Fargo (1937)
Whispering Smith (1947)
Winchester '73 (1966)
"Monster"
"Tales of Wells Fargo"
"Telmo y Tula: Manualidades"
"The Zoo"