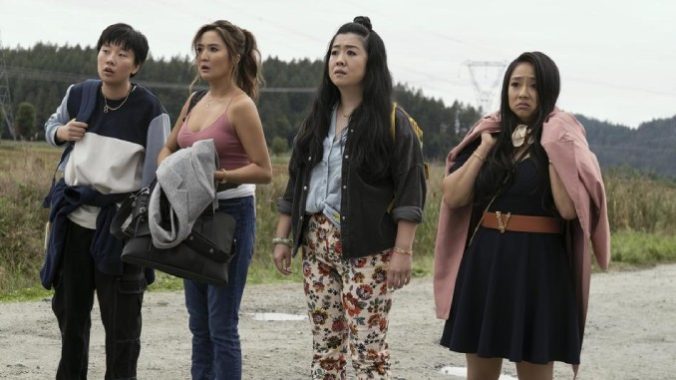 If you miss the days when comedies weren't afraid to dish out an outrageous serving of full-frontal nudity, hard drug use, unbridled horniness and delightfully gruesome potty humor, boy do I have the movie for you. Helmed by Crazy Rich Asians co-writer Adele Lim in her feature directorial debut, Joy Ride is fearlessly scandalous. To give you a taste, this film features a character shoving a staggering quantity of cocaine up her private parts, a shockingly explicit genitalia POV shot (watch your back, Gaspar Noé) and, believe me when I say this, that's just the tip of the iceberg.
Joy Ride follows Audrey (Ashley Park), an ambitious lawyer who travels to China to close a big business deal. She brings along her childhood best friend, Lolo (Sherry Cola), a stoner who creates sex-positive art, like a miniature playground where everything is made of plastic genitals. While Audrey is laser-focused on sealing the deal and making partner, Lolo has a different idea for the girls trip: Help Audrey locate her birth mom. When the latter finally agrees, the two join forces with Lolo's K-Pop-obsessed cousin Deadeye (Sabrina Wu) and Audrey's lovably insufferable college roommate Kat (Stephanie Hsu). With its team assembled, Joy Ride descends into a fearless and unpredictable romp packed to the brim with absurd and unapologetically raunchy humor.
Comedy takes the driver's seat in this road trip flick, and Lim refuses to let a single moment go to waste. From a full-scale K-Pop number complete with immaculate hair and makeup, set design and choreography, to a shockingly X-rated sex montage and everything in between, Joy Ride leans into its joyful shocks for its entire 90 minutes, refusing to hold back. Even when a joke veers a little too absurd (Lolo's horny toys doesn't quite pack the punch they were intended to), you'll be too busy reveling in the film's explosive, daring energy to care–an energy bolstered by flashy title cards, Nathan Matthew David's thumping, lively score and Nena Erb's thrilling, fast-paced editing.
It's no secret that a comedy is nothing without its stars, and Joy Ride boasts the best comedic ensemble since Bridesmaids. Park grounds the film with an impeccable mix of clumsy, bewildered humor that perfectly sets the mood for Joy Ride's chaotic odyssey, and genuine, heartfelt emotion, reminding us that, before anything else, this is a film about a young woman connecting to her roots. Cola brings an unexpected level of tenderness to her performance, which helps cement the central friendship as the emotional cornerstone of Joy Ride. And, undoubtedly the most daring of the group, Hsu fits right in, shouldering the film's raunchiest, riskiest moments with ease. It's Wu who steals the show, however, showcasing a rare comedic talent. Their wry and delightfully deadpan delivery injects Joy Ride with a much-needed sardonic edge to balance out all of the absurdity, and they comfortably nail the comedic timing on what turns out to be a good portion of the film's punchlines. And of course, when it's time for them to join in with the absurdity, they do so with confidence and ease. 
If Joy Ride has a downside, it's that Lim, alongside writers Cherry Chevapravatdumrong and Teresa Hsiao, at times tries a little too hard to leave her audience's mouths agape with implausible, head-scratching sequences. With a cast that boasts such flawless command over their comedy, overwriting jokes to the point of ridiculousness almost feels like a disservice–let their performances speak for themselves! But a couple moments of exhaustingly over-the-top humor can't take the shine off Joy Ride's sharp script, stellar cast and fiercely original conceit. It's a ride to which any raunchy comedy fan should hitch along.
Director: Adele Lim
Writer: Cherry Chevapravatdumrong, Teresa Hsiao
Stars: Ashley Park, Sherry Cola, Stephanie Hsu, Sabrina Wu, Ronny Chieng, Desmond Chiam
Release Date: March 17, 2023 (SXSW)
---
Aurora Amidon is a film journalist and passionate defender of Hostel: Part II. Follow her on Twitter for her latest questionable culture takes.