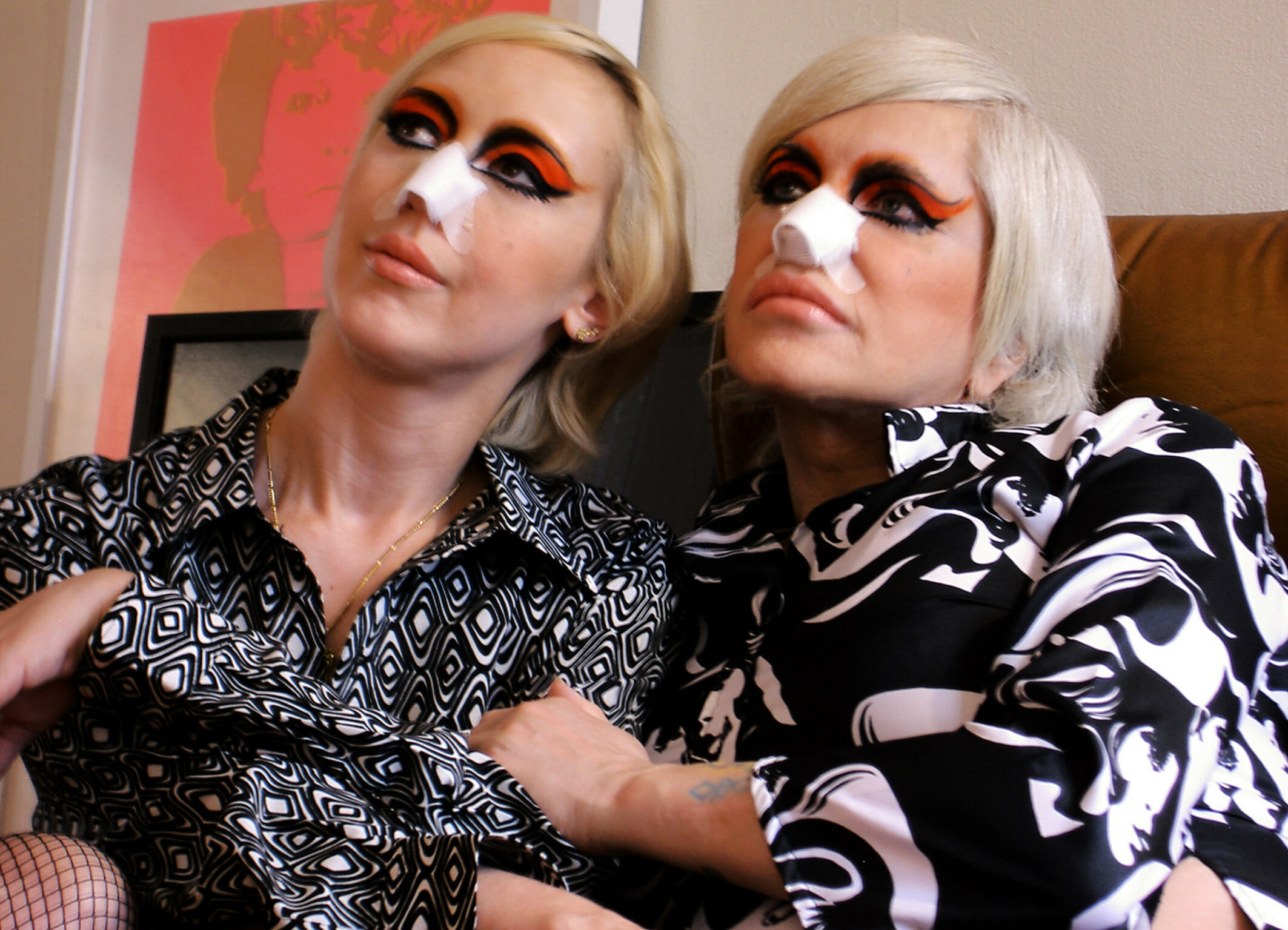 On Valentine's Day, 2003 Genesis and Lady Jaye took their love, marriage, and artistic collaboration to another level as they underwent surgery for breast implants. Genesis was born male and Lady Jaye female, but this is a mere footnote in their story. They woke up from surgery holding hands. Genesis looked at Lady Jaye, then down at their newly reconstructed parts and exclaimed, "Oh look… our angelic bodies!" In an attempt to deconstruct any physical differences between them, the two would undergo other surgeries, the augmentation being one of the first. They hoped to become one, and indeed, might have succeeded. The Ballad of Genesis and Lady Jaye is their very, true story.
In her first feature film, Marie Losier has crafted a finely woven cinematic tapestry made up of documentary and footage both found and staged. As director, cinematographer and editor, Losier goes above and beyond with her Bolex 16 mm hand-held camera, creating for the viewer a thrilling, humorous film and a grinding, pulsating experience. The Ballad is a rave party (the fictional kind that only plays fantastic music) and a gender theory course in one. It is also an exceedingly good movie and a revolutionary documentary.
At the film's start, Genesis is dressed in all white—ethereal and gothic as the camera zooms in and then pans out. Different shots of her dancing in costume begin to flash across the screen. She dances to her own music, and the documentary focuses heavily on her early beginning as one of the creators of industrial music. Genesis (along with her bands, the most recent being Psychic TV) was an innovator in the merging of performance art with rock music, and Losier pays homage to her work by creating her own performance art with The Ballad. As Genesis dances in the opening scene, we hear her voice and we begin to enter her home. She says, of love and of Lady Jaye, "There's this moment where you just want to consume each other … and you and me just be one … and not be individuals anymore."
When the camera makes contact with Lady Jaye, we meet a quiet, funny blonde (ethereal, in her own way) standing in front of the sink. Flashing images of Jaye create that home video/ burlesque picture feel, and it is clear that Losier wanted to also pay tribute to early cinema and George Melies (the filmmaker portrayed by Ben Kingsley in last year's Hugo). She accomplishes this feat with great aplomb, making every moment (from the mundane to the fantastic or orgasmic) performative, yet also organic and intimate.
For those unfamiliar with Genesis' artistic legacy, she recalls the radical musical acts from her earlier days. Her voice and narrative is always accompanied by music (her own), and fantastic montages—for example, one flashes a series of her bands' vinyl records as she talks about how they were "avant garde artists from nowhere," abhorred and adored. The cut-up technique (which Losier even seems to mimic with the splicing of different scenes, sounds, images, and footage) is also attributed to Genesis—along with William Burroughs and other collaborators.
The title is a bit misleading, or rather, must be understood as a ballad sung mostly by Genesis P-Orridge. Lady Jaye is often spoken for by Genesis and seldom participates directly in the actual narrative. The story, in fact, seems to really unfold when Genesis delves into her childhood as a young boy, as Neil Andrew Megson. As she narrates a painful story about a boyhood that consisted of daily bullying at the hands of other children and even teachers, the camera follows another boy, an actor who "performs" the role of young Neil. In this, Losier creates a character in addition to Genesis' own character, for even in the re-telling of the story, the little boy is both herself and another version of herself—and is, therefore, other. She knows that this is a boy—Neil Andrew—and admits without concern or shame that Genesis is really without gender and has no idea what she is. "Everyone is telling the truth all of the time … its just that times change," Genesis says, as if to answer those inevitable questions concerning gender norms and gender changes. And as these words are spoken, photos dance across the screen in no particular order: Genesis as a boy child, as a punk rocker, as an androgyne, as a woman, then back to rocker, then child again.
By the time the film turns to the subject of the sex operations, it all seems to make sense—the movement from that very particular boyhood to that music career to this new art project: pandrogyny, or "creating the pandrogyne." As Genesis speaks about the project, we are struck by images of the two lovers before and after various surgeries. Breast augmentations, nose jobs, facial lifts and the bodily markings made by surgeons during consultations all make for strange, beautiful and uncomfortable moments. In the blink of an eye, we see their wedding photo and then a surgeon's office. It may be difficult to accept that these decisions are—as Genesis argues—akin to the decision to have children, where there is a desire to create a third being that is a representation of two lovers (another cut-up of sorts). However, one can truly see that pandrogyny points to a certain human evolution. The results are fascinating, though almost inevitably inconclusive.
The love story of Genesis and Lady Jaye is both wholly believable and completely unbelievable. The plot is not without its own surprises, as the upbeat film ends with a tragic loss that seems to change the very theory of pandrogyny and the project as a whole—even as it also reinforces that notion of eternal love, upon which this film seems to lie. Still, The Ballad—and the movement—goes on. Marie Losier's film will undoubtedly be labeled a transgender film, a queer film, or a feminist or anti-feminist film. But The Ballad of Genesis and Lady Jaye, with its brilliant score, remarkable imagery and explosive, vibrant tone, transcends politics with art. One can only hope that viewers will experience it for what it primarily strives to be: a fantasy, a fairy tale, a love story.
Director: Marie Losier
Starring: Genesis Breyer P-Orridge, Lady Jaye Breyer P-Orridge
Release Date: Mar. 8, 2012