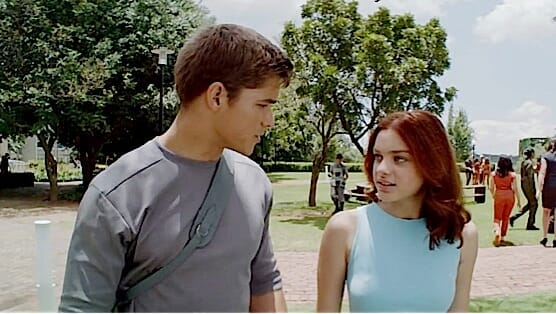 It would be easy to dismiss The Giver as just another mediocre attempt to cash in on the Young Adult book-to-movie craze if it wasn't for the pedigree.
First, there's the source material: a 1993 novel by Lois Lowry about a futuristic dystopian society where emotions and individuality have been essentially eradicated by the leadership for the good of all. (There's no war, intolerance and pain, but also no love, passion or joy.) The book has been praised by critics and teachers, awarded the prestigious Newbery Medal honoring literature for young people and widely perceived as a prime influence on the post-Hunger Games, Divergent landscape we live in.
Second, there's an unusually high-caliber cast, or at least an impressive pair of celebrated Oscar winners in key roles: Jeff Bridges (who also produced—this has been a passion project originally intended as a vehicle for his late father, Lloyd Bridges) and Meryl Streep. Throw in a supporting turn by Grammy darling Taylor Swift and the quirky casting of True Blood heartthrob Alexander Skarsgard and tabloid fixture Katie Holmes, and you've got an ensemble that commands attention, if not immediate respect.
And lastly, there are executive producers Harvey and Bob Weinstein —Oscar magnets when they want to be, but just as often purveyors of silly shlock like Scary Movie 5 and Piranha 3DD. Still, they landed Streep for this, so there must be something there, right? Not if you define "something there" as anything resembling a good movie.
The Weinsteins tried to jump into the YA game with epic fail Vampire Academy earlier this year, and The Giver proves to be just as embarrassing—maybe more so considering the expectations of the fan base and the level of talent attached. It all but defines the cinema of awkwardness as it strains to flesh out the hopelessly generic, weirdly underpopulated future society in which it unfolds.
The real star is Brenton Thwaites, a good-looking and affable Australian-born actor in his early 20s. Thwaites was quite effective in the underseen horror gem, Oculus, only to falter in headlining the empty sci-fi flop, The Signal, and to stand around with nothing to do as the prince in mega-hit Maleficent. His character, Jonas, is just reaching the point when the government will assign him a profession.
Understandably nervous, Jonas' angst turns to shock and delight when he's chosen to be the next Receiver of Memory. It's a high honor and will make him the only citizen in his community able to remember what life was like before the present situation. As he learns from the current Receiver (Bridges), this knowledge will supposedly make Jonas a powerful and indispensable advisor to the government, but the potential for disaster in allowing someone to remember "normal" life seems unambiguously huge. (That's just one of many glaring plot holes the film doesn't even bother trying to address.)
Egged on by his new mentor (who is battling personal demons of his own), Jonas inevitably begins to rebel against the status quo, including his dutiful parents (Skarsgard and Holmes) and his drone pilot buddy (Cameron Monaghan of TV's Shameless). Jonas' only ally is his childhood pal and soulmate (Odeya Rush)—it's a romantic subplot the film creates from whole cloth and a badly botched attempt at tear-jerking love story.
Thwaites and Rush have zero chemistry, and their lifeless scenes together undermine the entire film, especially since they're meant to provide Jonas with his primary motivation to take action. In fact, Thwaites has better rapport with the baby Jonas bonds with, who isn't really a character so much as a plot device alternately subjected to adorable close-ups or dangerous situations as needed to milk maximum sentimentality or suspense.
Director Phillip Noyce (whose work ranges from Dead Calm and Salt to Sliver and The Saint) goes through the motions here, with the exception of one moderately clever visual conceit. The film opens in black and white, and color gradually seeps in—Pleasantville-style—as Jonas' eyes begin to open to the true scope of human experience. Unfortunately, that experience comes courtesy of both a hilarious amount of cheesy stock footage, and a handful of bumbling historical recreations, including one of the worst Vietnam flashbacks ever seen on film.
Since so much of the movie is best described as a complete mess, it's difficult to tell if the one-note performances from Rush, Monaghan, Skarsgard and Holmes are the result of intentional depictions of zombie-humans, poor directing or simply bad acting, but the overall effect is numbing.
Streep appears to have phoned in her underwhelming turn as a beloved tyrant from the set of an entirely different movie. (In fact, significant portions of her role were filmed simultaneously with her work in the upcoming Into the Woods.) If she winds up chewing the scenery less than in her recent Oscar bait performances in The Iron Lady and August: Osage County, it's only because there's so little scenery to chew in this obviously on-the-cheap production.
Bridges, meanwhile, seems to be gnawing on his own tongue as he mumbles his corny dialogue from another dimension in space and time. (And if you're thinking it's anywhere near the Lebowski dimension, or even a Tron: Legacy dimension, think again.)
There was legitimate potential for The Giver to deliver something that might have transcended the expectations of the booming YA genre. Instead, audiences old and young alike are more likely to take one look at this dud and say "thanks, but no thanks."
Director: Phillip Noyce
Writer: Michael Mitnick, Robert B. Weide; Lois Lowry (book)
Starring: Brenton Thwaites, Jeff Bridges, Meryl Streep, Odeya Rush, Alexander Skarsgard, Katie Holmes, Cameron Monaghan, Emma Tremblay, Taylor Swift
Release Date: Aug. 15, 2014