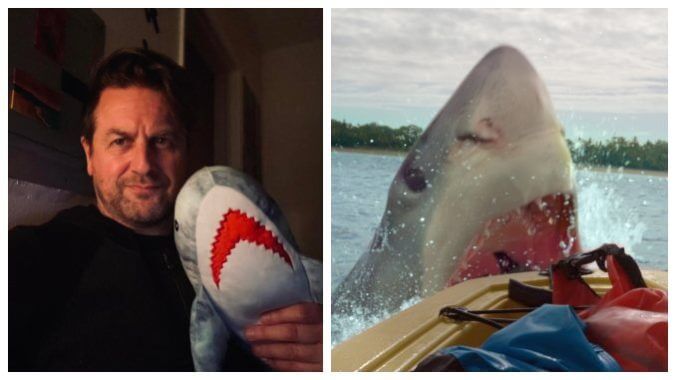 For all of its jadedness, Hollywood still exalts a great underdog story, and dark horses have become the unofficial trend of the 2022-2023 awards season. Films like Everything Everywhere All at Once, Aftersun and Living are some of the unexpected darlings securing nominations across award ballots. Actors like Ke Huy Quan (Everything Everywhere All at Once), Brendan Fraser (The Whale) and Dolly de Leon (Triangle of Sadness) are also having their moments in the spotlight, picking up nominations and award wins, along with rapt applause from audiences. But it's important to note, they've all been part of official award season campaigns footed by studios looking for the extra fiscal and attention bumps that come with wins.
Which is why grassroots campaigns, not funded by the Hollywood awards machine, have particularly knocked the establishment's noses out of joint, as some of those coveted nomination slots have been snatched away by upstarts. The most talked about is actress Andrea Riseborough who earned an Academy Award nomination for Best Actress in a Leading Performance for the tiny indie film To Leslie based solely on the swell of peers lauding her in social media posts during the crucial voting window. Her nod so rumbled the status quo that the Academy of Motion Picture Arts and Sciences felt the need to review—be it for optics or to appease angry PR reps who felt robbed of a slot for their clients—their campaign procedures about grassroots campaigns.
Perhaps lost in the wake of that dust up is another interesting season indie standout: Composer Mark Smythe. Born in New Zealand and now based in Los Angeles, Smythe recently earned his first Society of Composers & Lyricists (or SCL) nomination for Outstanding Score for an Independent Film. His score—for the thriller sequel The Reef: Stalked—is going up against far more recognizable titles: Weird: The Al Yankovic Story, Brainwashed: Sex-Camera-Power, Everything Everywhere All at Once and The Whale.
How did Smythe pull off such a delightful usurping of the big guys to get his aquatic horror score heard, and voted on by his peers, who love to honor the tried-and-true brand names of composing? Deeply curious, Paste Magazine got Smythe to tell us his fascinating and twisty story.
---
Paste Magazine: Prior to The Reef: Stalked, you've scored four smaller, indie theatrical releases. So when you found yourself amongst the SCL nominees, what was your reaction?
Mark Smythe: Honestly, I was deeply shocked when I was nominated. But in the most fantastic way.
What prompted you to put yourself into the awards season with The Reef: Stalked?
Smythe: Well, I think you've got to really be realistic about where you are, in terms of your career. The timing felt right to really put myself out there, all solo guns blazing, because I was very proud of the score. I'd seen it a couple of times in cinemas with close friends who, if they hadn't told me that it was actually frickin' great, then I wouldn't have even thought about it, you know? Then, I actually had to decide which category to enter because I wasn't completely sure where I fit in, in my own mind, [based] on my level.
Before I even entered The Reef: Stalked, I asked a lot of people their opinions. I nearly entered the Emerging Composer category, but then thought I'm not really emerging because I've been doing this for a while. One person I spoke to flat out said, "If you go into the Independent Film category, you'll be up against the studios and their studio budgets." Then, I entered.
Award season campaigns are pricey, with even one email blast to members costing up to $10,000. Did you have any studio funding?
Smythe: After my nomination, I approached AMC, the owners of Shudder where the film streams, about paying for an ad for my nominated score in The SCL Weekly Wire. They declined, saying, "Unfortunately we have no budget left for The Reef: Stalked."
Then, where did you start?
Smythe: I created many fancy-looking images for my own campaign. I created what I thought was quite a nice title card for my entry, and utilized the SCL Awards logo and the logo from the film. Plus, I was in a unique position: I have a fair bit of insight into specifically what film music publicists do and what studios do in terms of promoting composers. Everybody in the SCL community knows this already, but for a couple of years, I was actually their COO. I stepped down from that role at the beginning of 2021, so essentially two years ago. I was the one liaising with all of the publicists, be they specific film composer publicists with their roster of clients, or dealing with publicity departments at the studios. I was the one scheduling the many, many screening and Q&A events, so I knew the process. I also knew how much it would cost to actually do my own SCL screening and Q&A. I thought, "I don't need to hire somebody to do that. I just need to approach the new CEO of the SCL and try to slot it," which is exactly what I did.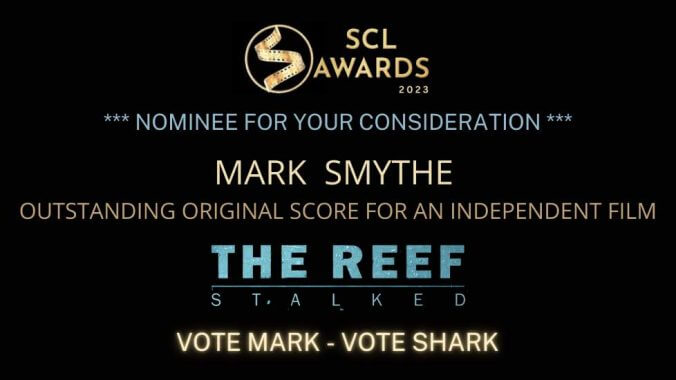 But when I first saw all of the other entries—of which there were 155—and I saw names like Hans Zimmer on an obscure film I've never even heard of before, I almost didn't proceed with doing my first-ever screening and Q&A about me because I was worried that people would just vote for the usual names based on their reputations. Close friends of mine persuaded me to go ahead with it, and I'm so glad they did, as that was a key part of it. I got in early with a good date that was quite close to the big, annual holiday dinner that the SCL holds, this year for Danny Elfman.
I wouldn't say it was a guerilla campaign per se, but it was very much a hands on, literal word-of-mouth campaign in that I attended as many SCL events as I could. I saw many members at these events that remembered me from my time as COO.
How else did you support your campaign push?
Smythe: Probably the cleverest thing I did was come up with what I thought was a very memorable campaign slogan, which was: "Vote Mark, vote shark." [Laughs] I started plastering that all over my social media posts. I was very, very active on social media, but I was trying not to be too full-on about it. Towards the end, I even started doing mock interviews. I invented my own PR company called Black Kiwi PR. [On Zoom, Mark reveals a stuffed animal Kiwi on camera.] And I did fake interviews between it and Jaws Dundee. [Mark then adds a stuffed shark on camera.] I was using ridiculous humor to try and stand out.
It was a long shot. But I also thought that I've done things a little bit differently, and perhaps differently enough that people noticed. I sent a lot of individual emails as well. There was a little bit of copying and pasting, but I was addressing people by name. And I was very careful about who I emailed about that. I tried not to waffle on, but I totally played the David versus Goliath card.
As someone who has been on both sides of the awards season, and knows the incredible amounts of money spent on these campaigns, is a grassroots campaign leaning on personal networks and goodwill any less ethical than the big funded campaigns?
Smythe: I hope that people that know me, and people that don't, see my nomination and think, "If they can do that, then perhaps I can." I do think that my visibility in the community did help. I don't think that was an unfair sort of visibility in any way. Because, honestly, for the longest time, my visibility was almost the wrong visibility, as the SCL community saw me as the COO. Many of them, not deliberately I think, often forgot that I was a composer in my own right. To have gone full circle, and now be at the pointy end of an award season, having gone through some incredibly stressful times helping run past award seasons, it's a very, very nice feeling. And I gotta tell you, I heard from somebody that apparently some publicist had said to them, "Oh, there's a lot of very disappointed studios out there. How did Mark get nominated?" And the answer was: Mark did the work and he did it himself.
As the salmon who is swimming upstream, what are your tips to others out there who might want to give this a go?
Smythe: You don't necessarily need to spend a lot of money to get noticed. I do think that doing an SCL screening was pivotal. I'm so glad that I took the advice of my friends on proceeding with that. It wasn't exorbitantly expensive, because I got in there early, as I knew their rates. I would suggest trying as much as you can with your own personality. Because I feel the ways in which studios present things is kind of the same. They mail out an enormous number of screeners that I never look at because I don't even have a DVD player anymore. I really do think doing a screening event with the SCL is a huge thing to do. At any time, not necessarily for an awards campaign, the online invitation alone for that will be seen by 3000 people. Not all of those will be voters for an awards campaign but that's a way of creating visibility and awareness for your composer name that doesn't necessarily require hiring a publicist, or being involved for the studio campaign.
Do you think you have a shot at winning?
Smythe: It's gonna be interesting to see what happens. I would like to think that perhaps some independent composers out there, not working on big films, maybe they'll hopefully read this and be inspired. I like to have fun with people and amuse them wherever possible. But I take the music part of it very, very seriously. I was careful to try and draw attention to the music itself, which I really am proud of. I hope my nomination inspires people that might think they've got no chance against the studio juggernauts.
This interview has been lightly edited for length and clarity.
---
Tara Bennett is a Los Angeles-based writer covering film, television and pop culture for publications such as SFX Magazine, Total Film, SYFY Wire and more. She's also written books on Sons of Anarchy, Outlander, Fringe, The Story of Marvel Studios and The Art of Avatar: The Way of Water. You can follow her on Twitter @TaraDBennett or Instagram @TaraDBen.