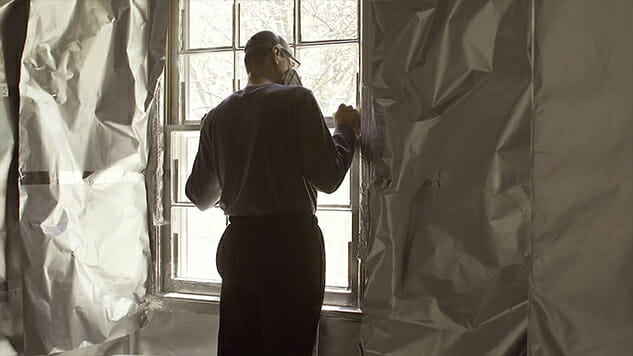 There's little feeling more painful than not being believed. Whether mental, physical or somewhere in between, no malady can ever injure as deeply as incredulity from a loved one or from a medical professional, when all you want—from the bottom of your soul—is to be healthy. Director Drew Xanthopoulos meets people for whom this condition is reality in his harrowing documentary The Sensitives.
The film's subjects suffer from untreatable, incurable hypersensitivity to the modern world. Chemicals, electricity, radio waves, cell phones: Their conditions are debilitating but not personality-erasing, just crippling enough to make life near-impossible without looking like they're living a nightmare. Joe lives a seemingly normal suburban life were it not for the gas mask he wears or how heavily he relies on his supportive, silently-suffering wife, Lanie. She brings meals, cooked in the dark because of Joe's aversion to artificial light, up to a foil-coated panic room on the second floor of their house. Then there's Karen, living with her grown twins, Sam and Nathan, to whom she's passed her sensitivities along, which means they horizontally compose acoustic music on mattresses and rely on Karen's 96-year-old mother to bring groceries to their isolated home. There's also Susie, an enterprising sort who's become a disability advocate for her mysterious, skepticism-inducing disease.
The Sensitives sees its skeptics coming and bulldozes forward with archival footage of Susie before she moved to her sensitive-friendly community, wherein checks occur regularly for bug spray, carpet cleaner and other offenders. The frailty of Susie in the 1990s isn't lost on us when we see how spry she's become. When she travels to an advocacy conference, the toll the modern world takes on her exists somewhere between degenerative illness and a physical embodiment of all of modernity's anxieties. And yet, the only brush with the medical community the film humors is embodied in Joe reading a study at his kitchen table that confirms that his condition exists. We're given no more information about its treatment, its rarity or its true nature.
The mystery of the condition, though not the subject of the documentary, often threatens to overshadow those afflicted by it. That there's something this indefinite and ever-present in a documentary, something that should ostensibly have affected the filming of the documentary itself, ignoring or assuming that an audience will accept its mystery is a gamble. The headlamps, plastic sheeting, injections and endless discussion of scents would be all the more impactful with a brief history of how such sensitivities came to run the subjects' lives.
Combating this is the film's intensive realism, lingering unblinkingly on heartbreaking marital conversations between Joe and Lanie, or on the death of a central character, inviting our empathy to stretch out wider and wider with each story. While there are moments of near-paranoid conflict—like the demands that a radio producer (who doesn't smoke) change her smoky clothing, or the intermittent scans of film equipment by scientifically-dubious radio-sensitive devices—the film's focus is on the interpersonal troubles experienced by these people, who rely on each other and loved ones whose support seems alternately saintly and enabling.
There's certainly a component of will that Xanthopoulos wants to get across to his viewers: Joe's life improves when he commits to sacrificing some of his comfortableness for Lanie, while Karen, Sam and Nathan are happiest performing their music despite their physical exhaustion. They live in environments which appear equally exhausted, sagging under the weight of their inhabitants' heavy burdens. That Xanthopoulos creates such endearing, complex portraits of his suffering subjects is worth the frustration of the director's lack of interest in why they're even suffering at all.
Director: Drew Xanthopoulos
Release Date: Premiered at the 2017 Tribeca Film Festival
---
Jacob Oller is a writer and film critic whose writing has appeared in The Guardian, Playboy, Roger Ebert, Film School Rejects, Chicagoist, Vague Visages and other publications. He lives in Chicago, plays Dungeons and Dragons, and struggles not to kill his two cats daily. You can follow him on Twitter.