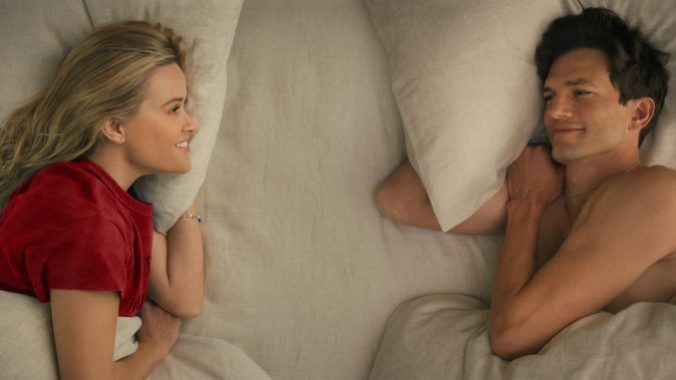 It's hard to think of two actors etched deeper into the early '00s rom-com zeitgeist than Ashton Kutcher (Just Married, etc.) and Reese Witherspoon (Four Christmases, etc.). Written and directed by The Devil Wears Prada's Aline Brosh McKenna, Your Place or Mine is well aware of this fact, and even goes so far as to overlay its first scene, which takes place in 2003, with cheeky, cutesy text bubbles labeling things that place the characters in this faraway time (a wallet-chain, flat-ironed hair). Referencing the golden age of rom-coms in a time when the genre is unmistakably suffering—verging on obsolete—is already a big gamble, and immediately juxtaposing Your Place or Mine with much better films gives it an unfair disadvantage right out of the gate. And it's a disadvantage that it doesn't need.
The film follows pragmatic L.A.-based single mom Debbie (Witherspoon) and wealthy New York bachelor Peter (Kutcher), longtime best friends who hooked up two decades ago. Debbie is on her way to stay with Peter for an accounting course when her babysitter bails, forcing her to cancel the trip. But rather than let his friend miss out on this opportunity, the selfless Peter drops everything to babysit Debbie's 13-year-old son Jack (Wesley Kimmel) while she stays at his place alone. Will getting a behind-the-curtains look at one another's lives make the pals reassess their feelings for one another? You'll just have to wait and find out!
If you give into Netflix's sneaky ploy for nostalgia clicks, you'll quickly realize that you don't actually have to wait to find out—not really. In fact, Your Place or Mine's obvious, high-concept plot is devised so stiffly, inorganically and awkwardly (isn't it wild that we're swapping houses for a week even though you know virtually nothing about our relationship or interests or motives?), that it all feels like an inauthentic scheme to get two random leads together, and not in the slightest like a story borne out of their potential mutual interest in one another. As a result, during almost every ensuing plotline in the film, you can picture McKenna's eyes glossing over as she dutifully kills time before the pair realizes that they simply cannot live without one another. (And what a shame coming from the writer of the superb The Devil Wears Prada, Crazy Ex-Girlfriend and 27 Dresses!)
The filler scenes, then, are at once inconsequential and impossibly slow. In one storyline, Debbie compromises one of Peter's most secret, prized possessions (which should be at least somewhat adrenaline-pinching, but it's not), just for said problem to disappear like a phantom in the night when it's convenient. Peter's storylines are only marginally more sensible and relevant.
Sadly, the scenes that the potential lovebirds appear in together aren't much more stimulating: Their banter is painfully forced and their chemistry is nowhere to be found, proving that we were all right about those awkward red carpet photos from the film's press tour.
Despite this, somewhat miraculously, Kutcher and Witherspoon independently remain bonafide rom-com stars. Kutcher is effortlessly loveable, playing Peter with his staple people-pleasing puppy-dog demeanor. Witherspoon is magnetic as Debbie, remaining consistently funny and charming throughout, despite being confined to a one-dimensional helicopter mom trope.
As tends to be the case with many contemporary rom-coms, though, Your Place or Mine's side characters are far more compelling than its main ones. Tig Notaro easily gives the best comedic performances of the film, single-handedly carrying its only laugh-out-loud moments with her dry delivery. (I'm still patiently waiting for her to be cast as a rom-com lead.) Steve Zahn is also welcome as Debbie's quirky neighbor who spends his days tending to her garden just for fun. His idiosyncratic character brings a level of messy zaniness to the table, one that often appears in the early '00s film that Your Place or Mine wants so desperately to be, and one reminding us yet again of everything that Your Place or Mine is not.
More than anything, Your Place or Mine will probably just make you wish you'd watched an old Kutcher or Witherspoon flick this Valentine's Day, instead.
Director: Aline Brosh McKenna
Writers: Aline Brosh McKenna
Stars: Reese Witherspoon, Ashton Kutcher, Jesse Williams, Tig Notaro, Zoë Chao, Wesley Kimmel, Rachel Bloom, Steven Zahn
Release Date: February 10, 2023 (Netflix)
---
Aurora Amidon is a film journalist and passionate defender of Hostel: Part II. Follow her on Twitter for her latest questionable culture takes.