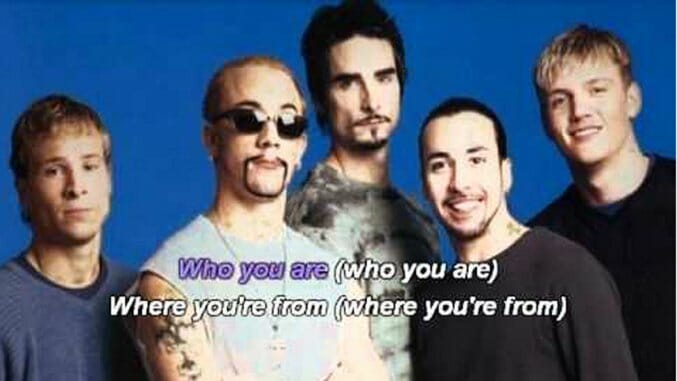 The act of picking a song to sing at karaoke is truly an art. Sure, anyone can go up there and shout "Livin' on a Prayer" or "Sweet Caroline," or a drunk group of gals can stumble through "Wannabe" by the Spice Girls, the five of them holding the two mics far enough from their face that you can't actually hear them except for the second time they go "slam your body down and wind it all around," since that line gets shouted. And boy, do drunk people like to shout.
However, there's a difference between being passable at karaoke and being memorable. You can slog your way through a song that's been done a million times before, or you can follow this list and get a tune that'll have people talking all night. Your hand might even hurt from all the high-fives you'll get. Because believe it or not, you don't have to be the next Freddy Mercury to wow an audience. Whether you can sing a lot or a little, there are songs for your particular skill level. This list will help you find the one that's perfect for you.
You may note there aren't a ton of '70s and '80s songs on here. You can certainly do them, but that was a period of time when everyone dabbled with excessively long guitar solos, strange keyboard experimentations, and repetitive choruses that go on for a minute and a half before fading out. We want you to succeed, so there will be no selections leaving you standing with your hands in your pockets, or even worse, sitting down on stage. (In fact, that's your first lesson: Unless you are physically unable to stand, never sit down on stage.)
Starting with the easiest songs to sing, here are 18 karaoke songs for every skill level.
"Tried to Carry a Tune and Dropped It" Division
1. Fountains of Wayne, "Stacy's Mom"
Performance tip: While it's true that not every good song translates to karaoke, this is an example of a jam that's great when Fountains of Wayne are singing it, and it's great when you're singing it, too.
Why? It's simple. Your audience probably can't name a single other song by Fountains of Wayne (which is a shame, because they sure can write a catchy tune), but it knows every word to this chorus. As a bonus, you can get audience participation by have them echo the end of each line during the verses, like "hang by the pool" and "mowed your lawn." Getting the crowd involved is always a good tactic for winning.
2. Tommy Tutone, "867-5309/Jenny"
Performance tip: Remember when phone numbers were just seven digits? We didn't need to type in area codes, or, heaven forbid you're in a conference room and need to dial 1+9+the country code before you even get to the actual number.
Tommy Tutone lived in these simpler times. Back then, you could score a date by simply leaving your number on a bathroom stall. Nobody knows who the real Jenny is, though the song certainly didn't stop people from calling the poor actual owner of this number. The rhythm and range required to perform the song are minimal, and if you're truly desperate for a date, you can substitute your own number in for the song's title.
3. Alanis Morissette, "You Oughta Know"
Performance tip: I'll be honest—I hate this song. But the barrage of venom towards Dave Coulier (Full House's Uncle Joey) absolutely slays it at karaoke. A word of warning, though: this song is really boring during the first verse, since it's just quiet percussion and a dull bassline that you sometimes can't even hear, depending on the sound system. Don't get discouraged if people aren't into it immediately. They'll be jamming along once the chorus kicks in—way before anyone can tell you to "Cut. It. Out."
"Hey, That Line Sounded In Key!" Division
1. Backstreet Boys, "As Long As You Love Me"
Performance tip: The most common BSB song performed at karaoke is "I Want It That Way." But again, you're not a common performer, so you may as well do a better song. You get to show off the pipes a bit more during Brian's verses, but since the majority of the vocals here are performed by Nick Carter, you really don't have to sing well to pull it off. And trust me, even if they despise the Backstreet Boys, everyone secretly knows the words to at least four of their songs. There's a good chance this is in that bucket of four.
2. The Foundations, "Build Me Up Buttercup"
Performance tip: The ending of There's Something About Mary just wouldn't have been the same without this song. Fortunately, this tune is popular enough that you could not even know who Ben Stiller and Cameron Diaz (or Brett Fav-ruh) are and still be able to sing along.
Once again, you have plenty of opportunities for audience participation in here, since just about every other word in the chorus is echoed. You can also disguise any "WHY do you build me ups" that deviate from anything remotely in key as just a passionate yelp of frustration.
3. R. Kelly, "Ignition (Remix)"
Performance tip: No other song allows you to do so many hand gestures. From taking someone's fingers and running them through your fro (or, failing that, just your hair), to giving "toot toots" and "beep beeps," to physically burning your fingers on a scorching hot oven—hey, the song is hot and fresh out the kitchen—you'll be keeping your non-mic-holding hand busy.
Contrary to popular belief, there actually is an original version of this song. Many people have only heard the remix edition, and for good reason: it's infinitely better. Occasionally, though, the spot at which you're performing will only have the original song. Be very careful to confirm you're about to sing the remix before you get uncomfortably launched into one of the most sexual and awkward songs ever recorded, minus the catchiness of the remix. Yikes.
"Pretty Fly" Division
1. The Chiffons, "One Fine Day"
Performance tip: Really, most Motown songs are going to go over well. Even people who claim to have never heard an oldie in their life know at least a couple of Motown tunes. This one rarely gets done because people seem to think "My Girl" and "You Can't Hurry Love" are the only Motown songs in any given karaoke book, but the Chiffons are a catchy crowd pleaser. The "shooby dooby dooby dooby doo wop wop" part is a great chance to cup your hand to your ear for a little more volume from the crowd, and if you keep your energy up, by the time to sax solo hits, it'll be hard to distinguish the room from a sock hop.
2. The Darkness, "I Believe In a Thing Called Love"
Performance tip: Falsetto notes are a lot easier to hit when you're singing at full volume. While not every karaoke song should be performed "up to eleven," this one absolutely should. It makes the transition into the high notes smooth. If you ever think you can't hit any notes, just flip the script and change it to your lowest octave. People love being surprised.
There's also another good chance for audience interaction. During the final chorus, you can get the room clapping above their heads a la the official music video (it helps to have a friend initiate the clap to get everyone going). The guitar solo in the middle of the song gives you ample time to run around the room, giving people fist bumps or taking a sip of your drink for your poor, aching throat. The solo at the end is a good chance for shy folks to slip offstage while the riff is still going, leaving people to applaud for simply an empty stage and a screen showing the credits of the song. You sly performer, you.
3. George Michael, "Faith"
Performance tip: You can also substitute this for its little cousin, "Wake Me Up Before You Go-Go," but the upgraded version gets the nod here. If audience members don't spot the title card, they'll be chatting amongst each other wondering what song you're singing during the church organ-intro, but then when you start shaking your booty like George Michael himself, the crowd will find it impossible to refrain from singing, or at least clapping, along to the "faith" repetitions in the chorus. If there's a jukebox you can lean against, even better.
"I've Got Rhythm, Yes I Do" Division
1. Outkast, "Roses"
Performance tip: This is one of the rare songs that perfectly blends both singing and rap vocals, giving you ample time to dedicate to each. The crowd will respond enthusiastically to the "Caroline" echoes, and Big Boi's rap, while not the most technically difficult, is still challenging enough that you'll get some impressed claps on the back from your fellow performers. Outside of the piano intro, which only lasts about 15 seconds, there are also no musical breaks in this song, keeping you plenty busy.
If you're really lucky, you'll score a version of the song with the extended "crazy bitch" outro. Perfect for when you've invited 16 exes out for the evening.
2. D12, "My Band"
Performance tip: Speaking of songs with no musical breaks, "My Band" starts with Eminem lamenting about people whining over his lead singer status, and doesn't end until he's plugging a song about salsa. Along the way, you get to do six (!) different voices, from Em's opening intro to Bizarre's sad tale of managing two-and-a-half sit-ups before falling onto his back like a turtle. Proof's is my personal favorite verse, though the back and forth between Kon Artis and Kuniva—with occasional interruption by Eminem—gives you the chance to act out any multiple personalities you've been keeping hidden away. This is probably one of the most exhausting songs you can do, though it's well worth the effort.
3. Mulan, "I'll Make a Man Out of You"
Performance tip: If you make it through an entire evening of karaoke without hearing a musical number from a major motion picture, consider yourself lucky. But while other people are trotting out the predictable "A Whole New World" and "Summer Nights" performances, you can do them one better with this one from Mulan. The backing track makes it seem like you're up to something epic—which you are—and anytime I've seen this done, the whole bar/room/street corner/wherever you are emphatically joins in. And it's easy to understand why: the "be a man" refrains help get the crowd involved, but more spectacularly, the "mysterious as the dark side of the moon" finale gives everyone a chance to unleash their inner wolves by howling towards the sky. It's truly a spectacle to behold.
"Next Grammy Winner" Division
1. Kelly Clarkson, "Since U Been Gone"
Performance tip: Here's the thing, whether you started out as friends or enemies, every single woman (and man, too, probably) has sung this song into a hairbrush in front of their mirror at least once in their lives. And if you haven't, you better go ahead and do it, since you don't want to be left behind the rest of the human race, do you?
That gives you a great opportunity to go sneak up to an unsuspecting table and let them scream their hearts out into your hairbrush mic during the chorus. For the bridge, if you can't hit the extremely high note during the "again and again and again and agaiiiiiiin" part, go the opposite way and belt out the absolute lowest growl you can muster. Nobody expects it, which makes it all the more wonderful. Also don't be fooled by the part immediately afterwards, when the "since you been gone" backing vocals come on before the part you're actually supposed to sing. Those backup singers are tricky.
2. Whitney Houston, "I Wanna Dance With Somebody"
Performance tip: When you're able to get the crowd dancing, you've done your job. This song is even better because not only are you getting the crowd dancing, you're getting them dancing with each other. Especially with a wireless microphone, you have the potential to wander around and play matchmaker with any number of karaoke patrons. Perhaps your performance will start a duo off on a lifetime of happiness. And for that eternal bliss, they'll at least owe you a drink.
3. Brian McKnight, "Back at One"
Performance tip: Every karaoke audience knows how to count to five, and oftentimes higher than that, but fortunately, you're keeping things basic here. You can give your arm a good workout by throwing up the corresponding number when it's time for the crowd to chime in, though when you nail that high falsetto note in the bridge, the whooping and hollering of approval may drown out the entire final chorus completely.
Oh, and be prepared to start quickly. I've never seen a karaoke version of the song with the actual piano intro (which is a good thing, since it's more than a minute long), but know that after a click track counts you off, you're hopping right into the vocals.
"Do the Duet" Division
1. Smash Mouth, "All Star"
Performance tip: If you were hiring a band from the annals of music history to come play at a birthday party, where the age of attendees would range from six months to 74 years old, that band would have to be Smash Mouth, right? Musically, they're very inoffensive. They made an appearance on the Shrek soundtrack, and somehow every single person knows every single word to "All Star," even though the song hasn't been played on the radio anywhere in the world for more than a decade and a half. It's remarkable, and that fact, coupled with the ease of being able to recite the lyrics, makes it perfect for a duet or even a group of people.
2. Evanescence feat. Paul McCoy of 12 Stones, "Bring Me To Life"
Performance tip: This song is much better if you have a guy singing Amy Lee's part, and a trillion times better if you have a woman singing Paul McCoy's chorus and bridge. Lee can really belt out those high notes, so if you are a man trying to perform this song, I suggest wearing extra tight pants. And if you're a woman doing McCoy's section, there's no sweeter sense of satisfaction than the stunned looks you'll get after growling out his "there must be something more" line before the final chorus. Unexpected twists are always a good thing in karaoke.
3. Sum 41, "Fat Lip"
Performance tip: In case you've doubted the veracity of this list so far, please allow me to present the beauty of "Fat Lip." I did this song with a guy who had never sang karaoke before at a Six Flags amusement park and it went over well. Even little kids scarfing down funnel cakes loved it.
If you have even the smallest modicum of tempo hidden in your veins (and I know you do), the rapping part is easy to accomplish, and it's incredibly fun to bounce lines back and forth between two people. There's also room for harmony in the chorus if you want to get a little advanced.
Another time, I was at a karaoke bar to ring in the New Year. This guy got up on stage and was walking around like he was a real cocky, stupendous jerk. He was performing the first song after we had counted down, inhaled confetti, doused ourselves in champagne, and whatever else people do to indicate one year has ended and another is beginning. There was a murmur in the crowd while the song loaded—and it wasn't an excited murmur, like you might hear waiting outside a barricade of a Four Seasons, hoping to catch a glimpse of Ryan Gosling. It was a murmur of concern. But when the opening riff of "Fat Lip" started, that's when we all knew the year was gonna be all right.
And that, ladies and gentleman, is how you know you've picked a winner. Now go on and own that stage.