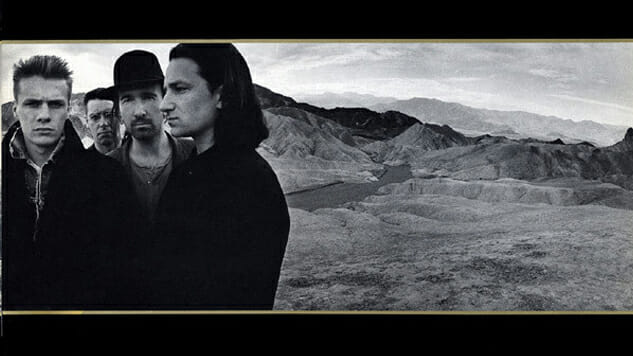 Thirty years ago, pop music experienced one of its strongest years for standout releases. CDs were on the cusp of outselling vinyl records (it would officially happen the following year in 1988), MTV was reigning at full powerhouse levels, and the competition among top-shelf talent was unbelievably fierce for sonic superstar supremacy. There were a variety of interesting stories being played out in front of our eyes (and ears) throughout 1987, including heavyweights like Prince and Bruce Springsteen releasing albums without their almost-as-famous backing bands and British imports like The Smiths and New Order were winning over U.S. audiences by finally releasing their U.K.-only singles on chart-impacting compilation records.
The most impressive narrative thread of 1987's music scene may be the strength and wealth of creativity exhibited in its treasure trove of debut records spread out over a variety of genres. Hip-hop heads were introduced to Public Enemy and Erik B. & Rakim, and pop music fans got their first look at Debbie Gibson, Richard Marx, and a post-Wham! George Michael. Alternative/college rock followers got turned on to Pixies and Jane's Addiction, and Guns N' Roses turned the most heads of the decade with their massively successful (and highly controversial) down-and-dirty debut, Appetite for Destruction. Welcome to the jungle (of 1987's musical landscape), baby.
To prove the year's embarrassment of recorded riches, here are 30 of the best, most iconic releases from 1987 to revisit while they celebrate their 30th anniversaries this year.
1. U2, The Joshua Tree
When U2 released The Joshua Tree in early 1987, Bono uncharacteristically stated that he was, "as pleased with the record as I can ever be pleased with a record." Little did he and the rest of U2 know just how much it would please worldwide audiences, as well. Widely regarded as one of the best albums of all time, The Joshua Tree hit No. 1 on the charts in more than 20 different countries and has sold more than 25 million copies worldwide. The album's three biggest singles—"With or Without You," "I Still Haven't Found What I'm Looking For" and "Where the Streets Have No Name"—not only helped to define the band's anthemic sound, but also the decade itself in many different ways, both within the U.S. and globally. The Joshua Tree transcended pop music in ways that allowed U2 to give voice and draw attention to a variety of important social and political issues, all while they toured the world as certified international rock stars.
2. Guns N' Roses, Appetite for Destruction
Rarely has a band sprung forth so fully formed on their debut studio album like Guns N' Roses did on Appetite for Destruction. With their sleazy, bluesy take on glam metal, Axl, Slash, and the boys helped define the booze-and-big-hair sound of L.A.'s Sunset Strip in the '80s. On the back of instantly memorable guitar riffs ("Sweet Child o' Mine"), dare-you-not-to-sing-along choruses ("Paradise City") and iconic music videos ("Welcome to the Jungle"), the album topped the Billboard 200 charts and has gone on to be certified 18x platinum in the U.S. alone. With close to 30 million copies sold worldwide, Appetite for Destruction is often credited as being the greatest debut album of all time. While the band would go on to bloat, implode, ignore each other for years, Appetite for Destruction stands as a beacon to what the band was and (after the success of their reunion shows) what they still could be.
3. Prince, Sign o' the Times
It's a well-known story: Prince wanted his first post-Revolution record to be a triple album, his label wanted the strongest single album he could make (à la Purple Rain), and they compromised by releasing a double album. The result was the raw, eclectic, genre-blurring, pitch-perfect-Prince solo show Sign o' the Times. While the album still produced some classic Top 10 hits (the title track, "U Got the Look," "I Could Never Take the Place of Your Man"), it is the deeper album cuts like the funk-fueled "Housequake" and the nine-minute party starter "It's Gonna Be A Beautiful Night" that truly showcase Prince's matchless musical mastery. For an artist bent on fearless exploration and personal reinvention, Prince was at his genius-level peak in both areas throughout Sign o' the Times.
4. R.E.M., Document
For their final album on I.R.S. Records, R.E.M. delivered a pull-no-punches sonic statement that showed the Athens foursome at the top of their game. Continuing to eschew expectations of what college rock/alternative music should sound like, the band boldly blended their punk, folk, pop, and new wave influences into a sound all their own and delivered it with more bravado than had been seen on their previous releases. The band even hinted at the instrumental experimentation that would appear more heavily on later albums with the inclusion of dulcimer ("King of Birds") and saxophone ("Fireplace"). Document became the band's first platinum-selling album and it was helped along by their first Top 10 hit "The One I Love" and memorable MTV videos for "It's the End of the World as We Know It (And I Feel Fine)" and "Finest Worksong." While their next album Green would be the band's mainstream major label breakthrough, Document captures their final moments on the brink of canonic success.
5. Whitney Houston, Whitney
Whitney Houston wowed audiences with her self-titled debut in 1985, but it was her sophomore album, Whitney, that truly catapulted her to superstardom. The album's first four singles—"I Wanna Dance With Somebody (Who Loves Me)," "Didn't We Almost Have it All," "So Emotional" and "Where Do Broken Hearts Go—all hit No. 1 on the Billboard Hot 100, which—along with the three No. 1s from her debut—gave her an astounding seven consecutive No. 1 hits. Besides garnering impressive numbers for radio and sales (11x platinum in the U.S. alone), the album also set records for Houston, including being the first female artist to have an album debut at No. 1 on the Billboard 200 and compiling the most total weeks at No. 1 (25 weeks overall) by a female artist for the entire decade. If you're looking for a slice of '80s-era pure pop perfection, Whitney is a surefire go-to.
6. Michael Jackson, Bad
How do you follow-up Thriller, the biggest album of the '80s, in any sort of meaningful way? While most artists might crumble under that type of pressure, Michael Jackson took the challenge in stride and delivered an equally (if not slightly more) impressive album with 1987's Bad. With a more aggressive persona, an enriched pop palette, and wider lyrical themes, the King of Pop retained his crown by pushing his creative boundaries and continuing to challenge both himself and his audience. Nine of the album's 11 tracks got official standalone single releases, with five of them—"I Just Can't Stop Loving You," "Bad," "The Way You Make Me Feel," "Man in the Mirror" and "Dirty Diana"—all going to No. 1 (a record that, while not yet topped, was tied by Katy Perry's Teenage Dream in 2010). "Smooth Criminal" and "Another Part of Me" charted in the Top 20, as well at No. 7 and No. 11, respectively. At the time, Jackson understood that MTV was at peak promotional power, as evidenced by his dedication to filming music videos for 10 of the album's 11 songs. Also of note, Bad was the last Jackson album produced by Quincy Jones, with whom he had worked so closely on Off The Wall and Thriller.
7. George Michael, Faith
There's no denying that Faith, George Michael's debut solo album, absolutely dominated late-'80s pop culture. The album yielded seven singles (six of which landed in the Top 5), went 10x platinum in the U.S., spent 12 weeks at No. 1, and won an Album of the Year Grammy. Not only did its iconic music videos ("Faith," "One More Try," "I Want Your Sex," "Father Figure") help define MTV in those days, but it was also the first album by a Caucasian artist to hit No. 1 on the Billboard Top R&B Albums chart. Currently, Faith has sold more than 25 million copies worldwide. The music video for the title track heavily featured Michael's iconic late-'80s look (leather jacket, tight jeans, stubble) and helped propel the song to the top of the charts for the last three weeks of 1987, going on to become the best-selling single of the year in 1988.
8. Public Enemy, Yo! Bum Rush the Show
Straight out of the gate, Public Enemy demanded attention and respect with its creative and confrontational debut Yo! Bum Rush the Show. Foregoing the feel-good party themes and attention-seeking boastings that were popular in most '80s rap, Public Enemy instead created its signature aural aggression with Chuck D's booming delivery-plus-commentary style, The Bomb Squad's sample-rich production wizardry, and Terminator X's in-your-face scratching technique. Bouncing on top of everything was Chuck D's sonic sidekick Flavor Flav, functioning as the most flamboyant and identifiable love-him-or-hate-him hype man audiences had ever seen. The 12 tracks on Yo! Bum Rush the Show brim with a rhythm-over-melody priority list, creating an engaging listening experience that never subsides. Opening track "You're Gonna Get Yours" is probably the best known song from the album, not only for being a pitch-perfect intro track for Public Enemy, but also for Flavor Flav's yelling of the title phrase being sampled on MARRS' "Pump Up the Volume" single later that summer. Over the years, noted PE fans Red Hot Chili Peppers have also played snippets of the song as an intro to "Give It Away" in concert.
9. INXS, Kick
Australian rock-plus-dance new wavers INXS went in to the writing and recording of their sixth album with the intention of making every song suitable for release as a single. The result was Kick, the band's most defining and best-selling album of their career. Half of the album's songs were released to radio, with four of them—"Need You Tonight," "Devil Inside," "New Sensation" and "Never Tear Us Apart"—all hitting the Billboard Top 10. Between the global successes of Kick, the celebrated Dylan-esque music video for "Mediate," and their hit cover of "Good Times" (performed with Jimmy Barnes) from The Lost Boys soundtrack released earlier that summer, INXS owned quite a substantial share of 1987's pop culture real estate.
10. Def Leppard, Hysteria
Although it took more than three delay-plagued years to finish, Def Leppard's Hysteria proved to be well worth the wait. Audiences responded feverishly to the album's infectious hooks and slick production shine, keeping it in the U.S. Top 40 for 96 weeks. Seven of the albums 12 tracks charted (four of which reached the Top 10) and the term "pop metal" started being thrown around, thanks in large part to Def Leppard's use of synthesizers and processed electronic drum sounds (courtesy of drummer Rick Allen's customized hybrid kit that he created after losing his left arm in a car wreck on New Year's Eve 1984). The album's longevity in the pop culture consciousness was also spurred along by many of the band's heavy-rotation music videos, including "Pour Some Sugar on Me," "Armageddon It," "Rocket" and "Love Bites." From arena rock anthems to radio-ready power ballads, Hysteria showed the band at its painstakingly polished creative peak.
11. Eric B. & Rakim, Paid in Full
There's no denying that Eric B. & Rakim's debut album Paid in Full is one of the most celebrated high water marks for the mainstream-crashing golden age of hip-hop. Genre-defining songs like the title track, "I Ain't No Joke," "Eric B. for President," and "I Know You Got Soul" quickly vaulted the duo to prominence, both within rap circles and the music scene at large (as evidenced by a sample of Rakim's "Pump up the Volume" line from the latter song anchoring and giving name to the MARRS single released later that year). Paid in Full is often credited with crafting a whole new internalized-rhyming lyrical style and with giving birth to a large segment of the next generation of rappers who followed in its dense-flow footsteps. Eric B.'s unique ear for beats and samples and Rakim's combination of meticulous writing with a relaxed, deep-voiced delivery indelibly stamped their impact on the rap game. There's good reason why Paid in Full gets name-dropped in the vast majority of hip-hop interviews and always appears in the top rankings on retrospective best-of lists: it is 10 tracks-worth of undisputable game-changing greatness.
12. Aerosmith, Permanent Vacation
After reigning over the rock world in the '70s and self-imploding in the early '80s, Aerosmith attempted a feverishly anticipated reunion-based return to stardom in the mid-'80s. Although 1985's Done with Mirrors was the band's official comeback record (as it was the first to feature the return of guitarists Joe Perry and Brad Whitford), it didn't make much of a commercial or critical blip on the radar. However, the 1-2 punch of their "Walk This Way" revamp/collaboration with Run-D.M.C. in 1986 and the release of Permanent Vacation the following year proved to complete the band's phoenix-like rise back to pop culture prominence. The album's trio of successful singles—"Dude (Looks Like a Lady)," "Angel" and "Rag Doll"—all turned out to be classic '80s-era radio and MTV mainstays.
13. Debbie Gibson, Out of the Blue
In a year unseasonably strong with standout debut releases, Debbie Gibson's Out of the Blue sparked a lot of interest because the 16-year old wunderkind wrote all 10 of the album's incredibly smart dance-pop songs by herself. Gibson's prodigy-level pop songwriting skills resulted in her first four singles hitting the Billboard Hot 100 Top 5, including "Foolish Beat" going all the way to No. 1. "Foolish Beat" also earned Gibson the distinction of becoming the youngest person to write, produce, and perform a No. 1 Billboard single completely on their own (she still holds the record for female artists). Her energetic singles for "Only in My Dreams" and "Shake Your Love" landed her on the U.S. Dance charts as well. Combined with her immediately recognizable bowler hat, vest-over-shirt, double-Swatched image, Gibson's multi-threat talents cemented her '80s teen idol status.
14. Siouxsie and the Banshees, Through the Looking Glass
Inspired by David Bowie's 1973 Pin Ups album, Siouxsie and the Banshees wanted to record their own covers album as a fun, pressure-free follow-up to the yearlong studio experience that surrounded their Tinderbox album. The result was Through the Looking Glass, an eclectic and adventurous album of Siouxsie-fied takes on a diverse collection of songs. While the majority of their covers were based around their '70s influences (Iggy Pop, The Doors, Kraftwerk, Roxy Music), the album's most interesting and engaging choices are found in their inspired covers of Billie Holiday's "Strange Fruit" and "Trust In Me" from The Jungle Book. While Through the Looking Glass barely cracked the Billboard 200 charts, this album is a prime example of the value of artistic merit not being accurately measured by mainstream successes.
15. Richard Marx, Richard Marx
After a time working as a session singer and professional songwriter, Richard Marx took the plunge as a solo artist and released his self-titled debut album in the summer of 1987. In short order, Marx's first four singles—"Don't Mean Nothing," "Should've Known Better," "Endless Summer Nights" and "Hold On to the Nights"—all charted in the Billboard Top 3, with the latter formula-proven power ballad getting all the way to No. 1. Marx had an impressive guest list contributing to the album's 10 songs, including Fee Waybill of The Tubes co-writing two songs ("Lonely Heart" and "Remember Manhattan"), Joe Walsh of The Eagles playing electric guitar on "Don't Mean Nothing," and top-notch session pros Paulinho da Costa, Nathan East, Steve Lukather, Michael Omartian and others adding their masterful touches to the slick pop-rock classic.
16. Terence Trent D'Arby, Introducing the Hardline According to Terence Trent D'Arby
Although Introducing the Hardline According to Terence Trent D'Arby didn't quite meet the expectations of his own (exaggerated) claims about being as important as The Beatles' Sgt. Pepper's Lonely Hearts Club Band, Terence Trent D'Arby's debut record is certainly a notable entry in the '80s pop music pantheon. The polished soul-pop sheen of his chart-topping single "Wishing Well" is a crystallizing moment in the year's class of hits and it helped the album sell more than a million copies (worldwide) in just three days. The album also earned D'Arby a Grammy for Best Male R&B Vocal Performance, beating out more established artists like Stevie Wonder, Luther Vandross, Teddy Pendergrass and newcomer Al B. Sure in the process.
17. The Cure, Kiss Me, Kiss Me, Kiss Me
While The Cure dabbled with stateside success throughout the early 1980s, it was their musically diversified double LP Kiss Me, Kiss Me, Kiss Me that solidified their mainstream surge, especially in America. With four chart-impacting singles—"Why Can't I Be You?," "Catch," "Just Like Heaven" and "Hot Hot Hot!!"—the album went platinum in the U.S. and landed The Cure in the Top 40 for the first time. With its radio success and memorable music video, "Just Like Heaven" became an immediately recognizable, pop culturally defining song for the band. Multiple artists have designated "Just Like Heaven" as their favorite Cure song, with many of them going on to cover the song as well. Of all of the versions out there, Cure frontman Robert Smith has often acknowledged Dinosaur Jr.'s as his personal favorite.
18. David Bowie, Never Let Me Down
Following up two pop-finessed, commercially successful albums (Let's Dance and Tonight) and his celebrated appearance as Jareth the Goblin King in Labyrinth, David Bowie returned to his rock roots for Never Let Me Down. The album's three singles ("Day-In Day-Out," "Time Will Crawl" and "Never Let Me Down") all hit the U.K. Top 40, even as he drew inspiration from real world headlines such as the Chernobyl disaster and the U.S. treatment of their growing homeless population. For the subsequent Glass Spider Tour, Bowie went farther than he (or anyone else at the time) had gone with elaborate stage setups and bombastic theatrics, earning it the title of "largest touring set ever." While history has not been terribly kind in its remembrance of this period of Bowie's career, there is much to celebrate about the authenticity and adventurous spirit with which he was creating, especially in regards to the time-specific context he was doing it within.
19. New Order, Substance
Early in their career, post-punk dance-rock legends New Order had a firm stance on not including singles on their full-length albums. When they released their signature mega-hit "Blue Monday" in 1983, it became the best-selling 12" vinyl single of all time. So great was the song's popularity that the band's Power, Corruption & Lies album released soon after had to carry a "DOES NOT CONTAIN BLUE MONDAY" sticker. By 1987, New Order had compiled such an impressive singles catalog that they decided to compile all of their 12" versions (along with their B-sides on the double CD version) into one release. Substance was incredibly well received, eventually going Platinum in both the U.S. and the U.K. New Order also debuted a brand new single, "True Faith," on Substance, which became their biggest hit at the time, reaching No. 4 in the U.K. and hitting the U.S. Top 40 for the first (but not last) time.
20. The Replacements, Pleased to Meet Me
After The Replacements lost guitarist Bob Stinson, remaining members Paul Westerberg, Tommy Stinson, and Chris Mars recorded their soon-to-be-classic fifth album as a trio. Because of the band's slimmed-down internal dynamic, Pleased to Meet Me showcased a couple new sonic sides to the punk-influenced sounds of their earlier records. Songs like "Nightclub Jitters" and "I Don't Know" featured saxophone, while the album's big hit "Can't Hardly Wait" featured multiple brass from legendary horn section The Memphis Horns. A more straightforward power-pop sound was also present on Pleased to Meet Me due to the band's love of Big Star. This is none more evident than by both their tribute song "Alex Chilton" and also the Big Star frontman himself playing guitar on "Can't Hardly Wait." While The Replacements would go on to release two more studio albums after this, many critics and fans consider Pleased to Meet Me the last album that captured the tone and spirit of their earlier work.
21. John Hiatt, Bring the Family
After more than a decade of writing, recording, and releasing albums, John Hiatt finally came into his own as a solo artist with 1987's Bring the Family. Newly sober and recently dropped by his label, Hiatt gathered together a trio of incredible musician friends—Nick Lowe, Ry Cooder and Jim Keltner—and recorded 10 songs in four days. Bring the Family gave Hiatt two of his strongest signature songs ("Memphis in the Meantime" and "Have a Little Faith In Me"), and "Thing Called Love" would go on to be a big hit single for Bonnie Raitt on her chart-topping, Grammy Award-winning Nick of Time album a couple of years later. Bring the Family signaled a career resurgence for Hiatt, and it started his streak of 10 consecutive studio albums all hitting the Billboard 200.
22. Dinosaur Jr., You're Living All Over Me
Originally recorded and released while the band was still known as Dinosaur (the lawsuit-responding "Jr." would be added after a recall and repress), You're Living All Over Me is the band's second record (and arguably its most influential one). In the pre-commercialized '80s alternative scene, Dinosaur Jr. was widely recognized as a powerfully defining force due to frontman J Mascis' immediately recognizable guitar playing. His distortion-heavy, feedback-laden approach to the instrument was in a constant battle-dance with bassist Lou Barlow's equally distorted melodic low end. That constant instrumental confrontation created an aggressive tension that paid off in spades for listeners. You're Living All Over Me is often credited as being an inspirational touchstone for other alt-rock artists, including Kevin Shields of My Bloody Valentine and Juliana Hatfield, who recorded a faithfully loud cover of the album's "Raisans" on her Forever Baby EP in 1992.
23. Sting, …Nothing like the Sun
After the smashing back-to-back success of Sting's debut solo album The Dream of the Blue Turtles in 1985 and his Grammy award-winning live album Bring on the Night the following year, expectations were high from fans and critics alike for his second solo record. Eleven million worldwide album sales later, its safe to say Sting delivered with …Nothing like the Sun. With an experimental bravado and an amazing list of guest stars including Andy Summers, Eric Clapton, Mark Knopfler and Annie Lenox, Sting crafted a densely complex album (both musically and lyrically) that never loses its pop-tuned plot. "We'll Be Together" was the album's biggest single at the time, but songs like "Fragile," "Englishman in New York" and "They Dance Alone" have emerged as the album's more notable songs in later years. Inspired by his work with Amnesty International, Sting also released a five-track companion EP called Nada Como el Sol, which featured him singing some of the album's tracks in Spanish and Portuguese.
24. Pixies, Come On Pilgrim
When Pixies entered famed Boston studio Fort Apache in early 1987, they had no idea that some of their 17-song demo tape would get any sort of official release. After a little tweaking to the mix (but not a full re-recording) of eight of those "Purple Tape" demos, U.K. label 4AD released the "mini-album" Come On Pilgrim that fall. Those eight songs served to introduce audiences to the band's iconic loud-soft-loud dynamic and to their left-of-center sonic ethos. The vocal interplay between frontman Frank Black and bassist/vocalist Kim Deal functioned as a calling card for the band, while Joey Santiago's ingenious lead guitar work provided them with their own sonic identity. While Come On Pilgrim would garner far more attention in the U.K. than in the U.S., early fan favorites like "Caribou" and "Vamos" certainly paved the way for the stateside splash of Surfer Rosa the following year.
25. The Smiths, Louder Than Bombs
While compilation albums can often be less than exciting affairs full of "already got it" retreads, Louder Than Bombs from The Smiths proves that the format can be masterfully utilized in the right hands. Compiling a variety of U.K.-only singles and B-sides, Louder Than Bombs was initially just meant to appease American audiences who couldn't get all of the import singles. However, since many of the songs were not available in one individual U.K. release and some of the songs were issued unique alternate mixes for the U.S. compilation, Louder Than Bombs ended up being quite popular with British fans, as well. The 24-track collection ended up going Gold and charting respectfully in both countries, which is an impressive feat for a singles compilation. In the U.S. alone, Louder Than Bombs faired almost as well as Strangeways, Here We Come, The Smith's final album that was released six months later.
26. Bruce Springsteen, Tunnel of Love
Prince wasn't the only superstar to release an album in 1987 without his famous backing band. After years of success with the legendary E Street Band behind him, Bruce Springsteen took a sonic left turn with Tunnel of Love, forgoing his pure rock prowess for experimental songwriting forays with synthesizers and drum machines. While E Street Band members still individually contributed to the album, most only appeared on a song or two (and rarely on the same ones). At the time, Springsteen was experiencing marital troubles with his first wife, actress Julianne Phillips, as well as creative and professional strife with his long-time band. Surrounded by relational strife, Tunnel of Love's themes of doubt, isolation and self-reflection uncovered a more mature, contemplative side to Springsteen's songwriting. Five singles were released from the triple-platinum album, with three of them—"One Step Up," "Brilliant Disguise" and the title track—charting as hits (with the latter two hitting the Top 10).
27. The Jesus and Mary Chain, Darklands
After the caustic alt-pop masterpiece of their debut album Psychocandy in 1985, the Reid brothers took The Jesus and Mary Chain in a more melodic (if still distortion-fueled) direction for their sophomore album Darklands. Also influencing their sonic swerve was the loss of their original drummer Bobby Gillespie (who went on to front Primal Scream) and the decision to only use a drum machine to replace him. "April Skies," "Happy When It Rains" and the title track were all released as singles, with the former still reigning as their highest charting U.K. single. The 12" vinyl single of "April Skies" also features one of the band's best cover choices as it's B-side: Bo Diddley's "Who Do You Love?" delivered through a beautifully plodding, slow-burn buzz.
28. Jane's Addiction, Jane's Addiction
In an audaciously bold move for a debut album, Jane's Addiction's first release was a lightning-in-a-bottle-style live album. Captured at a single Roxy show (with additional overdubs added later) for around $4,000, the self-titled live album showcases the band's funky alt-rock sound and notably features an early steel drum-less version of "Jane Says" before the re-recorded studio version from Nothing's Shocking became their inaugural hit. "Pigs in Zen" is the only other song from this release to have been re-recorded for their major label debut, leaving six originals that could only be heard on this release (until two of the songs got official studio recordings for the limited release of the NINJA tour EP in 2009). Rounding out the 10-song tracklist are two covers—Velvet Underground's "Rock n Roll" and Rolling Stones' "Sympathy for the Devil" (shortened to just "Sympathy" for this release).
29. Suzanne Vega, Solitude Standing
While Suzanne Vega's warm, relaxed vocals and her folk-inspired acoustic songwriting have yeilded nine studio albums, none have reached the same critical or cultural acclaim as that of her second album Solitude Standing. While the entire album is rich with Vega's pop-slanted songs, the two undeniable standouts on Solitude Standing are "Luka" and "Tom's Diner." The former proved to be a surprise international hit for Vega (including going all the way to No. 3 in the U.S.) and the latter is notable for having two different versions on the album (as an a cappella opener and a full-band instrumental closing track), supplying the foundation for a chart-topping remix for DNA in 1990, and being used as one of the test subjects for the development of the audio-compressing MP3 file format.
30. Tom Petty and the Heartbreakers, Let Me Up (I've Had Enough)
The lead-up to Tom Petty and the Heartbreakers' seventh studio album seemed scripted for their successful breakthrough to the upper tier of the pop music hierarchy. Throughout 1985-1986, the band had gotten a significant amount of radio and MTV airplay for "Don't Come Around Here No More" off of their previous studio album Southern Accents, released the successful live album/video Pack Up The Plantation: Live!, and supported Bob Dylan on his True Confessions world tour. However, apart from the Dylan co-written single "Jammin' Me" hitting No. 1 on the Billboard Mainstream Rock chart for four weeks, Let Me Up (I've Had Enough) failed to garner any additional attention for the band. However, as far as sonic snapshots go, "Jammin' Me" and it's lyrical shout outs to Eddie Murphy, Joe Piscopo, Steve Jobs, Iranian torture, El Salvador and acid rain are about as inherently '80s as you can get.