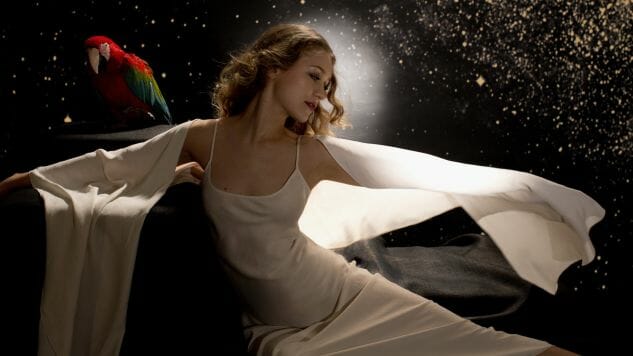 The harp has been a mainstay in classical music since the 17th century. But in pop music, to potential of this majestic stringed instrument has rarely been tapped. In the 20th century, of course, Alice Coltrane pioneered the jazz harp movement. And later, Zeena Parkins helped introduce its plinking, ringing sounds through experimental music with Björk, Yoko Ono, John Zorn, and more. Today, though, harpists are asserting themselves in more and different ways. Here are five harpists who are rocking 40 or more strings in experimental pop music right now.
1. Joanna Newsom
It would be impossible to write this list without Joanna Newsom. Even ignoring the polarizing effect her singing has on people, her harping is objectively excellent. Since the early 2000s, Newsom has been testing the limits of the instrument (and her listeners) and last year's Divers continues to showcase her experiment in psych-folk.
2. Sarah Pagé, The Barr Brothers
Before brothers Andrew and Brad Barr became the band The Barr Brothers, they played in an avant-garde rock group called The Slip. But it wasn't until they moved to Montreal and met harpist Sarah Pagé that their best musical identity came to be. Playing rhythm, accompaniment, accents, and even distorted ambient noise as part of the group, Pagé is a leader in proving the harp's versatility in both sound and role. The Barr Brothers' overlooked 2015 EP Alta Falls gets a limited release on colored vinyl on April 29.
3. Natalie Lurie
Natalie Lurie, a classically trained harpist living in Nashville, takes all of the Music City's charms and guiles to heart on her debut EP, No Mercy In The Night. Due out March 25, the four tracks fall clearly in line with indie-pop, bringing attention to the harp in verses and expanding the sonic reach with each brimming chorus. Yet, taking heed from the traditional path, Lurie will move to London to earn a master's degree in harp performance at the Royal Academy of Music after releasing this EP.
4. sun riah
The most minimalistic artist on this list, sun riah arms herself with a harp and a ukulele. Even with modest looping and delay effects, Oklahmona native M. Bailey Stephenson manages to create a sound rich with emotion. Sometimes Stephenson sings; other times she uses more of a spoken word tactic. But on last year's debut LP firefly night light sun riah epitomizes the darker side of this angelic instrument.
5. Audrey Harrer
Formerly of the experimental band King Mary, Audrey Harrer leans most heavily on the harp's classical history. Last year's Alphabet Rain EP sounds more like alt-chamber music with its addition of strings, woodwinds, and operatic vocals. It 's more evocative of musical theater than indie pop.