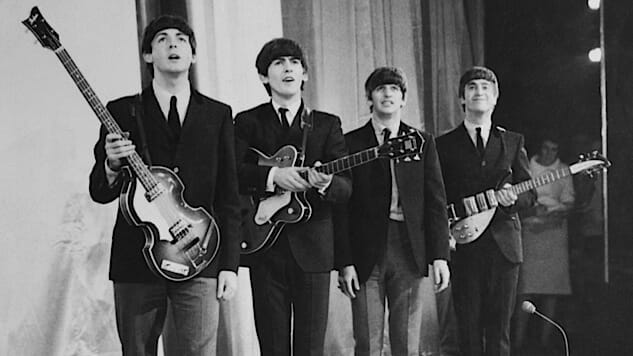 The Fab Four. The Lads from Liverpool. The Mop Tops. No band has quite impacted the trajectory of popular music like John Lennon, Paul McCartney, George Harrison and Ringo Starr did in The Beatles. They've earned more No. 1 records than any other group in their native England, and sold more records than any other musician in America. They are indisputably one of the greatest acts of all time.
But picking the best 50 songs out of the 300+ The Beatles recorded was a project Paste has planned for more than a year. More than 20 staff members, contributors and interns participated, voting for 98 different songs—nearly a third of the band's brilliant catalog. And the results are fascinating. We included 26 McCartney songs, 17 Lennon songs, three Harrison songs (two of which made the top 10), and four that were truly co-written by Lennon and McCartney. Below, find our thoughts on the 50 best songs by The Beatles.
50. "The Long And Winding Road"
"The Long and Winding Road" begins quietly, but after those first five words when the strings swell up, it gets dramatic pretty quickly. This symphonic track triggers a deep sense of longing and always invokes a sort of empty feeling—fitting, considering it marks the band's last No. 1 song in the United States. To say the Beatles displayed incredible growth in their 10 years as a band is an enormous understatement, and that musical evolution is apparent in this track, which reveals a maturity that could only exist after years of songwriting. —Annie Black
49. "With a Little Help From My Friends"
Ringo, when properly applied, is as indispensable as any other Beatle. He didn't write this classic tune (Lennon and McCartney did), but he got to sing it in his own fashion, and it wouldn't have been nearly as memorable without him. The drummer's contributions to the group are criminally underrated, but still, it's tough to imagine Ringo would have ended up an international superstar without a little help from his friends. At least he got to pitch in a few iconic vocals along the way. —Annie Black
48. "From Me To You"
Many early Beatles songs were filled with sing-along parts, and those in "From Me To You" are absolutely crucial. The "da da da's" and structural repetition were easy to latch on to, even among the distinct harmonies, false endings, and other complexities. Ironically, "From Me To You" didn't really make an impact in the U.S. when it was released in April 1963, but we soon got it across the pond. And even when you aren't that familiar with a band, being able to sing along with them makes you feel like you're part of the groundswell, part of the Beatlemania. —Annie Black
47. "Love Me Do"
The Beatles' very first single, released in 1962, is still so relevant today. Before this song, the Beatles were just youths from Liverpool who were kicking around Hamburg, Germany in leather jackets, getting into trouble, and trying to make it. What really makes this track is the harmonica, pushing the song forward with every burst of air. Lyrically, it's like puppy love, when things are overwhelmingly easy and lighthearted, and the catchy combination marked the start of a public persona for The Beatles, one that would quickly blossom. —Annie Black
46. "I'll Follow The Sun"
Some records show that this song began as a track from The Quarrymen, John's pre-Beatles skiffle band back in 1960. The band shelved this rough sketch of a song, however, releasing it at the end of 1964. "I'll Follow The Sun" hides lovesick gloom behind optimistic notions of following nature's guiding light after the rain has passed. Although the imagery now seems cliché, the ballad remains a beloved deep cut from Beatles For Sale. —Hilary Saunders
45. "She Loves You"
The Beatles perfected the concept of concise love song. The lyrics to "She Loves You" are hilariously elementary, and the "yeah, yeah, yeah"s marking the chorus make it one of the easiest in history to sing along to (crazy harmonies aside). The Beatles make love seem so doable and so easy here on one of their earliest singles, reminding us in the most celebratory way that pride is bad, love is good. —Annie Black
44. "Can't Buy Me Love"
Another mid-'60s classic, "Can't Buy Me Love" is one of those instantly accessible Beatles songs casual fans can immediately dive into. It's right there with "I Wanna Hold Your Hand" and "Eight Days A Week" in that regard: simple, cheery and still a crowd-pleaser, half a century later. Beatles diehards are never going to cite this as their favorite, but you'd be hard-pressed to find someone who doesn't enjoy it in their heart of hearts. —Annie Black
43. "Eight Days a Week"
Although John once called this song "lousy," "Eight Days A Week" became The Beatles' seventh No. 1 hit in the United States (unreleased as a single in the United Kingdom). A classic of The Beatles' early years, "Eight Days A Week" features the band's punny humor and shared vocals, celebrating the fact that at its core, it's still a love song. —Hilary Saunders
42. "I Want To Hold Your Hand"
I remember the exact moment I found the deeper meaning to "I Want To Hold Your Hand." I sat in a London hotel room too fancy for two college freshmen to inhabit and babbled to my best friend about how electric the most common tactile gestures become when you fall in love. But even if this 1963 single should actually just be taken at face value, "I Want To Hold Your Hand" exemplifies the era's joyful pop rock, noted by kitschy handclaps, a swinging backbeat and perfect Fab Four harmonies.&#8212Hilary Saunders
41. "All You Need Is Love"
While so many of The Beatles' early songs shine in their simplicity, "All You Need Is Love" excels by embracing complex instrumentals and multiple elemental structures. It encompasses various meters and musical excerpts (including the French national anthem, "Greensleeves," and of course, the band's own "She Loves You"), not to mention orchestral instruments from the string and brass sections. Lennon once conceded that "All You Need Is Love" was of course a propaganda song, but its motto remains one of timeless idealism. —Hilary Saunders
40. "Penny Lane"
No Beatles song uses horns better than "Penny Lane." David Mason's piccolo trumpet solo—the first time the high-pitched instrument was used in pop music—is a thing of beauty by itself, but all the brass and winds give a joyful tinge to the nostalgic song about the actual street where Lennon and McCartney would change buses to visit each others' houses as teens. —Josh Jackson
39. "The Fool on the Hill"
In "The Fool on the Hill," Paul McCartney unearths a new degree of harmony between lyrics and music. The song paints a contrasting character study of a joyous simpleton ignored by those who cross his path. This facade hides the reality of a seer who "sees the world spinning round," comprehending an unwieldy, cosmic reality that still ends in a smile. The transition—allegedly inspired by the Maharishi Mahesh Yogi—echoes through a song that flits from buoyant major-chord elation and flute accompaniments to a wondrous minor key change that hints at deeper reflections. And then a marching band tuba takes the bass line like it's nobody else's business. These apparent contradictions hold up a mirror to the best qualities of The Beatles—smart, innovative, meditative and pretty damn funny. —Sean Edgar
38. "The Things We Said Today"
The somberness of this sparse ballad ushered The Beatles into new sonic territory, harking emotional complexity to come. Lyrically it ponders that "oh shit" feeling of a newish relationship at a turning point (supposedly written for McCartney's former girlfriend Jane Asher), a spot where it's either going to disintegrate after a separation or bounce back stronger. Coming off the heels of all those upbeat songs about handholding and dancing, it's alluringly grown-up, and almost illicit because of it. —Sara Bir
37. "Rocky Raccoon"
Paul McCartney has said he wrote "Rocky Raccoon" as a "tongue-in-cheek parody of a western," but as a young boy head-over-heels in love with The Beatles, a.k.a. The White Album, I didn't get the joke. This one-act tragedy set to a barebones, backwoods country tune hit me hard, and it still does today. Rocky's ill-fated efforts to exact revenge and win back the girl of his fancy, with only the aid of a gun, a drunken doctor and Gideon's bible, make for one of The Beatles' most memorable storytelling songs, while McCartney's clever lyrics fold a caustic comment on religion into the narrative. And musically, "Rocky Raccoon" is no throwaway—between McCartney's characteristically buoyant vocal, Lennon's harmonica flourishes, and George "The Fifth Beatle" Martin's honky-tonk piano jaunts, this song is a folk-rock stalwart in its own right. —Scott Russell
36. "She Came In Through The Bathroom Window"
Exactly whose bathroom window provided the inspiration for this one is up for debate—some stories say it was Paul McCartney's, while other versions claim it was The Moody Blues' Ray Thomas who got a surprise visit from a fan. It clocks in at just under two minutes as part of the Abbey Road medley, but "She Came in Through the Bathroom Window" makes every second count, squeezing in some of McCartney's most interesting lyrics, some killer harmonies and a groove that has served as the backbone for plenty of equally great, soulful covers from the likes of Joe Cocker and Ike & Tina Turner.—Bonnie Stiernberg
35. "Ticket To Ride"
This Lennon-penned song from Help! takes all the catchy pop elements of early Beatles songs and amps it up through Ringo Starr's driving beats. It's one of their heaviest pop songs, its upbeat melody contrasting with Lennon's lament for an imminent break-up. The song's tempo picks up even more for the coda, "My baby don't care." This is a more muscular and complex version of Beatles pop bliss. —Josh Jackson
34. "Get Back"
George Harrison's got three songs of his own on this list, but he gets a huge assist on this one for bringing Billy Preston aboard for the "Get Back" sessions. All you need to do is listen to Preston's electric piano on this McCartney-penned track to understand why he's absolutely deserving of the "Fifth Beatle" title so often bestowed upon him (that other collaborators like George Martin have also received). Preston's contributions to "Get Back" are enormous—so much so that the single version is credited to "The Beatles with Billy Preston," the only time the Fab Four requested they share billing with another artist on a song.
33. "A Hard Day's Night"
The opening chord to "A Hard Day's Night" is one of most iconic sounds in popular music history; musicologists have studied and debated it for decades. But Ringo's contributions to this song—from his perfect malapropism that inspired the title to his underappreciated clanking—hold together "A Hard Day's Night." A No. 1 single in its own right, "A Hard Day's Night" also serves as the title track and namesake of The Beatles' first film in 1964. —Annie Black
32. "And I Love Her"
"And I Love Her" is one of McCartney's most heartfelt, tender vocal performances, backed by gentle acoustic strumming and scant percussion. Macca only has two-and-a-half minutes to express his undying love for a woman, and he minces no words over the course of three verses and a short, but effective, middle eight. Harrison punctuates these verses with delicate arpeggios, and his tasteful acoustic solo cements his status as one of the most economical lead players of all time. McCartney, on the other hand, would later build a reputation as a world-class balladeer; "And I Love Her" was his first homerun. —Bryan Rolli
31. "Paperback Writer"
A standalone single put out post-Rubber Soul and pre-psychedelic Revolver, "Paperback Writer" pulls from the expertise of both The Beatles' early pop days and their revolutionary sound to come. The backing vocals and harmonies are reminiscent of earlier songs like "I Feel Fine," but the heavy bass line and single note on which the song is almost entirely based on is more akin their future innovations. The result of the mixing of the two styles is infectious. Even lyrically, "Paperback Writer" positions itself smack in the middle of a rock song and a cover letter in the voice of a cheap novelist. —Rebecca Sarvady
30. "Cry Baby Cry"
If you listened straight through The Beatles in order, without jumping sides or skipping tracks, this was the last Beatles song you heard before hearing "Revolution 9" for the first time. It was your last taste of John Lennon before realizing that he either believed his own rep too much or else was even more of a genius than previously thought. It's a good Lennon song to fixate on: like much of The White Album, it's more restrained than the psychedelic free-for-all of Sgt. Pepper's Lonely Hearts Club Band and Magical Mystery Tour, but still subtly unsettling, with its slowly descending guitar line and escalating tension as more instruments join in every pass through the simple two-part structure. If Lennon bellowed the impressionistic lyrics like a man with nothing to lose, they could easily be Jeff Mangum lyrics. And at the end we get a bonus little McCartney toss off, so it's like two songs in one, or at least a song and then the song equivalent of those little crispy bits of fried batter at the bottom of a Long John Silver's box. —Garrett Martin
29. "All My Loving"
Like a lot of Beatles singles released in their early British Invasion years, "All My Loving" has a gleeful urgency, the same kind of rush you get from having a crush. Think of the millions of teenage girls who had crushes on The Beatles at the time (or maybe a huge obsession with a specific Beatle), and then there's this song that starts out "Close your eyes and I'll kiss you." The rest of the tune is about a doting long-distance relationship, and its directness makes it seem addressed right to the listener. The giddy relentlessness of those opening chords flirts with proto-punk, but "All My Loving" has no sneer, only sincerity. —Sara Bir
28. "Here Comes The Sun"
One of George's most famous songs, "Here Comes The Sun" was actually the b-side to "Oh! Darling" and never released as a proper single. In some ways, however, "Here Comes The Sun" actually outshines that bluesy outburst with its acoustic beauty and natural imagery. Supposedly written in Eric Clapton's garden on a sunny spring day away from the toxic environment of Apple Studios in 1969, the song's high-pitched timbre (played with a capo high up on seventh fret) helps convey the breeziness of celebrating temporary relief—both from nature's wrath and the band's drama. —Hilary Saunders
27. "Revolution 9"
The influence of musique concrete and avant garde tape experiments, both genres that were coming into their own in the '60s, is something that has only recently been talked about at length when it comes to The Beatles. Truth is that both Lennon and McCartney were fascinated with the work of composers like Karlheinz Stockhausen, John Cage and Edgard Varese. The most obvious example was this far-reaching composition of tape loops and soundboard wizardry that takes over side four of The White Album. It pulls in pieces of classical recordings, samples from The Beatles' previous works, a bit of radio from the BBC that was playing in the studio at the time, and, of course, the voice of an unidentified studio employee that provided the "number nine" that ropes through the track like a playful sprite. —Robert Ham
26. "Help!"
There are few Beatles tracks more instantly arresting than "Help!," which belts the title as its first word and makes the absolute most of a 2:15 run time. It's one of the many succinct, flawless pop-rock songs under 150 seconds in the Beatles catalog, the sort of instantly catchy pop genius that sounds deceptively simple on first listen. But if "simple" was the same thing as "pedestrian," you wouldn't perfectly remember the lyrics on command 50 years later, would you? Leave it to Lennon to turn a personal cry for help at the Beatles' exploding popularity and responsibilities into yet another incredibly catchy, chart-topping hit in both the U.K. and the U.S. —Jim Vorel
25. "Helter Skelter"
The exact origins of heavy metal are hard to trace, but it's essential that "Helter Skelter" be included in the mix. With its scorching guitars, thunderous drums and raucous, larynx-shredding vocals from McCartney, the song threatens to fly off the hinges at any moment. But no matter how wild The Beatles got in the studio, they could never shed their most unmistakable characteristic: an unparalleled sense of melody. One listen to the delightful backup vocals in the verses or Harrison's sing-along guitar solo show how The Beatles wed their indelible pop sensibilities to their unbridled energy to make one of the greatest—and most important—songs in the history of heavy music. The track ends with an exhausted Starr bellowing, "I've got blisters on my fingers!" We could tell. —Bryan Rolli
24. "Oh! Darling"
It's a testament to just how great the rest of Abbey Road is that The Beatles didn't even bother to release "Oh! Darling" as a single in the US and the UK. Arguably one of the more "John-sounding" Paul songs (Lennon even told Playboy he wished he'd been the one to sing it because he thought it was more his style), its rawness was the result of McCartney only recording one take of it a day for a week, with the idea being he'd be able to really go for broke each time and by the end, his voice would sound worn enough to fit the song's aesthetic. It's proof that "the cute one" is equally capable of grit, and the fact that he's never played it live is understandable (it's rough on the pipes, especially when you're 73 years old) but a crime nonetheless.—Bonnie Stiernberg
23. "Come Together"
Combining the spirit of a old rockabilly tune on cough syrup (as well as a line from Chuck Berry's "You Can't Catch Me") with The Beatles' evolving funk sound, Lennon made a musical call to arms that certainly didn't fit the mold of a campaign song, but has a rousing effect that feels both political and rebellious. The free-word association and inside jokes make it somewhat hard to pin-point the exact meaning of the piece (Lennon himself referred to the number as "gobbledygook"), but the beauty of the work is that it's so good musically that listeners can to interpret the song as they see fit. In the end, the "Come Together" is about joining forces, and that's easy to be in agreement about. —Rebecca Sarvady
22. "I've Just Seen A Face"
A testament to the Beatles' genre-bending nature, this quick Help! cut is nearly a country-western tune. Lively and upbeat, it is pure happiness condensed into two minutes, complete with a gorgeous "Blackbird"-esque guitar intro and Macca's cute, heartfelt lyrics of love. —Jonah Ollman
21. "I Want You (She's So Heavy)"
This song has always stood out to me for many reasons (aside from being super fun on Beatles Rock Band). Sometimes credited with inadvertently creating "doom rock," the eight-minute Lennon track is so repetitive that you'd think it would be boring. Only 14 words are sung, but every iteration is packed with new energy and power. It sounds like we got invited to a little slice of a Beatles garage jam session. —Jonah Ollman
20. "Two of Us"
Even though McCartney has claimed this song was written for his soon-to-be-wife Linda Eastman, I think it's really McCartney's love letter to John Lennon. By this point in 1969, their friendship was strained; all that they shared in their strange journey—from being schoolyard mates to playing seedy clubs in Hamburg to becoming the biggest band in the history of recorded music—is touchingly summed up by this song, one of the last they ever cut together. —Steve LaBate
19. "Yesterday"
There is a reason that "Yesterday" is not only considered among the best Beatles songs, but also the best pop songs in history. The McCartney tune (that supposedly came to him in a dream) is the saddest of the sad breakup songs, but also has a sort of hopefulness about it that really makes you want to curl up under the covers and contemplate life. Legend has it that the rest of The Beatles, particularly Harrison, were ready to throttle McCartney during the production of Help!, where "Yesterday" appeared. McCartney took the inclusion in the film as an opportunity to continue to tinker with the song until he got it just right, and we're glad he did. —Amy McCarthy
18. "Lucy In The Sky With Diamonds"
Okay, whether or not "Lucy In The Sky With Diamonds" is actually about tripping acid is sort of irrelevant, right? Whether or not you believe Lennon's story that it was inspired by his son's drawing, you still can't resist singing along with the chorus every single time you hear it. This track, arguably the best from Sgt. Pepper, is a perfectly indulgent introduction to psych-rock, one that's totally acceptable for playing for kids and grandmas alike. And, you know, it's not terrible when you're on LSD either. —Amy McCarthy
17. "Golden Slumbers"
Part of a larger suite that comprises the entire second side of Abbey Road, "Golden Slumbers" distills The Beatles' talents into a gorgeous, 90-second package. "Once there was a way to get back homeward," McCartney sings over plaintive piano keys as he stares the group's imminent breakup right in the face. Abbey Road was the official swan song of the most popular band of all time, but this was no time to wallow in anguish. "Golden slumbers fill your eyes, smiles awake you when you rise," McCartney bellows in the most self-assured performance of his career, as cavernous drums and swelling strings elevate the song to an anthem of epic, almost spiritual proportions. The Beatles were saying goodbye to an era, but it was okay. They had their memories, their laughs and their futures. We have their music. That's all we need. —Bryan Rolli
16. "Norwegian Wood (This Bird Has Flown)"
While Lennon and McCartney co-wrote this Rubber Soul standout, the relentlessly melodic, quietly melancholy tune is best remembered for Harrison's singular sitar riff. "Norwegian Wood," one of the band's very first sitar experiments, is classic rock 'n' roll in its subject matter—casual sex—yet wildly inventive in its Far-East instrumentation and chorus-less song structure. It's said that Bob Dylan's "Fourth Time Around" was written as a love letter to "Norwegian Wood," or a joke at its expense, depending on whom you ask. Only an iconoclast like Dylan would dare deny that this song is a dark and dreamlike pop classic, from its beautiful, oblique, Lennon-penned opening lyric ("I once had a girl/Or should I say, she once had me") to its final resonant note. —Scott Russell
15. "Dear Prudence"
During a visit to an Indian ashram with the band, Mia Farrow's sister Prudence became a recluse, refusing to go outside so that she could devote all her time to connecting with God. The Beatles, experiencing an enlightenment of their own, urged her to emerge from her hypnotic state, prompting Lennon's gentle masterpiece. In this song is not only a beautiful message that could be sung to any friend going through a difficult time, but also a positive, uncomplicated look at the world that demonstrates how The Beatles' visit to India changed them as a band and as individuals. Lennon's choice to fingerpick gives the piece a beautiful resolve, not to mention one of the most beautiful fadeouts in band's canon. —Rebecca Sarvady
14. "Happiness Is A Warm Gun"
The absurd lyrics, the overpowering cynicism, and the harsh tones segueing into a beautiful melody prove that "Happiness Is A Warm Gun" is unequivocally a Lennon song. The title, which was lifted off an advertisement from an American publication (shocker!), is so terrifying and borderline psychopathic that you can see its appeal to a subversive like Lennon. "This is how the brain of man works," Lennon seems to imply, and from that starting point, he wrote one of the boldest songs of its era. It builds and builds, with disturbing (and darkly funny) lines like "a soap impression of his wife which he ate and donated to the National Trust," until finally, in a warm therapeutic splash, that wonderful chorus hits. It's goosebump-inducing, and the really wild thing about this song is that there will be a part of you—the sensible, humanity-loving part—that really wishes those goosebumps hadn't formed. —Shane Ryan
13. "Tomorrow Never Knows"
I thought I knew the Beatles pretty well. I had dubbed most of the later albums from my brother's copies by the time I was 12. I knew all the early hits through constant play on oldies radio. I knew the trajectory from a boy band to psychedelic explorers and how it was analogous to culture in general throughout the 1960s. And then one day when I was 15 years old, I heard "Tomorrow Never Knows" for the first time in a friend's car and immediately wondered if somebody had slipped me something. Even though The Theatre of Eternal Music was already squatting on single notes before Revolver came out, "Tomorrow Never Knows" was almost definitely most people's first exposure to drone rock, with its (more or less) single-chord monotony, barely two-note bass line and stuttering drums. Toss in the whirring, chirping tape loops that wrapped around the song (which 19-year-old engineer Geoff Emerick accomplished by running Lennon's voice through a rotating Leslie speaker), and lyrics that sound like Timothy Leary biting from The Tibetan Book of the Dead, and you've got an almost unthinkable turn from a band that at that point was still only two years removed from its Ed Sullivan debut. —Garrett Martin
12. "And Your Bird Can Sing"
As short as any punk song (2:01) and just as punchy, "And Your Bird Can Sing" bursts right out of the gate on Revolver, trundling ahead ebulliently on the wings of the dual lead guitar line played by McCartney and Harrison. The song was as bitter as any written by the Buzzcocks or The Jam, with Lennon dangling the bullshit boasts of some acquaintance in front of them before cutting them right off at the knees with the reminder, "You don't get me." —Robert Ham
11. "I Saw Her Standing There"
The opening track of Please Please Me, "I Saw Her Standing There" was one of the first songs to bolster the lads' then-nascent careers. Released in the U.S. as the b-side to "I Want To Hold Your Hand," this song hit the charts while the a-side was still topping them. The foot-stomping, hand-clapping classic, punctuated by the typical "woo!"s of early-'60s rock 'n' roll, still serves as a picturesque reminder of the band when their short boots and matching haircuts made it easy to think of the group as a single unit rather than four individuals. —Annie Black
10. "In My Life"
Right smack in the middle of the '60s, The Beatles released Rubber Soul, and the album served a bridge between their early pop and the more psychedelic sound that followed. It also marked a string of albums written solely by the band. "In My Life" was Lennon's attempt to capture his childhood in the Northwest of England, though much of the original lyrics were reworked by McCartney. George Martin added a piano solo recorded an octave lower but sped up the tape to make it sound like a trippy harpsichord. The combination of pop melody, perfect harmonies and Baroque solo helped ensure that millions of fans would be along for the more experimental second half of the band's career. —Josh Jackson
9. "Something"
This George Harrison song from Abbey Road is widely regarded as one of the best by anyone, lead singer or otherwise. More than 150 artists have tried their hand at it, making it the second-most covered Beatles song, behind "Yesterday." And to think, The Beatles waited until they were just months away from breaking up before releasing a Harrison tune as an A-side. As George would say, "Me mind boggles at the very idea." —Bonnie Stiernberg
8. "Let It Be"
This simple song of acceptance emerged from the most tumultuous time in Beatles history—the fragmented sessions taking place throughout 1969 that preceded the band's contentious breakup. Over just four chords in the remarkably normal key of C and a straightforward 4/4 rhythm, "Let It Be" manages to convey grace, unity and peace, even when John, Paul, George and Ringo found themselves in times of trouble. Even with the irony, "Let It Be" remains one of the band's most beloved tunes, a mantra for the disheartened, and a symbolic song representing the Beatles' storied career. —Hilary Saunders
7. "Strawberry Fields Forever"
This is a song that understands the psychedelic experience, passing suddenly from blissful and lethargic to menacing, as the drums grow threatening and the strings ominous. Even today, the mellotron intro still sounds otherworldly, like some kind of paradimensional organ drifting into our universe and straight onto tape. Even though the lyrics are intentionally confused and vague, this song sounds wise, alternately light yet heavy as memory. A lot of psychedelic music sounds like a clown show today, like the worst, most indulgent impulses given free rein, but "Strawberry Fields Forever" is as powerful as ever, even without mentioning tape loops, a false ending or the "I buried Paul" theory. —Garrett Martin
6. "Eleanor Rigby"
I once argued that "Eleanor Rigby" is the saddest song ever written. With the small chamber ensemble scratching their strings in quick staccato succession in a minor key, the two-and-a-half-minute song checks off many of the musical stereotypes that constitute what makes songs sad. But when Paul starts telling the interwoven tale of Eleanor Rigby and Father McKenzie's lonely souls, the song's narrative begins to exacerbate the already anxiety-ridden instrumentals. While the verses ache in their specificity, the chorus delivers the most painful existential questions: "All the lonely people / Where do they all come from? All the lonely people / Where do they all belong?" —Hilary Saunders
5. "Hey Jude"
I don't care who you are or what your story is—I know that, at some point or another, you've sung along to "Hey Jude." It's the ultimate participatory Beatles song (you don't even have to know the words as long as you can remember "na na na na na na na"), and it stands as one of the all-time best. Penned for Julian Lennon to comfort him during his parents' divorce, "Hey Jude" is Paul McCartney's master work—simple, melodic, yet structurally complex. It showcases everything in his arsenal, starting as a lovely ballad before that scream signals the beginning of rock's greatest coda, four minutes of Paul stretching his wings (no pun intended) vocally as he ad-libs over what almost feels like a mantra of sorts, the closest McCartney ever got to "Hare Krishna." It's uplifting, reassuring and catchy, and we will all be singing along to it until the sun burns out.—Bonnie Stiernberg
4. "While My Guitar Gently Weeps"
Although ostensibly "a George song," this beloved White Album track has a secret, uncredited session musician: fellow Englishman and guitar hero Eric Clapton, with whom George shared a rather complicated relationship, plays the wailing guitar solo on "While My Guitar Gently Weeps." Harrison blends his burgeoning East-meets-West musical and lyrical influences, here, and as such, "While My Guitar Gently Weeps" is one of his most lauded works with The Beatles. —Annie Black
3. "Across the Universe"
I feel like "Across the Universe" was probably the moment where my grade school self thought for the first time, "Whoa, the Beatles are deep." Obviously, Beatles fans who lived through the group's discography knew that much, much earlier, but these were the simple revelations of a fourth or fifth-grader who was exposed to the Beatles music in no discernible or logical order, listening to songs from With the Beatles and Let it Be interchangeably. Regardless, I could immediately recognize "Across the Universe" as something different from the expertly crafted pop songs I'd heard before. Here was this beautifully poetic ballad, incorporating both the instrumentation and transcendental themes the band was immersing itself in at the time, and it all started with a bit of midnight inspiration from John Lennon. For as John told it, "Across the Universe" was just one of those poem-songs that poured out of him as if engaging in the process of "automatic writing"—a literal moment of "words flowing out like endless rain into a paper cup." His prodigious songwriting talent was the sort of natural force that simply insisted upon itself, with songs like "Across the Universe" as the result. —Jim Vorel
2. "Blackbird"
"Blackbird" is the first of three animal-related songs on The White Album, and arguably the most iconic of the trio. McCartney's soft vocals unite the acoustic guitar picking and single steady beat with pleasant bird chirps. Although Macca said the U.S. civil rights movements inspired "Blackbird," it that transcends any particular setting, the type of song you'd listen to after having a terrible day—hopeful without being cliché. —Annie Black
1. "A Day in the Life"
The magic of The Beatles is that two men with very different aesthetics, Lennon and McCartney somehow formed one of the most dynamic combinations in the history of rock and roll. "A Day in the Life" is the consummate example of how perfectly their collaboration could work when the elements mashed. The song starts with Lennon's reflections on the news of the day, tinged with his usual dark outlook. By itself, it's no more than a melancholic mood piece, but then, after a sudden transition made from harsh glissandos, it changes into what sounds like a separate song—McCartney, churning out one of the light, gorgeous melodies he seemed to summon at will. Again, it may have been insubstantial on its own, but the very English nostalgia is a perfect fit with Lennon's moody discourse on the dingy present. As they move back for one last verse with Lennon, the transition is made with Lennon drifting off into a vocal daze, druggy and gorgeous, and it all leads to that long final chord, made from three pianos and a harmonium—the perfect, haunting end to the perfect song. —Shane Ryan