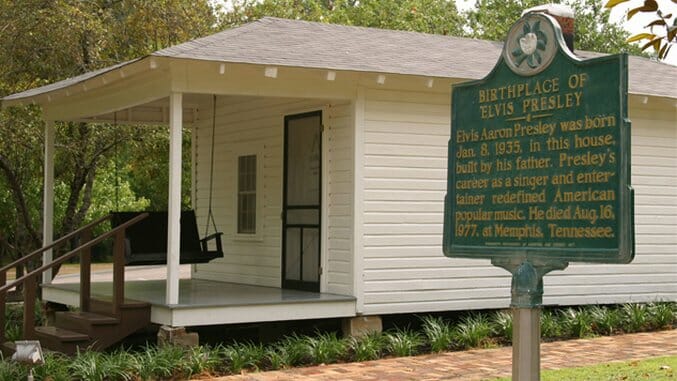 When fans think of rock stars' childhood homes, they may think that it's probably a museum by now, because Hello! Janis Joplin learned to play guitar here! But in most cases, they would be wrong. Real estate remains a business based largely on "location, location, location." When the artists' parents decided to sell the homes for various reasons, their famous child was not usually a draw. People still live in most of the houses on this list, and not in a novelty I-live-Janis-Joplin's-house-how-cool-is-that type of way. They live there because it's shelter, one of the basic human needs. However, the current non-famous owners are quite used to selfies being taken on their sidewalks. Here are six sites of musical legend adolescence you should visit on your next music-inspired road trip.
1. Bob Dylan
Address: 2425 7th Ave. E.
Hibbing, Minn. 55746
Bob Dylan, better known to those who grew up with him as Robert Zimmerman, lived in Hibbing, Minn. for most of his adolescence, about 75 miles north of Duluth. His family lived in a two-story blue house, which now holds a "Bob Dylan Drive" street sign by the sidewalk in front. There was once a mural of Dylan's Blood on the Tracks album cover on the garage door done by new homeowners, but it's been painted over. Dylan famously left Hibbing for New York's 1960s folk scene and never looked back, and it's said that the town held a little resentment until years later. Now, you can find a Bob Dylan exhibit in the local library with a life-size paper maché statue of the legend and a collection of memorabilia. The library also put together a walking tour guide podcast, which takes you from his family's appliance store to Androy Hotel, where his bar mitzvah was held.
2. James Taylor
Address:618 Morgan Creek Road
Chapel Hill, N.C. 27517
If you ever wondered why James Taylor went to Carolina in his mind, it's because he called the Tarheel State home until his late teens. His father was a doctor who served as a dean at the University of North Carolina in Chapel Hill and commissioned a modernist architect in 1952 to build the Taylor family home close to the university. The split-level house sits on 24 acres of land and even has a creek that runs through it (that would be Morgan Creek), which Taylor references in "Copperline." Taylor's parents sold the house in 1972 after their divorce. The couple that has since owned it recently put it up for sale, making an event out of the auction and opening the house for tours on June 4 only. According to local property records, it is worth $1.5 million, and bids were taken until June 29. Little known fact: Taylor and his siblings carved their initials into the wood of the home's deck.
3. Jackson Browne
Address: 6211 Arroyo Glen St.
Los Angeles, Calif. 90042
One of the most honest of the "sensitive singer-songwriters" of the 1970s (and today), Jackson Browne grew up in a Spanish-style chapel in northeast Los Angeles in probably the most unusual of the homes on this list—a chapel built by his grandfather called Abbey San Encino. Like his free-spirited grandson, Clyde Browne was a bit of a hippie back in his own time at the turn of the 20th century. He had a thing for all things local, handmade and vintage. So he built a church with his own hands from recycled brick and windows and absolutely no religious intentions. Jackson lived there until he was 12, when the house was sold. He wrote the song "Looking Into You" on his self-titled debut album about showing up at the house years later to its new owners' surprise. He bought the house back as an adult and still owns it, but doesn't live there. The abbey has its own (outdated) website, and is apparently open for tours on occasion. This is the closest to a museum that most musicians' childhood homes get, and the focus is on the impeccable hand-laid brick and antique stained glass, not Jackson Browne's astounding 45-year musical career. Whatever.
4. Jimi Hendrix
Address:2603 S. Washington St.
Seattle, Wash. 98144
The story of Jimi Hendrix's place of upbringing is a bit more complicated. Technically, it doesn't exist anymore. The address will take you to an apartment complex inside which Hendrix never lived. His childhood home used to sit on the lot, but was bought for $30,000 (by Pete Sikov, a huge Hendrix fan) and moved to a new lot in 2001 when developers came in to turn its original property into condominiums. What did Sikov do with the house? He bought a trailer park across from Hendrix's burial and memorial site in Renton, Wash. and set the house in the middle of the park. He hoped to make it a museum, or some kind of tourist attraction centerpiece to build up Renton's economy. The house was in horrible condition, so the city gave him until 2009 to do something. There was apparently some miscommunication and Sikov missed the deadline. The city forced him to dismantle the "eyesore" (their word). Sikov hired a crew to take it apart carefully, and he has all of the original pieces in storage with a few ideas about what he might do with them. "Can you imagine a guitar made out of wood from Jimi's house? Who wouldn't want that?" said Sikov, a true fan.
5. Janis Joplin
Address: 4330 32nd St.
Port Arthur, Texas 77640
Woodstock icon Janis Joplin spent her childhood in Port Arthur, Texas on the Gulf of Mexico. Her five-bedroom, white-painted home is a little older than she would be now, and hardly anything in the house is original to it. However, you can find "Janis" etched into the cement floor of what was the garage (now converted to a studio apartment) next to her sister's name "Laura." The house got a historical marker in 2008, noting that Joplin lived there from age four until 18. Its current owners have lived there for nearly 20 years, but put the house up for sale last month with an asking price of $500,000. Nearby is the Museum of the Gulf Coast, which boasts a large Janis Joplin exhibit (along with exhibits of other gulf coast musicians) and where you can buy a brick from the demolished house where Joplin lived until she was three.
6. Elvis Presley
Address: 306 Elvis Presley Drive
Tupelo, Miss. 38804
The King's house of birth has been carefully preserved and serves as a tourist attraction in Tupelo, Miss., only 108 miles from the more famous Graceland mansion of Memphis, Tenn. Elvis' father, uncle, and grandfather built the two-room house where he and his parents lived until they couldn't afford the payments when Elvis was still very young. According to the museum's website, the Presleys moved to several new places in Tupelo over the 13 years they lived there. Luckily, the city saw the little home's significance once Elvis started becoming famous, and purchased the house and surrounding property in 1957. It's been restored to its original condition and filled with period-correct 1930s furniture for visitors to see exactly how humble the King's beginnings were. Tupelo is full of plenty of other Elvis attractions, too, including an "Elvis at 13" statue, which was made to be the exact size of Elvis at age 13 with the help of a grainy photo. Check out the website for more information about visiting hours.