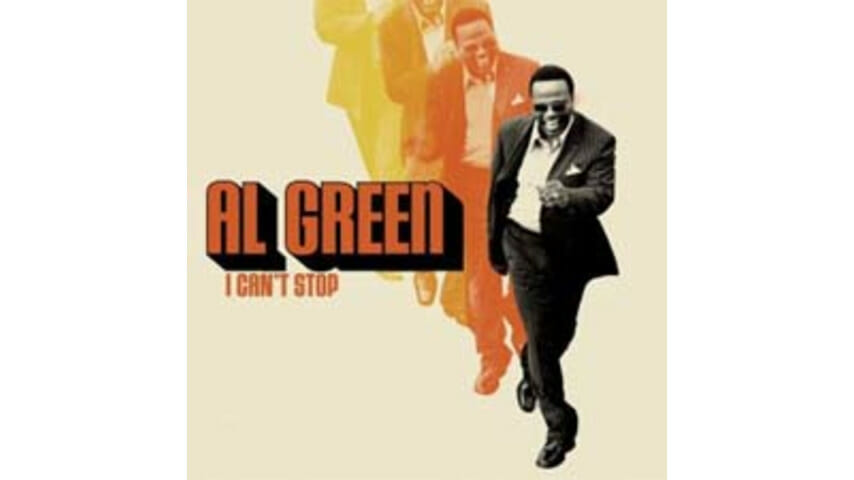 I'll just come right out with it. With apologies to Van Morrison, Al Green is my favorite male vocalist, and has been for many, many years. So the prospect of a new Al Green album—his first "secular" album in 27 years after a series of mostly great gospel albums—is nothing less than thrilling. I Can't Stop finds the Reverend Al reunited with producer Willie Mitchell, who masterminded all of the great soul albums of the early '70s, and many of the superb Memphis musicians who appeared on those classic recordings. Al even went so far as to book his old studio, record in his old recording booth, and use his old microphone. It's a clear attempt to recapture the old magic. The obvious question is: Did it work?
The answer is a qualified "Yes." Al Green is the last of the classic soul singers, and he's lost nothing stylistically. The title track finds Al doing what he does best: moaning, pleading, crying, whispering, sighing, and soaring off into that exquisite falsetto, all within the space of about 30 seconds. It's a marvelous song, and ought to be a massive hit. Songs like "Million to One" and "I've Been Thinkin' About You" reprise the classic formula—strutting, swaggering horns colliding with the lushest of string sections, with Al scatting, cajoling, and tossing off revelatory asides and exclamations that communicate nothing if not pure joy. "My Problem Is You" and "Rainin' In My Heart" are prototypical Al Green ballads, featuring the bluest of blue grooves, wondrously greasy Hammond B3 organ solos, and vocal climaxes that build and build, with Al shouting and testifying for all he's worth. As Sam Phillips once said of Elvis, this is where the soul of man never dies, and it's as good as popular music ever gets.
Unfortunately, there are a few problems. "I've Been Waitin' on You," which maintains a superb funk groove, is still a note-for-note ripoff of The Temptations' "I'm Losing You." Great song, but let's at least call it by its proper name. More problematic, though, is that Al has lost something in the vocal department, much as it pains me to write that. The falsetto still sounds otherworldly, but the normal register just isn't what it used to be. Al masks it somewhat by singing with a bevy of backup vocalists, but several songs reveal the depressing effects of time and age. I Can't Stop is still a good, nearly great, album, and I'll listen to it frequently. But ultimately, it reminds me of why I love "Tired of Being Alone" and "Still In Love With You" so much. I'm really glad Al can't stop. But it won't make me forget when he started, either.