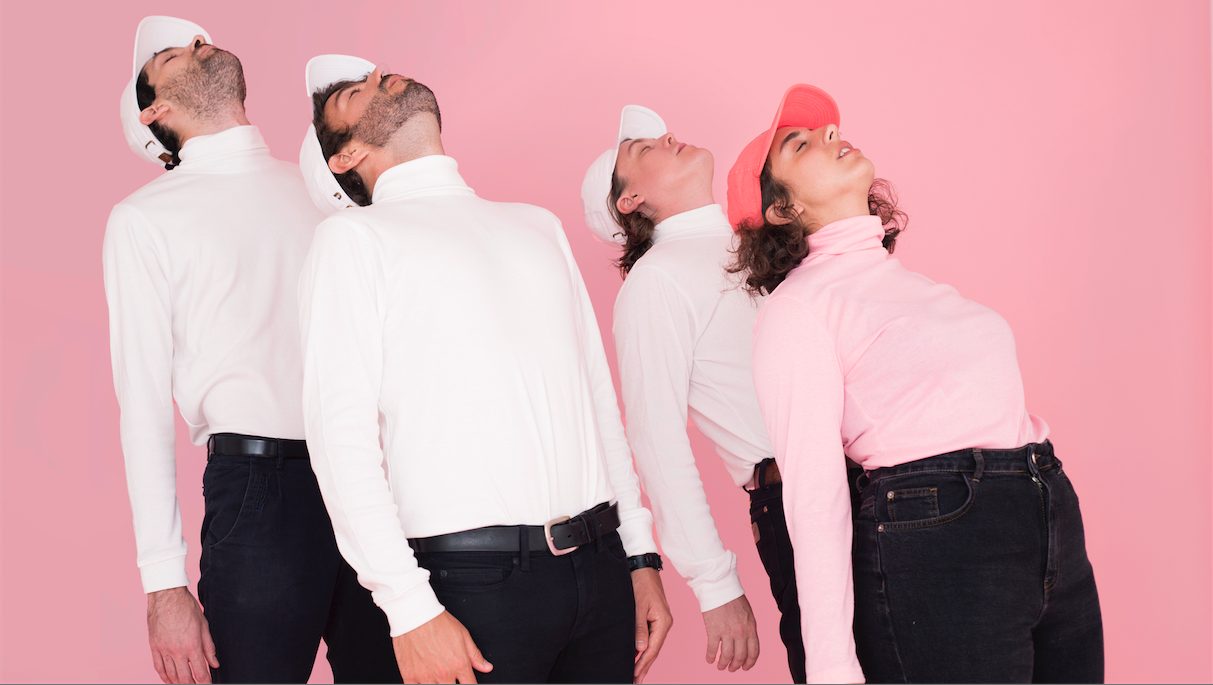 Alex Cohen has a rule for herself: "Try to act with intention all of the time."
The 25-year-old Alex Napping singer physically shudders at the phrase "personal motto," but nevertheless, these are the words she lives by. It also explains why, after living in Austin, Texas for seven years, she picked up and moved to Brooklyn by herself. "I was feeling pretty antsy in Austin," she admits over coffee at Grace Street in Manhattan's Koreatown. "I ended up coming up here six times in the last year. The second time I was like, 'Okay, when my lease is up I'm moving to New York.'"
She did exactly that last summer, and now, nearly a year later, she's prepping to release Alex Napping's first full-length album and Father/Daughter Records debut, Mise En Place (out on May 5). The name, comes from a culinary concept where you set out all of a meal's ingredients before proceeding to cook. "It's like what you see on The Food Network where they'll have all of the chopped onions and garlic in bowls and you're like, 'I don't even have that many bowls, I'm not going to do that,'" Cohen jokes. "I interpret it as a way of having control over an outcome of something, or trying to put as many things in place as possible so that it's most likely things will come out the way that you want them to."
"While I was writing the songs on this record, and what a lot of the songs are about this time in my life where I was really unhappy; I was in a relationship that I was making a lot of personal sacrifices to be in, and I felt like I had lived my whole life on this idea that if I do things a proper way then things will turn out the way that I want them to. I feel like while writing this record I slowly began to realize that things are way more chaotic and unpredictable than that," Cohen adds.
It's fitting then, that she would relocate to one of the most erratic cities in the country. Still, coming to New York has always been something of a lifelong dream for Cohen. It's something she thought about as a teenager, applying to Columbia and NYU for college, both of which accepted her. Reality soon set in, though, when she realized the price tag attached to both schools. Since her family already lived in Texas, going to the University of Texas at Austin would mean a "basically free" tuition, plus AP credit transfers that would allow her to graduate early.
"I was a weird freak child," she laughs. "I stayed in Austin for four years, and I really loved it. I found a really great community of people there. I always kind of refer to it as a musical incubator, where I really got to figure out what I wanted to do musically and start the band. [But] I think part of the restlessness that I was experiencing is that I feel like my natural internal pace is ill-suited to the city of Austin."
Cohen's personal brand of disquiet certainly comes across in her DIY-pop music as Alex Napping, which she founded in 2013. Her 2014 EP, This Is Not a Bedroom, which she recorded with her backing band, features upbeat but undeniably nervy melodies, complete with Cohen asking wrist-wringing questions like "Where is this going?" and "Won't you talk to me?" (Listen to Alex Napping's 2014 Daytrotter session in the player below.)
Indeed, there is nothing more turbulent than one's own psyche — especially in your early 20s. Over the course of Mise En Place, Cohen grapples with classic quarter-life ennui: feelings of guilt and self-blame ("Fault"), overwhelming sexual tension ("You've Got Me") and, painfully, the long, drawn-out process of leaving a long-term partner ("Living Room"). Much of the album, actually, is about splitting with her ex, also a musician, with whom she lived in Austin.
"It felt like he was a lot further along [in his career], and that was really tough," she says. "He was on the road all of the time. Something I talk a lot about on this record is dating someone that's gone a lot. I feel like when he was in town I would drop everything that I had to do to make time for [him], and that was so unhealthy for me. You think that you're happy and then you don't realize until in retrospect you're like, 'I was fucking miserable. Why did I do that?'"
No longer, though. Now that she's been settled in Bed Stuy for nearly a year, Cohen is finally living in a city that can match her drive and energy. As a result, she's learning how to enjoy the now, rather than constantly being on the lookout for the next thing. "I've always been a planner," she says. "I'm always like, 'Six months [from now] I want to do this; a year from now I want to live here. I wanted to know that by a certain point in time I could have achieved a certain thing. [But] I feel like part of my journey and my development has been to be a lot more present-minded. I already feel a lot better."