Amy Winehouse Hologram Tour Announced by L.A.-Based Entertainment Company
Photo by Peter Macdiarmid/Getty
Music
News
Amy Winehouse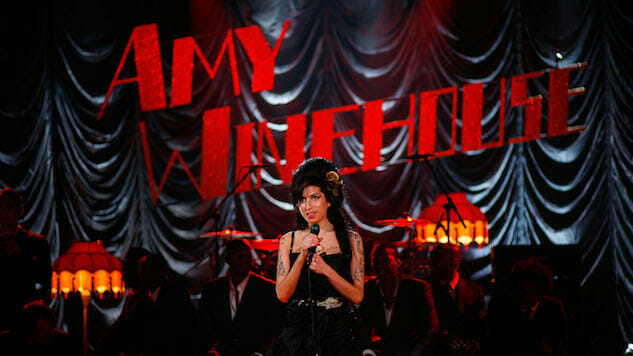 Late six-time Grammy winner Amy Winehouse is going back on tour in hologram form towards the end of 2019, announced L.A.-based live entertainment company BASE Hologram. Featuring digitally remastered versions of Winehouse's hits, the hologram will perform backed by a full live band.
The tour is being produced by BASE, which has produced other shows of the sort featuring acts like Roy Orbison and Maria Callas. The Winehouse family is working in conjunction with BASE, with proceeds from the show going to the Amy Winehouse Foundation—a group focusing on drug and alcohol abuse awareness and prevention. This is just seven years after the songstress' death in 2011 at age 27, a tragedy that followed years of her publicly documented battle with addiction.
"Amy was a powerhouse in every sense of the word," said Brian Becker, founder and CEO of BASE, in a statement. "She played by her own rules, pioneered her own sense of style of music and because of that we know she is the perfect person to headline this type of project."
"As a family, we felt ready to bring Amy's incredible talent back to the spotlight, give her fans a chance to experience her music again and for new generations to continue to discover her," said Mitch Winehouse, Amy's father, in the same statement. "We experienced first-hand how these hologram shows celebrate great artists … It's time to remind everyone that Amy was one of the great musicians and performers."
Winehouse also tweeted in support of the tour, noting that the family is "delighted to be teaming up with @BASEhologram."
Our family is delighted to be teaming up with @BASEhologram to continue celebrating the life and work of Amy, with all proceeds of the tour, starting in late 2019, going to Amy's Foundation to help even more young people in her name. https://t.co/F9M5V9Z8Qn

— mitch winehouse (@mitchwinehouse) October 11, 2018
Information regarding dates and ticket sales has not been released, but is expected "in the coming months" via BASE's website. In the meantime, revisit Paste's 2011 feature on Winehouse here.