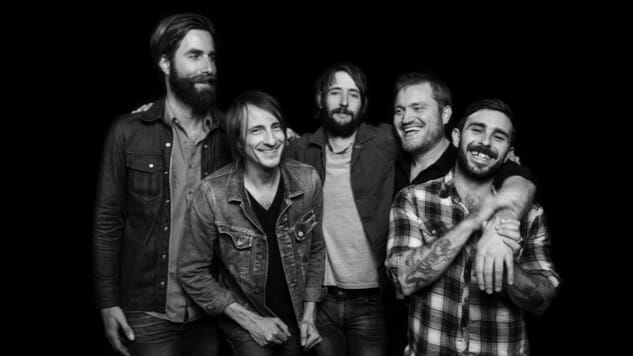 In conversation, Band of Horses lead vocalist and songwriter Ben Bridwell does not seem like a man who very often finds himself at a loss for words. He talks quickly, drawls widely, and has a gift for colorful asides, whether punctuating his words with a well-placed "damn" or describing the album-making process as "dumping a shitter that's full." But following the release of 2012's Mirage Rock, Bridwell found himself tongue-tied. For the first time in the band's career, he had to deal with the fallout from an album that was less than enthusiastically received. The arrangements were meandering, the hooks were uninspired, and his words—never the focal point in the discussion around the band's music—were singled out as straining for a universality that came off as unconvincing and trite. Worst of all, as Bridwell started the process of writing the songs that would become the band's fifth full-length release, Why Are You OK, he knew the critics weren't entirely wrong.
Though he has earned a reputation as a fine storyteller, Bridwell has never been a particularly confessional songwriter, first burying his sentiments behind layers of reverb during the band's louder early period, then hiding them behind layers of metaphor and obfuscation as they gained commercial success. Now, faced with a prospect that his songwriting process had failed him, he toiled away in his garage in Charleston, South Carolina, and for the first time in a long time didn't want to share his new songs with anyone. Instead, he spent the ensuing years delaying the inevitable, first releasing a set of stripped-down live tracks (2014's Acoustic at the Ryman), then a collaborative covers album with Iron & Wine's Sam Beam (2015's Sing Into My Mouth)—anything to avoid having to step back up to the mic with the expectation that when he opened his mouth he'd had something to say.
"I was a bit gun-shy after taking a damn drubbing over the last one," he says with a laugh. "When I was working with Sam on our collaborative covers record, I was worse than listless. I was lost. I was like, 'God, I can create these songs instrumentally, and I can hear the melody in my head. But I don't know where to begin to know what to talk about and bring finality to it.' I was truly terrified of finishing a song, because that means that it's almost time for someone else to judge it. And I hate that."
There were reasons for newfound optimism. His writing sessions had yielded a batch of demos that seemed to shimmer and ache like those old Band of Horses tracks that had earned him his reputation, he thought, but would anyone care? And if they didn't, then what? The band had left Columbia Records by mutual agreement following Mirage Rock, fearing that they would be dropped anyway due to the debt they'd accrued over the previous years. Raising the stakes, he'd now have to fund his new recordings himself.
With four young daughters and a wife at home, Bridwell couldn't afford his usual luxury of holing up in a secluded cabin to focus on writing a new batch of songs. He had the makings of a rich human drama unfolding right in front of him—the guilt of being a father who has to spend long stretches of time away from his family, the stupefying restraints of domestic life, the transcendent joy of being in the middle of it all—but it was hard to see with the words of his detractors still rattling around in his head. "And luckily Sam came to me at the right moment and helped me return to the center and be reminded that I don't do this shit for other people," he explains. "I do it for fun. I do it for the challenge of creation."
So, day after day, Bridwell had fun squaring off with that challenge. And though his garage wasn't his preferred working environment, it undeniably worked. By his own admission, he's the kind of songwriter who will take as much time as he's given, inevitably dropping down an existential rabbit hole while pacing back and forth. Having fewer moments to write meant that he savored the ones he had, recording the guitars and drums during the days when the neighbors and their prying ears were at work and writing vocals and melodies during the nights after his family had gone to bed. The new songs had a sense of urgency that had been lacking in his recent efforts, and being in the center of the domestic chaos had a marvelous way of sharpening his focus.
"I'd hear the pipes that run through the room and I could tell if someone flushed the toilet, or I'd hear some footsteps, and I'd be like, 'Damn it, dude. Someone's awake!'" he says, his pace quickening. "If this idea is working good, I need to bring it damn home, because someone is going to text me, like, 'Can you please come up and help me clean up the vomit that one of your daughters has sprayed all over her bed? Everyone is crying. Ain't nobody sleeping.' Yes, I think there was more of a drive to work well when I had the opportunity," he says, interrupting himself with a laugh. "That or it's the fear of having to provide for four daughters. Don't discount that, brother, because a man will work to save his family."
And so he worked, crafting songs that rummaged through the anxieties and doubts, the frustrations and fears, that had accumulated through the band's rise from anonymity to Grammy nominations. The songs he was creating were dark—even the upbeat ones mentioned feelings of worthlessness and rage. And yet they also held the perspective of genuine commitment and gratefulness, the reflections of someone wavering between the competing desires to savor every moment while also feeling compelled to run away from it all. Bridwell embraced the contradiction.
Having worked with legendary producer Glyn Johns on the whirlwind sessions that produced the deliberately raw and rough-around-the-edges Mirage Rock, Bridwell knew he wanted to experiment with a different kind of producer and different kind of schedule. He also knew he wanted to return to the "expansive, widescreen vibe" of the band's early releases and that he needed someone rooted in the indie rock world to help him create it. He had only one name on his shortlist: Grandaddy mastermind Jason Lytle.
"I really did want someone who also has to be on blast and be judged in the public forum of writing lyrics and has to sing and has to play instruments," Bridwell continues, "someone that understands the weight that carries around with it. And someone who knows the industry side of it. That was the main lightning rod. This guy is going to get it more than anyone else could. He has been on both sides of the damn desk. At least I'll have a good ear to bend if shit goes wrong."
Soon Bridwell set up a meeting in Stinson Beach, California, knowing that despite Lytle's reputation as a studio wizard he had not worked in the capacity of producer on any record but his own. Still hesitant to show anyone his new songs, Bridwell spent early discussions playing Lytle some of his favorite music and avoiding his demos. When he finally got around to sharing one of his songs—an unflinching account of his struggles to balance his personal and professional lives—Lytle wasn't buying it. His first advice was simple enough: no one wants to hear you bitch about life in a rock band.
"It kind of put me back into a hole, like, 'Don't reveal too much. Don't let them know what you're actually going through,'" Bridwell admits. "And I think that was part of what was hindering me a bit, always trying to mask the real life stuff with wordplay and shit, just to throw the listener off and make it more their song than mine. So once I got [album opener] "Dull Times/The Moon"—the kind of gripe I've done throughout our whole fucking career—it was like, 'This isn't working, trying to mask the theme before you even know what it is, yourself. You're not doing any service to the song or yourself.'"
If Mirage Rock labored under the weight of joyless platitudes, Why Are You OK would revel in the specificity of bloody fists crashing through drywall and arguments so loud you expect the cops to come. If that album was about making statements, this one would be about asking questions. The emerging theme is of a man caught in constant imbalance, one minute apologetic, the next accusatory, always uncertain.
The first two songs Bridwell wrote are, appropriately enough, the first two songs on the album. The slowly unraveling atmosphere of "Dull Times/The Moon" sets the pace for everything that comes after, capturing the conflicted feelings of a man who seems to be simultaneously repulsed by and longing for the boredom of his home life. The handclaps and celebrity guitar leads of "Solemn Oath" continue the delicate balance, contrasting the scars left over from "harsh tones and criticism" with the desire to "fondly remember the dark times of the past."
If any song on the album is likely to assume the instant classic status of the band's "The Funeral" or "No One's Gonna Love You," it's "Barrel House," a haunted hymn-like ballad about a man drowning under his responsibility, his head disappearing under the waves as he ruminates on the strain his decisions are putting on his family. As with Bridwell's best songs, it's harrowing stuff, the sort of sentiment that slots into the rarely explored cracks between the transcendent and the mundane. He didn't end up completely heeding Lytle's advice—the song is still ostensibly about a man torn apart by the necessary incompatibility of being a father, husband and artist—but the focus is unrelentingly personal.
"I mind that less than talking about what a shitty time I'm having dealing with the responsibilities set upon me," he admits. "I can talk about having a really terrible go at it with a romantic relationship or something, but there's some fear of discussing my other personal woes. You just reminded me that I don't know exactly what I'm doing at times. It's still a mystery to me—again the walking contradiction. I am exposing myself like a motherfucker about my relationship, but I'm terrified about saying something about how tough life is in this damn business."
In Lytle—who Bridwell refers to as a personal hero—he had the perfect creative foil for creating that balance. Sonically, his fingerprints are all over the album, so much so that it can, at times, feel as much like a Grandaddy album as a Band of Horses release. His signature combination of gorgeously unspooling soundscapes and misfiring electronics are a perfect fit for Bridwell's hypnotic arrangements, adding nuance to the textures and clarifying the contours of his hooks. Take the stacked walls of squealing synths and muffled acoustic guitars of "Hag," a track whose pristine sprawl provides the perfect backdrop upon which Bridwell can cast his insecurities and regrets. Or take the string-laden album closer "Even Still," a cracked love song whose delicate rise and fall provides enough open space to allow Bridwell's "I could just leave" confession to come off more as a lament than a threat. Track by track, it's an unwieldy mess of an album, one whose sentiments and sounds cut across each other in confusing and conflicting ways but whose greater shape makes perfect sense when viewed as whole.
"Then my job is done," Bridwell says with a satisfied sigh. "I don't think I seek to achieve that, but it's who I am. I am a series of contradictions: being confident but also completely squirrelly to even play guitar around people or write amongst others. Both the joyful and the melancholy, the assured and the apprehensive—I think that's one of the common threads that binds all of our albums together," he says before trailing off with a nervous laugh. "I could be wrong. I mean, shit, I could be the last one to know when anything is good or bad or stupid and smart."