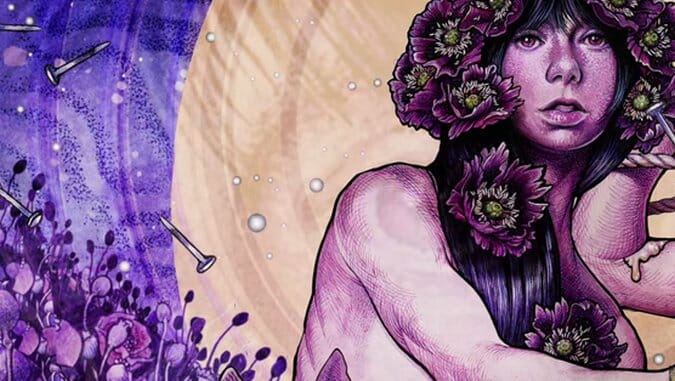 Baroness' last album Yellow & Green came out in July 2012. Nearly one month later, while touring England, the band was involved in a bus accident that injured nine people. Yet, by summer 2013, they were back on the road. Today, the band has announced a new album, Purple.
The album is out Dec. 18 via the band's label Abraxan Hymns, which was produced by Dave Fridmann (Flaming Lips, Sleater-Kinney). Baroness has also shared an animated clip for the track, "Chlorine & Wine," which you can watch above. The animations in the video are featured on the album cover art, but we're told that full unveiling is TBA.
Drummer Allen Blickle and bassist Matt Maggioni have since left the band following the accident. In the band's current lineup however, you will find guitarist/vocalist John Baizley and Pete Adams who are joined by bassist/keyboardist Nick Jost and drummer Sebastian Thomson (of Trans Am).
Baroness will soon announce their North American tour, but the band is to play the Reading and Leeds festivals in England this weekend.
In a statement about the new album, Baizley said:
After releasing a lengthy and investigative record like Yellow & Green we all felt that we needed to make something much more direct and immediate. We wanted to write with our normal focus on artistry, balanced against an increased level of energy and focus. It was important for us to write our new songs with the type of enthusiasm and expressiveness that could act as a counterpoint to the album's dark themes. As a result, the music came out in an intense, heavy and sonically captivating in a new way, which was important, loathe as we are to fall into any kind of complacency pitfall or formulaic songwriting routine. Purple is the most fully realized representation of our intention as a band; considering the amount of physical and mental energy spent writing it, we have accomplished something which would have seemed impossible to us a couple of years ago.
You can also check out Purple's tracklist below.
Purple:
1. Morningstar
2. Shock Me
3. Try to Disappear
4. Kerosene
5. Fugue
6. Chlorine & Wine
7. The Iron Bell
8. Desperation Burns
9. If I Have to Wake Up (Would You Stop the Rain)
10. Crossroads of Infinity