Although the anniversary went past without all the fanfare of their more well-known neighbor Sub Pop, Seattle's Barsuk Records celebrated a a big milestone this year with two decades of putting out some amazing indie-rock records. Founded by Josh Rosenfeld, his wife Emily Alford and Christopher Possanza in 1998, the label marked its 20th year by raising money for Mary's Place, which helps women, children and families get off the streets, placing those struggling with homelessness in jobs and housing.
While the label was originally a vehicle to put out albums from their own band, This Busy Monster, the first band Rosenfeld signed was Death Cab For Cutie, followed by John Vanderslice, Rilo Kiley and The Long Winters—a pretty strong start for what was initially just a hobby. The label has gone on to release albums by Nada Surf, David Bazan, Phantogram, Mates of State, Ra Ra Riot, Charly Bliss, Laura Gibson and many others.
To honor Barsuk's anniversary, we took a look through their extensive back catalog to pick our 10 favorite albums sporting the Barsuk logo, based on the Rosenfeld's dog who gave the label its name.
Here are the 10 best albums from Barsuk Records: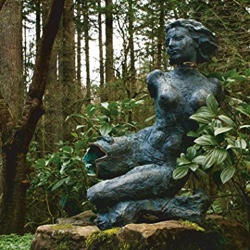 10. Menomena: Mines
Menomena has always taken a cut-and-paste approach to songwriting. The trio's 2004 debut, I Am The Fun Blame Monster!, juxtaposed stilted crescendos of piano, guitar and saxophone with silence. The melodies of 2007's Friend and Foe were a bit more bombastic—drums pounding, horns blasting—though the remaining loops still entered and exited without warning, cutting out before they could air out. On Mines, however, full-blown insanity finally broke free of the straightjacket. Take "Killemall," an apocalyptic race between steady drums and scurrying piano arriving nearly 10 minutes into the album; the song rises and falls in just the right places, with agitated flutes and electric guitars spinning like helicopter rotors at the start and finish and ascending strings acting as checkpoints cuing verses' end. After that cinematic clamor, Menomena dove headfirst into a murky stream of consciousness, where ghostly voices filled the cracks of their past. Disappearing and reappearing melodies played out like fleeting thoughts; the simple "please don't fail me now" plea of "BOTE" shocking with shrill electric convulsions, and "Five Little Rooms" sounding downright sinister as deep tubas and hollow knocking sounds created a supersonic claustrophobia. Mines is Menomena at its best—mentally relentless and physically ruthless. —Christina Lee

---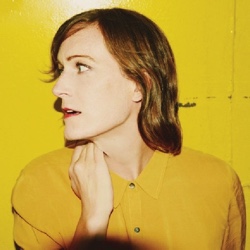 9. Laura Gibson: Empire Builder
On the title track of Laura Gibson's 2016 album, vulnerable voice and lightly plucked guitar help encapsulate a song about a relationship that that may have always been a little doomed. The narrator is a person whose significant other didn't seem to accept or understand why her "love songs were always the grieving kind." Gibson sings, "hurry up and lose me, hurry up and find me again" but the song leaves her wandering through a deserted town looking for somebody that might have already left. It's indicative of an album named for the Amtrak route she took when leaving her whole world behind in Portland and moving to New York for grad school, a move that resulted in tragedy, first breaking her foot and then losing almost everything when her apartment building burn to the ground. Amazingly there's hope among the sadness and loss on Gibson's most beautiful and affecting album. —Laura Kobylecky/Staff

---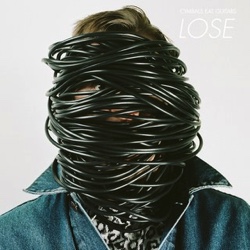 8. Cymbals Eat Guitars: LOSE
On rare, magical occasion, a rock song can offer pure catharsis—capturing the raw essence of an emotion you're too scared to confront without the comfort of a riff. And I'll never forget the first time I heard "Chambers," a glistening sing-along from Cymbals Eat Guitars' third LP. Over palm-muted new-wave guitars and pixie-dust keyboards, frontman Joe D'Agostino ponders the "slow education" of grief—mourning his ill, 16-year-old black lab while she's still alive. "Baby's got cataracts / Her coat was shining black," he sings, sorrow dripping from his nasal tone. "Now it's grey and patchy / The sunshine caught in her eyes is from a different time." As the chorus charges into an emotional two-chord wallop, I instantly picture Luke—my childhood collie mix, a gentle friend who succumbed to cancer after a long life in the backyard. I think about his still eyes, our quiet goodbye hug on the rec-room floor. Sometimes the "anticipation of loss" is just as crippling as loss itself. LOSE confronts that anxiety head-on, with striking resiliency. But it also explores "loss" from the opposite angle, as D'Agostino mourns his youth, his innocence—and his best friend and former bandmate, Ben High, who died suddenly from a heart-related condition in 2007. Powerful stuff—and it helps that LOSE is also a damn good rock album. It's an album of existential angst, but you emerge on the other side feeling less alone in the universe. —Ryan Reed

---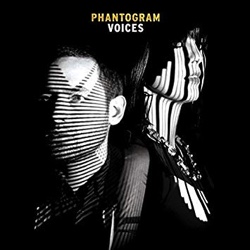 7. Phantogram: Voices
The upstate New York duo Phantogram was made for these times. "Bad dreams never affect me," Sarah Barthel sings on the titular track. "I'm just a scene in a movie." It's a coy trick, this cool indifference, because the wounds of Barthel's heart peek around nearly every corner on Voices, Phantogram's major label debut. That duality is omnipresent in the production of nearly every song too: With the exception of a few slower, moodier tracks, Voices would hit just as hard in the club as it would in the bedroom of, say, a misunderstood teenager who gazes deeply at stars in a shroud of anger or melancholy. Voices conveys our era's lingua franca, with its knowing postures and veiled identities, by puffing its chest first before it reveals any vulnerability. Behind every sly, surgical deadpan on Voices—or, in the passive aggressive, subtweeting world outside it—often lies a bit of hurt or jealousy or confusion. Like Drake or 808s-era Ye, Phantogram have discerned an acute way to emote in front of an increasingly large audience while also seeming like the coolest kids in the room. Voices is emotional, not emo. —Ryan Burleson

---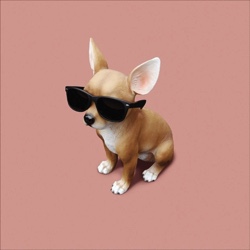 6. Lo Tom: Lo Tom (2017)
Lo Tom is comprised of scene veterans David Bazan (Pedro the Lion, Headphones) on vocals and bass, Jason Martin (Starflyer 59, Bon Voyage) on guitar, TW Walsh (The Soft Drugs, Pedro the Lion) on guitar and background vocals and Trey Many (Velour 100, Starflyer 59) on drums. Their eight-song self-titled debut captures the sound of four friends (and frequent bandmates) using the collective tools of their shared trade as the ruse to hang out and have a little fun over two weekends of recording sessions. While the "let's just get together, press record and see what happens" schtick can be overly romanticized and often guilty of delivering diminishing returns, Lo Tom proves that in the right hands, it can produce pure magic reminiscent of the alt-rock-fueled '90s and glossed-up, genre-shifting '00s. —Will Hodge

---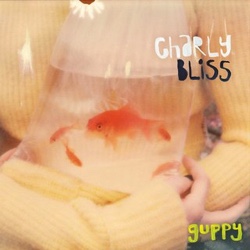 5. Charly Bliss: Guppy
Brooklyn power-pop quartet Charly Bliss' debut Guppy is most known for its Bouncy Ball singles like "Glitter," "Black Hole" and "Ruby." The album makes no secret of its affection for toothy-grin pop (Charly Bliss classified themselves "bubblegrunge" on Facebook), writing romping, distortion-packed melodies that would fit right in on The Blue Album. Except instead of a morose male singer, there's Eva, whose scratchy, childlike vocals are reminiscent of peak-era Veruca Salt. It's a style she developed in admiration of her idol, '90s pigtailed frontwoman Kay Hanley. But the group's appeal goes beyond pure aesthetics — Eva's verses are substantive, plainly vulnerable yet blunt and often assertive. On "Glitter," she presses a love interest to reveal how unique their connection is, asking, "Am I the best? / Or just the first person to say yes?" Opening track "Percolator" is unflinching in its assertion that "I'm not scared to lick the floor/ Cause I have sucked on something worse." Above all, though, is the band's unwavering commitment to writing captivating — but never cloying — hooks. —Rachel Brodsky

---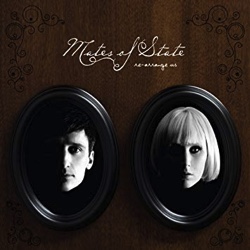 4. Mates of State: Re-Arrange Us
We all know That Couple: professionally accomplished, interpersonally fluid, slaloming between challenges as though doing nothing more demanding than strolling down senior hall from Trig to AP English (yawn). Then the kids came, and That Couple pulled off parenthood with aplomb as well, their rug monkeys demonstrating enviable manners and scarily perfect genetics. It's enough to make most mere mortals throw up their hands in frustration. Mates of State's husband-and-wife team, keyboardist Kori Gardner and drummer Jason Hammel sing in close harmonies. They are indie-rock's That Couple, and Re-Arrange Us is their fifth attempt to perfect the sunny-day real estate they've claimed as their terra firma. It's a record about life's small domestic joys, sung with enough gusto and bug-eyed wonder to make you question how in the world you've overlooked such unappreciated gems as household color schemes (the rolling cadences of "Get Better"), patterns in the paint ("Now"), small talk in the bedroom hall ("My Only Offer") and red colonial houses on snow-white streets (pretty much the rest of the album). Mates of State may have begun a decade prior as something of a curiosity—plainsfolk from Lawrence, Kan., singing idiosyncratic love songs with Hammond organs where the guitars should've been—but they evolved into something far greater: pure pop for adults who haven't quite grasped that they're adults yet. The rhythms still shift unpredictably, often throwing down from third to fifth gear within a single track ("You Are Free" starts out bossa nova, then swiftly graduates to bottom-heavy swing at the coda)—but they've become easier on the ears. Think of Re-Arrange Us as the antidote to Richard and Linda Thompson's Shoot Out the Lights: an album about the undying perpetuity of love. —Corey DuBrowa

---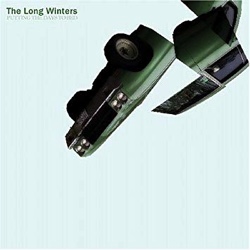 3. The Long Winters: Putting the Days to Bed
One fine summer day in 2004, John Roderick—singer, primary songwriter, founder and agitator-in-chief for the Seattle, Wash., arts/rock collective The Long Winters—put himself to bed. And he rarely ventured beyond its cozy confines for the next nine months. The punchline to this seemingly abstruse joke? He'd barely even taken notice of the unavoidable fact that he'd fallen but couldn't get up—reading and writing and barely leaving the house. The title to his group's third album, Putting the Days to Bed, at least partially acknowledges the cost of Roderick's retreat from reality. Brimming with short bursts of power-pop energy, but spiced with the residue of resentment due to the loss of time and opportunity, the album is a grande-sized mug of the smart-assed synthesis of sweet and sour that characterizes Roderick's best songwriting. Whether taking the shape of the band's indie-meets-classic-rock mash-ups (the propulsive opener, "Pushover," is the best Big Star song since the band disbanded; "Teaspoon" could be vintage Soul Asylum if that group's maudlin melodrama was surgically removed and replaced by a corrosive self-awareness) or passing as a deceptively simple, artfully wrought brand of faux-folk ("Clouds," the wistful refrain of "Seven"), there's craftsmanship to burn throughout Days and a breezy confidence about the affair that had eluded Roderick before. Despite lineup shifts that've seen a dozen different musicians shuffle through the group's ranks in only five years (including multiple members of The Posies, Death Cab for Cutie and Harvey Danger), the periodic dunk in the hermetic isolation tank nonetheless suited Roderick's muse just fine. —Corey duBrowa

---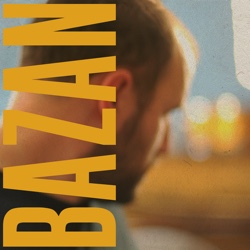 2. David Bazan: Curse Your Branches
David Bazan used to be a character singer. Each record was like a collection of short stories. But Curse Your Branches is a quick glimpse into a struggle with the idea of original sin. Opening track "Hard To Be" presents his thesis: "Wait just a minute / You expect me to believe / That all this misbehaving / Grew from one enchanted tree," he sings, later asking us to "ponder the weight of an apple / Compared to the trouble we're in." It's a perplexing ratio indeed, and Bazan spends most of the record explaining why he can't reconcile the concept. It grows more personal when he references a drinking problem and a daughter who's been asking questions about God. And the folksy "Please Baby Please"—in which an alcoholic calls his lover to beg for another drink—might be the closest Bazan has ever come to writing a love song. While the heartrending Branches has been described as a "break-up album with God," it ain't no Rumours. Here he's clearly in the middle of an ongoing conversation with God—addressing the Almighty in second-person, asking questions, making thoughtful accusations and articulating his grievances more clearly than ever. Bazan avoids unexpected flourishes, saving all the drama for his lyrics. Not a departure from his Pedro The Lion work, the music creates order in the court so Bazan can make his case. —Kate Kiefer

---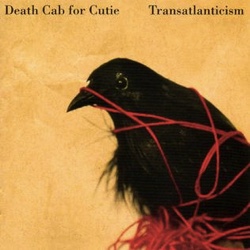 1. Death Cab for Cutie: Tranatlanticism
Josh Rosenfeld has joked that the secret to starting a successful record label is to make Death Cab for Cutie your first signing. Before they left for Atlantic, Ben Gibbard, Chris Walla, Nick Harmer and a rotating cast of drummers put out four seminal indie-rock albums on Barsuk. Transatlanticism remains their best. From the crashing first strains of "New Year" the band took all the usual rock elements and melded them into something more grandiose and heartbreaking than they had before. Buoyed by the attention Gibbard had received for the release of Postal Service's Give Up eight months prior, Transatlanticism marked a band in its lyrical and musical prime, 11 near-perfect tracks that helped define the nebulous "indie rock" genre, while breaking the band out of the club circuit and into bigger venues. —Josh Jackson