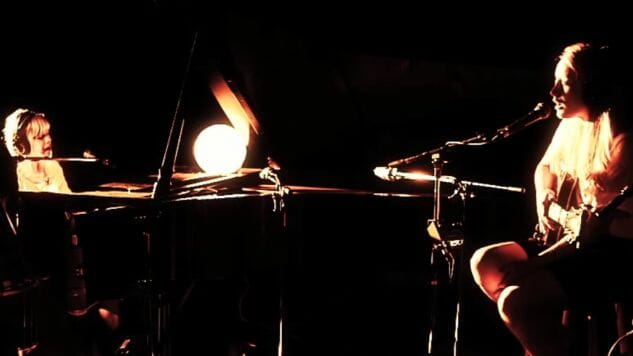 Basia Bulat and Tamara Lindeman of The Weather Station are catching up from a day off in Omaha. The Canadian songwriters—both with blonde hair, guitars, and armed with albums of killer folk-pop songs—are doing laundry (it honks its completion during our Skype interview), changing strings (necessary, but also for effect), and debating dinner plans at their Airbnb.
Their joint tour, in support of Bulat's newest LP Good Advice that was just released last month and The Weather Station's 2015 album Loyalty, began in Seattle at the end of February and runs up until South by Southwest. Based on the show Paste caught in Portland, which at times ranges from emotional to glitzy to hilarious, we decided to check in with them about their musicianship and friendship, as well as the state of women in music.
Paste: How did you two meet in the first place?
Basia Bulat: How did we meet? Oh, we invited you on a Canadian tour.
Tamara Lindeman: Basia asked me to open a couple shows…
Bulat: …'Cause Tam's music changed my life! So I was like, "Can you come play these shows?"
Paste: When was this?
Lindeman: March 2014. Because I had just come back from finished my record and Basia asked me to go on tour with her. [Looking over] I knew who you were!
Paste: Tamera, your band has been opening as performing with Basia every night. What's it been like playing basically two sets every night?
Lindeman: It's great! I really like it. Backup singing is something I've really done the most of as a musician, so it's super comfortable and fun for me to do it. It's kind of the best tour ever because we're all really close friends and it's just so warm. We love that we play two shows. It's our show. We roll into a venue and we take ownership. We infect the soundmen with our ridiculous jokes!
Bulat: It's true!
Lindeman: We make a big impression, I think!
Bulat: I think we do!
Paste: One of my favorite things about your Portland show was your banter back and forth. Tamara, you had some lines about you both being blonde, female, and Canadian, so you're obviously the same person! And you made some quips about how people don't want to book two women on a tour together. In light of all the sexism issues in the music industry these days (with Kesha and more), how serious were those comments and where were you coming from?
Lindeman: It's not serious and it's serious….I have always had a joke about how Basia and I couldn't play together because we have the same hair color and that makes us the same! It is a joke because we do share…like Ben [Whiteley] plays with both of us and we actually have the same manager now. But I think our music is really different. It's complimentary, but it's really different and has different perspectives. It's a cool combo.
Bulat: I think [it's important] to make light of some things because there's such a bigger struggle at play, too. It's not just in music and it's not just women. All sorts of different voices are not really being brought into the fold, so to speak. We're lighthearted about it because I think that everybody at our shows because they're interested in music and interested in hearing different kinds of voices.
Lindeman: It has been cool on this tour because nobody's really noticed. I have made that joke a few times and it's not like this is the Lilith Fair, you know? It's a good measure of the fact that it's a good bill and a good pairing.
Bulat: I was really excited last year when Lana Del Rey invited Grimes to open for her at Montreal's Bell Centre and that was the only time I'd seen or even heard of two women playing in a stadium! So that is kind of my dream—only women on a stage in a stadium! Because stadium shows, people normally associate them with a certain kind of rock music…
Paste:: Like KISS and pyrotechnics or Mötley Crüe's Tommy Lee on a drum rollercoaster!
Bulat: Yeah! There's a certain amount of theater and spectacle for both acts, but I was just so excited that there was this stadium full of mostly women seeing women. It was just really cool. I really admired that.
Paste:: Totally! And relatedly, another thing I noticed in Portland was that Basia, you pushed Tamara's music pretty much every chance you got. Tell me about that kind of mutual support you have in your own shows, too.
Bulat: Well I just love her music and everybody should hear it! So that's where it's coming from, really! Once in a while when you get into the position where you're lucky enough to advocate for the people that you admire. I've certainly been in that position when I opened for Owen Pallett for example or working with Jim [James] on this new record. When you get excited about records you want everybody to hear it!
Lindeman: For my part, I had Basia's first record years and years ago and I was like, "Whoa, who is this girl?" Basia's always been someone I've looked up to…
Bulat: …That's crazy!
Lindeman: It's true! And when I went on that tour with you, I was so impressed with so many aspects of how you did things and I was like, "I gotta take a few pages from her book! I've got a lot to learn." It was cool.
Paste:: Basia, what was it like working with Jim James?
Bulat: It was awesome! Yeah, he's a great dude. He's my buddy, so it's like first you get to work with your friends and then you get to work with people you admire. I'm very lucky, very fortunate that I get to surround myself with musicians that I admire and can learn from all the time.
Paste:: Well, what else would you two like to talk about?
Bulat: There's a bunch of women musicians in Toronto that I really admire. There's a singer named Maylee Todd…
Lindeman: I know Maylee!
Bulat: She's one of the best singers. She's incredible. There's a singer I really like that I don't actually know. I've never met her, but her name is Lido Pimienta. I follow her on the Internet, though, because I really like her music. Our friend Casey Mecija just came out with a record; she was in a band called Ohbijou. It's a beautiful record.
Lindeman: I'm obsessed with Jennifer Castle, and have been for years. She's my favorite!
Bulat: One of my favorite songwriters also, she's not born and raised in Toronto, but she's there now is this band called U.S. Girls.
Lindeman: I thought of something else.
Paste:: By all means!
Lindeman: I felt that I wanted to express that I think our show is awesome. We're both rocking really hard.
Bulat: It's true!
Lindeman: I feel like I'm a quiet artist, but with your band…
Bulat: No, it's our band!
Lindeman: Our band is rocking really hard and then you come out and it's like whoa. I think we're crushing it.
Watch Basia Bulat perform "Someday Soon" at the Paste Studio in New York in the player below.