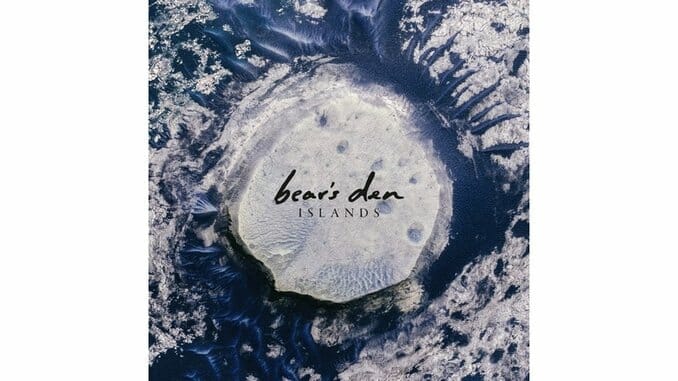 Mumford & Sons didn't invent the yearning folk-rock anthem, but no one else has turned it into such an encompassing cottage industry. In addition to their own albums, the group has also yielded the "Gentlemen of the Road" touring component, the Communion label and the gaggle of bands that have followed in Mumford & Sons' wake. Bear's Den is a part of all three.
The London trio toured with Gentlemen of the Road in 2013, drummer Kevin Jones co-founded Communion with Mumford's Ben Lovett, and Bear's Den's new album Islands revels in the sort of soaring, introspective melancholia that Mumford & Sons have ridden up the pop charts. It's the first full-length release from Bear's Den, following a pair of EPs that came out in 2012 and 2013, respectively. Three songs from the first, Agape, resurface in re-recorded form on Islands, which makes the LP at once a refinement of the group's sound and a restatement of purpose.
Their sound is all about atmospherics on Islands. Bear's Den wraps the music in lush reverb on songs that most often start with fade-ins from keyboards or strings and then build into majestic expressions of woe (those would be the statement of purpose). The arrangements are rooted in acoustic instruments, with a lilting three-note banjo fill surrounded by strummed guitar and stirring vocal harmonies on "Agape," rich, bright guitar chords filling out "Stubborn Beast" and fingerpicked guitar anchoring the quiet, steady "Above the Clouds of Pompeii." The songs tend to follow a pattern, expanding from spare early verses into ringing, church-choir choruses that spiral ever upward.
It works to excellent effect on the bittersweet "The Love That We Stole" and the more plainly bitter "Think of England," but a sense of sameness sets in elsewhere that undercuts the wounded feelings that singer and guitarist Andrew Davie conveys in a warm, earnest voice. The regretful mea culpa "Magdalene" isn't so different in tone from Davie's spiritual musing on "Isaac," and while they're pretty, Davie sounds on both like he's resigned himself to a life of deep sighs and mournful glances. Contrast that with Communion labelmate Nathaniel Rateliff, whose anguish erupts in bursts of riveting intensity, or Frightened Rabbit, a band that channels heartache into a storm of kicked-over tables and booze-fueled recriminations.
If Bear's Den feels similar passion, they're often too mannered to let it show. But they should. The trio took inspiration for its name from the Maurice Sendak book Where the Wild Things Are. Just like Max in the children's story, it wouldn't hurt Bear's Den to frolic among the monsters and get a little wild.