Becca Mancari is Finally Free
On their latest studio album, Left Hand, the Nashville artist sings of love, forgiveness and the future
Photo by Sophia Matinazad
Music
Features
Becca Mancari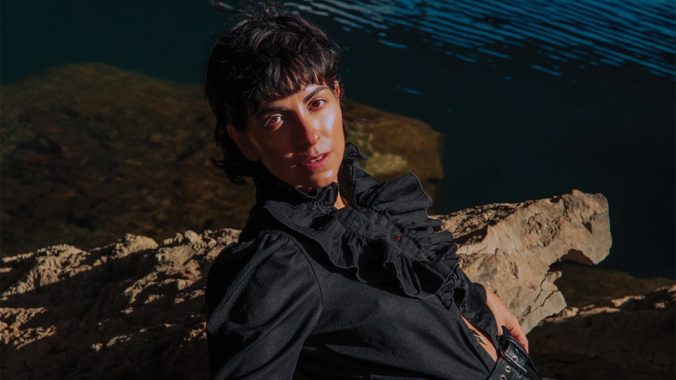 Becca Mancari's on a mission to remake Nashville. Not totally—the barbecue and Elvis memorabilia can stay—but enough that other queer artists feel safe thriving in the Music City. "In the south, to be…it's a choice, to battle for your own life, in ways," Mancari explains, casually, to me over the phone on a light-filled July afternoon. "When you're outnumbered, you have to find each other." If there's anyone meant for the job, it's the boundary-breaking, indie-folk singer. Mancari grew up in a deeply religious community—one they once described as a "hippie cult"—in rural Pennsylvania, having to come to terms with their gender and sexuality in the few moments of free time they were afforded. The conformity thrust upon them was fear-based, they explain sweetly; they've chosen to forgive their family as best they can because "they're just so scared." That fear was perennial throughout their youth, an infectious flame that nipped at their ankles and singed their hair. It's taken multiple decades and three albums to shed the scar tissue of their childhood hurt, a process that almost killed Mancari before it saved them.
Mancari sounds happy and light throughout our sprawling conversation, reaping the fruits of a finally-catalyzed catharsis. After 10 years of substance abuse and inner turmoil, the pandemic years threw them a handful of curveballs—which would end in a hard-won self-actualization: A loved one fell ill with cancer, their relationship with alcohol became untenable and their fracturous ties with Christianity came to a head. "I was processing pain for the first time, but the kicker was I was talking about forgiveness before I knew how to forgive," they describe of their 2020 LP The Greatest Part. "After the record came out, I slipped into a pretty deep depression." Mancari describes it as a rock bottom, one which almost saw them cut short their burgeoning career. They did stop using for a few months, returning to their family home to nurse their own decades-old wounds.
Then, two Decembers ago, Mancari's strictly observant Catholic parents agreed to allow their partner of seven years into their Pennsylvania home for the first time—under the caveat that the couple play-act as though they weren't one. Mancari left the interaction with the writing bug awoken in their stomach, and then arose Left Hand. Around the same time, they finally mustered up the courage to start therapy. "You were in a state of survival," they remember being diagnosed after a decade of dissociation. That knowledge allowed them to return to their body, delving deep into the hurt of the past and the reality of the present with a newfound touch of gentleness and freedom. "The true art form is giving into your own self, right?" they smile. "That's what we want from an artist. And I feel like that's what I did on this record."
That internal rabbit hole led Mancari down the domed hallways of their Italian ancestry, from the album's title—a nod to their family crest, an outstretched left hand holding a sword—to its subject matter, which loops gracefully around their ancestral history and their own self-discovery. "This record is my beginning to speak to God again," they admit, softly. "I don't like the word God, even, but I do believe in the spiritual." That spirituality imbues itself into Left Hand in the form of a wholehearted decision to live, and to revel in all of life's complexity. "My religion—my belief—has always been based on things that are beyond language. Music is one of those things for me," they note, before smirking at themselves: "Not to sound too woo-woo."
"Left Hand" is a spiritual chant, full of hidden fears and whispered confessions. "I wasn't pretending. The last time we talked I almost thought I was going to die. I couldn't even see you," Mancari whispers as the track thrums into being. "I don't want to just pretend anymore, I want to live, I want you to live too." There was a time when Mancari "struggled to be around," they admit starkly. "It's like, begging yourself to wake up. Don't be afraid, be here. Don't miss it," they say, their voice cracking with emotion and pride, the joy of a battle hard-fought and won.
The life-saving powers of art encircles Mancari's musical philosophy on the macro scale, too: Supporting the queer music scene in Nashville has been a lifelong goal of theirs, and recent years have allowed them to team up with the likes of Julien Baker on "Over and Over" and Brittany Howard on "Don't Even Worry"—the latter of whom they share the band Bermuda Triangle with. Mancari feels like they've always known the two indie-folk figures, and their collaboration represents how banded together the queer, Southern music community is that the folk.
I ask Mancari about how safe it was for them to move to Nashville. "It wasn't," they answer simply. "I feel like I was a door opener. I worked really hard. It's always really hard to battle for your own life." It was a trade off: self-endangerment in order to create the kind of music Mancari didn't realize would eventually rescue them.
This isn't to say Left Hand is without levity—the album sparkles with loving odes to their current partner, dedications to their beloved grandfather and joyous celebrations of queer love (featuring Baker in a uniquely peppy capacity). Mancari wants to tell the entirety of their story without straining to fit a contrived theme or plot line. Some of their music is pure and fun and sweet—"We're allowed to play," they laugh. The album soars in those moments, glimmering in the same, complex outline that Mancari's life has slowly come to fill in the last three years. This first self-produced foray by the artist is a war hymn, and it's a celebration of victory, too. Mancari is free now, and they're excited to see where that newfound independency might take them. When I ask them what they want readers to know most of all, they offer a succinct, foreshadowing line: "This is only the beginning."
Watch Becca Mancari's Paste studio session from 2018 below.
---
Miranda Wollen is Paste's music intern. She lives in New York and attends school in Connecticut, but you can find her online @mirandakwollen.